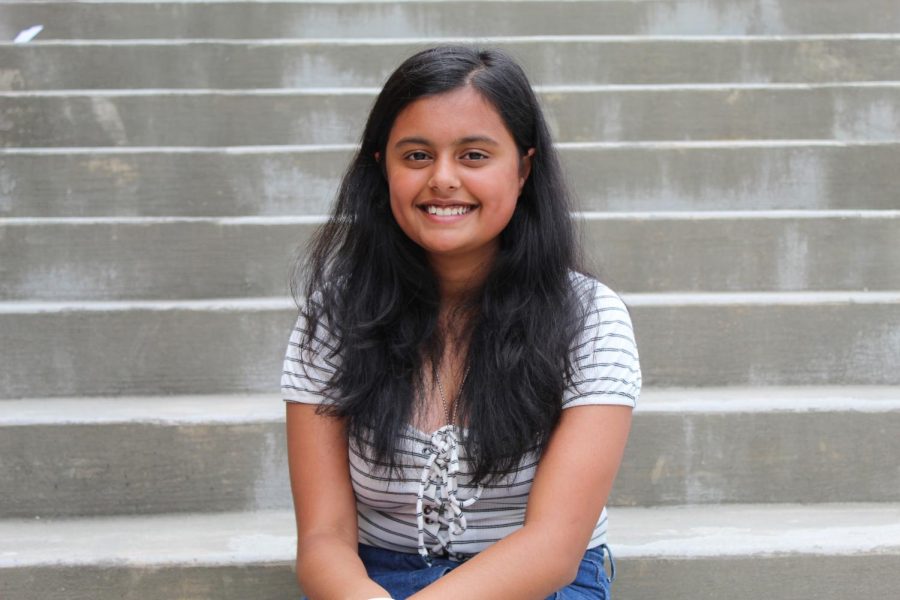 Naisha Roy is a sophomore at SFHS and beyond excited to start off her first year as Copy Editor for 
The Bird Feed. 
Her sarcasm being her trademark to all who know her, she loves a good riddle or puzzle to challenge her mind. She also loves canvas painting. At home, she's usually cuddled with a good book - her favorites are the thrillers by Dan Brown. She's also a huge Potterhead, part of Ravenclaw, and Hermione Granger fangirl. She most relates to Chandler from 
Friends 
and considers herself a Taco Bell enthusiast. You can email her at 
[email protected]
.
Naisha Roy, Copy Editor
May 11, 2020

Online Classes over the summer aren't worth the hype

(Story)

May 11, 2020

Point Counterpoint: Online Summer Courses

(Story)

May 07, 2020

Latest updates regarding grades and final exams

(Story)

Apr 19, 2020

Making the best of online learning- A Guide for Students, by Students

(Story/Media)

Mar 26, 2020

FCCLA bags of love help with mental health

(Story)

Feb 28, 2020

An initial look at the upcoming varsity tennis season

(Story)

Feb 26, 2020

New updates on the Coronavirus leave South's students concerned

(Story)

Jan 27, 2020

Student gratitude over Georgia Tech acceptance goes viral

(Story/Media)

Dec 11, 2019

Coach's Corner: How do professional athletes influence high school athletes?

(Media)

Dec 04, 2019

The Dark Side of Black Friday

(Story)

Nov 29, 2019

Celebrating our differences: Thanksgiving Traditions

(Story)

Nov 22, 2019

Wreck on Buford Highway leaves two girls injured, arrested driver under influence of drugs

(Story)

Oct 29, 2019

Pedagogy is more than a Membean word

(Story)

Oct 27, 2019

Easy Halloween Costumes – A guide for students, by students

(Story/Media)

Oct 18, 2019

To all the Netflix movies I've watched before

(Story)

Oct 17, 2019

SOFO HOCO: War Eagle spirit

(Story)

Sep 26, 2019

More than just yellow shirts

(Media)

Sep 13, 2019

Dressing for the memory of 9/11

(Story)

Aug 25, 2019

Settling into South – A guide for students, by students

(Story/Media)

Apr 30, 2019

ClearTouch boards change the learning game at South

(Story/Media)

Apr 24, 2019

Interview with Ronnie Davis: the coach of South's golf team

(Story/Media)

Apr 08, 2019

Teachers vs. Students: Weekend homework

(Story/Media)

Mar 15, 2019

Asbestos found in Claire's and Justice Makeup Products

(Story)

Mar 12, 2019

More than a day for books: SFHS Literacy Day

(Story)

Feb 06, 2019

Partying for a cause

(Story/Media)

Feb 04, 2019

Surviving the First Year of High School: A Guide for Students, by Students

(Story)

Feb 01, 2019

Investigating the REAL Illegal Immigration Crisis

(Story/Media)

Dec 04, 2018

Making the dreams of Carter and Carli a reality

(Story)

Dec 03, 2018

Bracing for Midterms

(Story/Media)

Dec 03, 2018

Teachers vs. Students: Stress

(Story/Media)

Nov 30, 2018

Junie B. Jones is taking audiences back to first grade

(Story)

Nov 16, 2018

Celebrating Diwali at South Forsyth

(Story/Media)

Nov 09, 2018

Looking at the election through the eyes of a non-citizen

(Story/Media)

Oct 17, 2018

German students take on SFHS

(Story)

Oct 16, 2018

Reviewing Dan Brown's novels

(Story/Media)

Oct 02, 2018

Teachers vs. Students: Workload

(Story/Media)