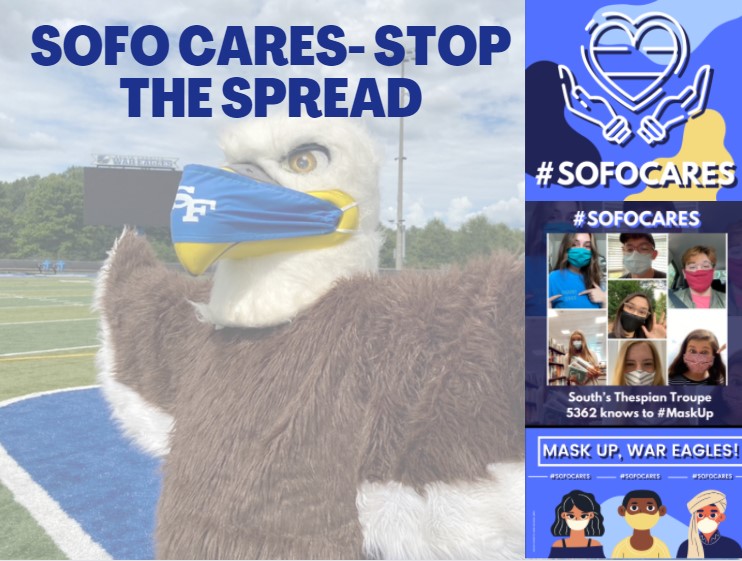 Images used with permission from Luiza Parodia Penha. Designed by Naisha Roy
Stop the Spread – A Guide for Students, by Students
As students embark upon the 2020-2021 school year, they face a year that is far from their normal routine. As they walk in the hallways, each student is masked up. As they sit in the classroom, each desk is distanced. As they eat lunch in the cafeteria, each chair is spaced out. As they look in the classroom, certain desks are emptier than usual due to students attending school virtually. However, these changes are necessary to protect our students, teachers and faculty. 
In order to promote the safety and health of our school, South Forsyth initiated a student-led organization called SOFO Cares. To gain a deeper insight into the purpose of this program, we interviewed two senior team members, Ben Hempker and Luiza Parodia Penha. 
SOFO Cares is made up of a group of students and teachers whose mission is to promote safe practices during times like this. During the first week of school, SOFO Cares released different public service announcements displaying how to adhere to COVID-19 guidelines in school. It also showcased many SFHS students taking charge to keep our school safe. Additionally, with the support of one of our administrators, Mr. Tom Wolff, the students have been able to hear some amazing songs about social distancing and washing hands.
Moreover, one of the most important things that the SOFO Cares Team is promoting is the importance of wearing a mask; students have created the #maskup social media campaign to stress the significance of masks to protect the entire SFHS community. 
#sofocares #southstrong pic.twitter.com/NHXlLXtpVc

— SouthForsythHS (@SouthForsythHS) August 13, 2020

The student leader of the SOFO Cares Team, Luiza Parodia Penha commented, "Sofocares has motivated students to wear masks and wash their hands among following other COVID prevention guidelines to keep the entire campus safe and healthy."
SFHS students are grateful to be back on campus with their teachers and peers. The school has made many changes to secure that the students and faculty are safe and prevent any possible transmission of the virus. From creating directional signs in the hallway to allowing for social distancing during lunch settings, the War Eagle Nation is doing all that we can to continue making this school year one to remember.
As the year continues, it is very important to continue adhering to the safety guidelines created at the beginning of the school year.
"I hope as the year goes on, Sofocares can help to promote continued use of masks and social distancing at school," said SOFO Cares senior, Ben Hempker. "As the school year has progressed, some have become relaxed with mask use, and it's vital that we make it clear that COVID hasn't gone away."