Senior Spotlight: Emory Hilton Leaves her Legacy at South
Senior Emory Hilton is an athlete, volunteer, leader and one of the most well-known students at South Forsyth High School. As senior class president, Hilton has crafted an identity based on following her passions and making people happy. She serves as an officer for several service-oriented clubs at South as well as a varsity cheerleader. Hilton hopes that her extracurriculars and extensive involvement at South will cement her legacy at the school long after her graduation.
"Something I enjoy about school is the people," noted Hilton. "The people that I have been able to meet because of Cheer, NHS, Beta, and other clubs are such a diverse group of people that I would not have been able to meet with otherwise."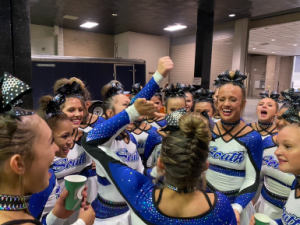 Hilton holds several leadership positions at South. As Vice President of South Forsyth's National Honor Society, Hilton is in charge of planning International Cultural Week and helps run monthly meetings that cater to over 400 members. She was class president in her freshman year, vice president in her junior and sophomore years, and is president again in her senior year. In these roles, she is integral to organizing important events such as graduation, senior week and the senior gift.
Currently, Hilton is working on a project to decorate West Hall with senior handprints to commemorate the class of 2022.
Emory also founded the SFHS chapter of the Whisper movement, which is a grassroots movement focusing on uplifting students who may be struggling with loneliness and other issues. She has met several interesting students through this movement, and she describes it as one of her biggest motivations for participating.
"
The tests, grades, and clubs you join are all just words and numbers on a piece of paper. At the end of the day, relationships are what's going to last and that is the most important."
— Emory Hilton
Hilton also continues to embody school spirit by being on the varsity cheerleading team led by Coach Brawner. Emory and the rest of the SFHS cheerleading team won Region 7A state championships back-to-back in both the 2020-2021 and the 2021-2022 school years. She describes cheerleading as one of her biggest passions and hopes to continue it in the future by trying out for Brigham Young University's cheerleading team in April. For Hilton, cheerleading has been a huge confidence booster from freshman to senior year, both on and off the mat.
In addition to projects in school, Hilton is extensively involved in activities outside of school. She is the social media correspondent for Dental Town and part of their accounting department, where she helps make videos interviewing doctors and filing important documents. Hilton is also President of a church group consisting of 20 girls who plan activities and camps within their church as well as a scripture study program.
The things that matter most to Emory are the relationships she builds with people and putting a smile on her friends' faces. She often quotes her dad when it comes to this, emphasizing the importance of maintaining relationships over the everyday problems life throws at her.
"Never let a problem to be solved be more important than a person to be loved," Hilton proudly mentions.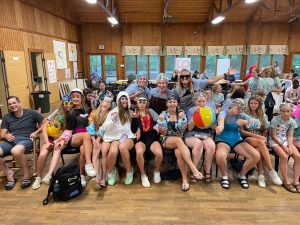 In the future, Hilton hopes to attend BYU in Provo, Utah and major in kinesiology. She also plans on going on a mission for her church before returning to complete her college education.
Senior Emory Hilton has created her legacy at South, shining bright with her talent, leadership, and friendships within the school. As she finishes her senior year, she mentions a few important pieces of advice for underclassmen. She underlines the importance of making memories and trying everything instead of constantly worrying about bad test grades. 
"Don't doubt yourself and don't put limits on yourself because you don't think you are the smartest or most athletic. If you can push yourself by will, that is going to take you so far," emphasized Hilton. "Be sure to try everything and give everything your best. The worst thing that might happen is that you might fail the test or don't get the officer position, but at least you have tried and you have learned how to bounce back."