Here's Everything You Need to Know About Prom 2022
Other things going on at South: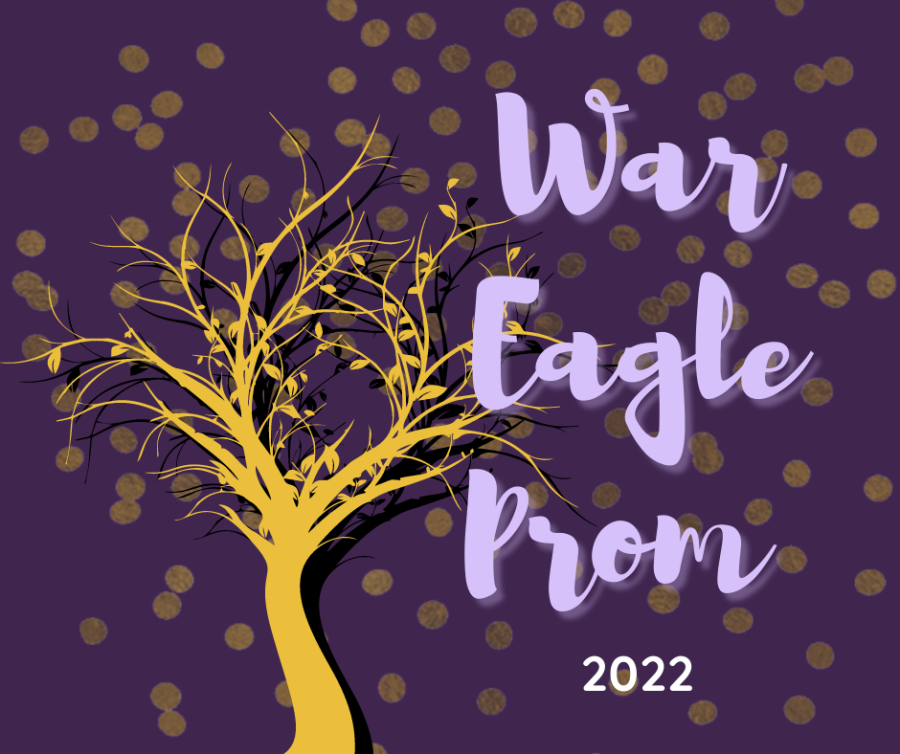 On January 26th, South Forsyth High School announced this year's prom theme and ticket prices with the help of the AV Technology and Film (AVTF) class. In IF announcements that Wednesday, the AVTF class released their fourth installment of "CLIPS", a series of student-directed short films, interviews and other fun skits.
But this week's edition of  CLIPS came with an exciting announcement at the very beginning of the video. Junior Class President David Kim and Vice President Gabe Mullis jumped through a portal and teleported to a dark but wondrous forest with colorful lights and glowing trees.
Through this quirky skit, they revealed the 2022 prom theme is "A Night in the Enchanted Forest". The student body chose this theme through a majority vote earlier in the school year. 
Kim discussed how the prom committee plans to bring this theme to life.
"The first thought that came to mind when I found out the theme was going to be Enchanted Forest was immediately the Fangorn Forest from The Lord of The Rings," Kim said.  "I want to emulate the misty mood and the vibrant colors of the Fangorn Forest in this year's prom. I am so excited, and I know South is going to love it too."

Kim also explained that South will be bringing back the green screen photo booth from the previous year where students could choose the background they wanted.
"Students really enjoyed it last year, so we hired them again," he said.
Furthermore, this year's prom will be held at The Hotel at Avalon, the same venue as the 2021 prom. The Hotel at Avalon is a great location as students have a diverse selection of restaurants to dine at before the dance. The Avalon also has many potential photo-ops for quick, last-minute prom photos.
On top of announcing the prom theme and venue, South also released this year's prom ticket prices. Until the end of January, prom tickets are on sale for $50, but the prices will go up from there. Through the entire month of February, tickets are $60 for singles and $100 per couple. All throughout March, tickets will be $70 for singles and $120 per couple. And for last-minute decisions, tickets will be $75 per person from April 1st to the 15th.
The staggered ticket pricing is to encourage students to purchase early so that the committee has an adequate estimate of the number of attendees.
Although prom is only open to juniors and seniors, freshmen and sophomores may attend if an upperclassman invites them; this requires the upperclassman to buy two tickets or one set of couple tickets in advance.
Tickets tend to sell out quickly, and with a theme as enchanted as this one, anyone who wishes to attend should plan on buying their ticket as soon as possible.
About the Writers
Maggie Craig, Editor-In-Chief
Maggie Craig is currently a senior at SFHS and is super excited to be this year's Editor-in-Chief for
The Bird Feed
. If she isn't writing stories, you will find her jamming out on her guitar or ukulele. She is a performer at heart and is a member of the voice company at RISPA. Maggie loves musicals such as
Waitress
and
Miss Saigon
. In her spare time, she binge-watches anime and plays on her Nintendo Switch. Never hesitate to approach her and say hello because she loves meeting new people. You can contact her through her email @
[email protected]
or through her Twitter @
Smrcraig108
.
Naisha Roy, Copy Editor
Naisha Roy is elated to continue her fourth year on
The Bird Feed
as a senior. As the Copy Editor, she hopes to help every member on staff find their unique voice and transform into journalists. She loves acrylic painting, trying to master different cuisines, and stationery. She also interns for the NRI Pulse, an online newspaper where she hopes to gain experience for her dream job as a journalist for the New York Times. Her current obsessions include Queer Eye and Indo-Chinese food. An avid Marvel watcher, she loves binging shows like
Loki
in her free time. She hopes to make her last year at
The Bird Feed
an absolute blast. You can contact Naisha at
[email protected]
.