Previewing the 2021-2022 Boys Varsity Lacrosse Season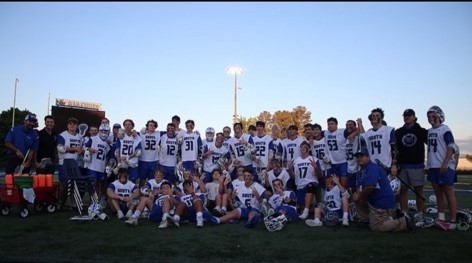 The South Forsyth High School Boy's Varsity Lacrosse team is ready to kick off the 2022 spring season with several fun events and important games in February and March. On January 29th, the team and their families held a Face-off cookout event to get the season started. Although the cold weather threatened the event, Rosati's stepped up to host the team, starting the season off on a positive note.
The boys' lacrosse team has several important games in the next few weeks and has been preparing extensively for them. Practice officially started on January 18th and will continue almost every school day until the playoffs in April. The lacrosse practices last for several hours at either Joint Venture or the War Eagle Stadium and require a lot of determination and stamina from the players in order to be successful. 
"As a team, we have a lot of talent and I am looking forward to seeing us put it all together under a new coaching staff," says Senior JD Cheatham.
In February, the varsity team has a scrimmage at Buford on the 3rd, a game at the Greater Atlanta Christian School on the 8th, a game at Sequoyah on the 14th, and a game at Blessed Trinity on the 18th. Home games include one against North Forsyth on the 22nd and Cambridge on the 25th. The team has three away games and six home games in March, then one away game and three home games in April before the playoffs.
Many of the varsity players, especially the seniors, are excited to kick off this season and leave their mark on the team.
"I want to try to fill the shoes of the seniors we lost last year and grow my game to help out at the attack and middie spots," Cheatham adds, "and have as much fun as I can before going to the next level."
The team really hopes to win state this year.
"I am most excited to play Blessed Trinity and Lambert this year because they were undefeated 1A-5A and 7A state champions," explains Senior Ethan Duerk.
In addition to important games, the SFHS Lacrosse teams have several other significant events going on. Many of the senior varsity players have committed to playing college lacrosse and are signing on February 2nd; JD Cheatham is signing onto Piedmont University, Ethan Duerk to Jacksonville University and Ethan Barlag to Manhattan University. 
The team also came together this past winter for several service opportunities. They partnered with the PWB Joy of Hope Foundation to provide Thanksgiving boxes to families in need and ran a toiletries drive for Jessie's House.
Through a strong foundation of service, teamwork, and dedication, the SFHS boys lacrosse team remains prepared for this spring season.
Supporters can view the schedule at MaxPreps and purchase tickets on GoFans.