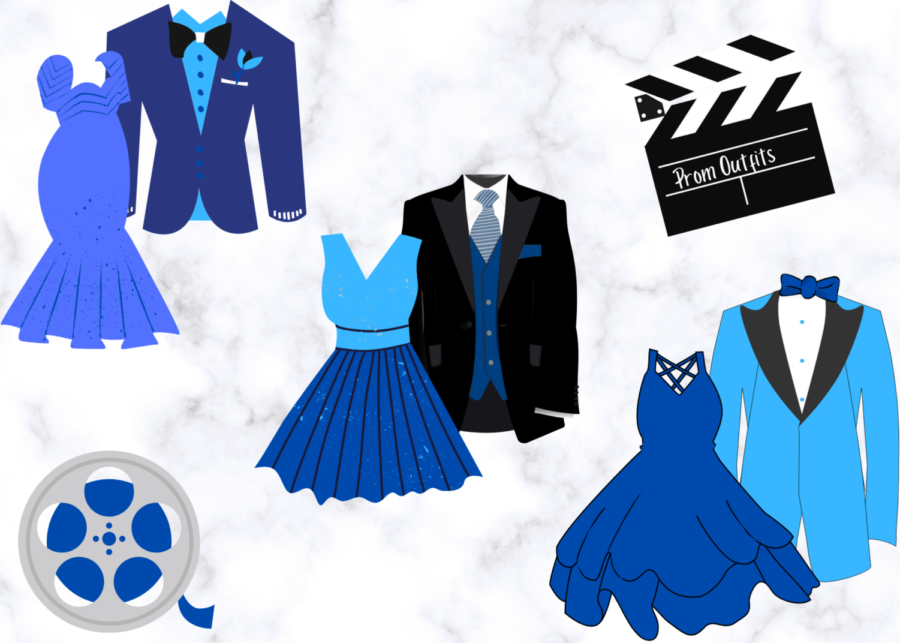 Prom Outfits
Prom outfits can be an extremely difficult world to navigate, from silhouettes to price points to colors to fabrics. While it can sometimes be overwhelming, shopping for a prom outfit can be extremely fun if done right. The first step is to narrow down your options previous to entering a physical store.
Dresses
 Apps such as Pinterest allow you to "pin" images and create categorized boards of things you find interesting, and they're perfect for prom dress shopping. I recommend going and scrolling through prom dresses on the site, and finding what you gravitate towards. In addition, websites like Buzzfeed and Playbuzz have user-generated prom dress quizzes that help shoppers narrow down their preferences. 
The purpose of this isn't to find your dream prom dress, but rather to narrow down your options between two extremes. For example, you will probably find yourself gravitating to a specific neckline or a specific length, and then you can shop in-store within that category. Not only will this greatly reduce your shopping time, it will also stop you from seeming like a deer in the headlights when entering a store. We created a prom dress sorting quiz to help narrow down your preferences:
In addition, we recommend having a prepared list of stores to shop at. An insider guide on selecting prom dresses offered several tips of what to do on shopping day: wear a comfortable outfit, look at your school's dress code, and, above all, don't force yourself to buy something out of budget. Several stores have a price range that they carry, and it feels awful to walk into a store and try on the perfect dress only to not check the tag. For a more expensive budget, go to selective prom dress stores such as Flirt and Davids Bridal. They have dresses upwards of a few hundred dollars and often have consultants and curators in order to provide a personalized experience. On the other hand, stores such as Macys and Kohls have much more affordable options that perfectly match up to the dresses in the other stores, if not sometimes better. While they lack the personalized experience that specialized stores offer, this can often be an advantage, as there is less stress around the whole experience. Remember, dresses on the racks may not look the best, but after alterations and accessorizing, the right dress will call out to you.
Tuxes
Tuxedos at prom may seem extremely simple, but there are a whole lot more options than most people think. When shopping for a tux, the most important thing to do is know your measurements. Generation Tux, a tuxedo rental company, discussed the importance of a well-fitting tuxedo. Their blog has a guide on how tuxedos should fit, and it states that "a great fitting suit or tux should make you stand taller and exude confidence. But don't simply ask yourself how it looks—pay attention to how it feels when you're wearing it."
While everyone has different fitting preferences, knowing your measurements is extremely important so that you can imagine the final altered product when trying it on. A suit that is too loose or tight may not look the best, but knowing your measurements can help you envision where it would be taken in and loosened, giving you an idea of whether the altered piece is the right one for you. The Black Tux has an interactive quiz that helps people find their perfect fit based on their measurements, and it can be extremely helpful in helping people size themselves.
Once you have your desired fit in mind and some stores to shop at, think about what fabrics and patterns scream your name. Do you want patterned pants and a plain shirt? Do you want a solid-colored tux? Felt, velvet, or suede? While it may seem a bit overwhelming, talking to your family and your date to color-coordinate can be very helpful. In addition, the Black Tux has a prom suit guide that has several different styles of tuxedos and jackets, along with explanations and examples for each. We also made an interactive guide explaining the parts of a Tuxedo and all of its options: