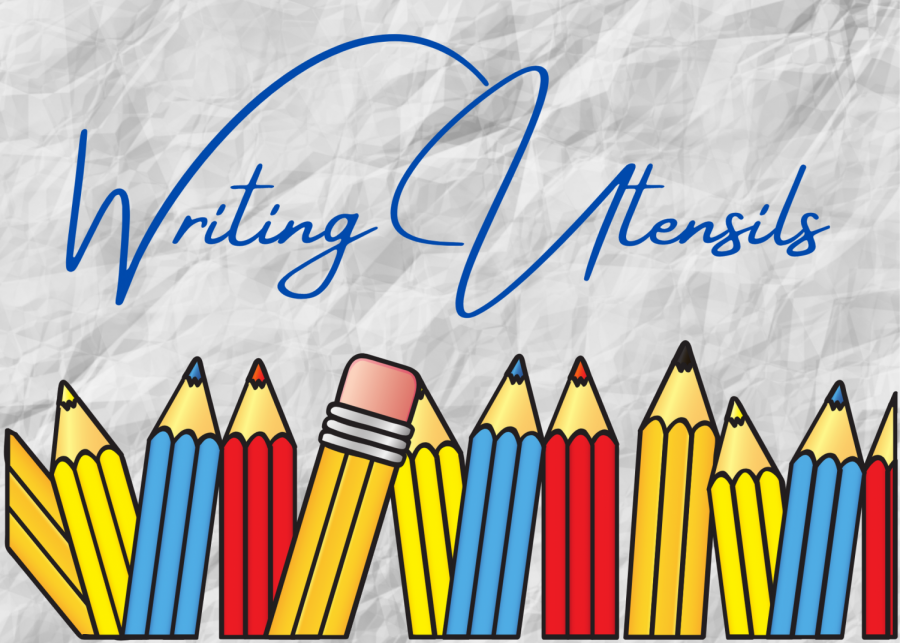 Writing Utensils
Transitioning from virtual to in-person school may be a jarring switch to many students, and one of the biggest components of this is writing. Online school may have improved several students' typing skills, but with the onset of in-person comes physical writing and note-taking again. While to many students this is a great way to facilitate their visual learning styles, others may find it hard to readjust themselves to written exams, notes, and projects.
Regardless of preference, one thing that always helps the writing process is having the correct writing tools. Different types of pens work best for different activities, and one of the best ways to elevate note-taking and projects is to know which writing tool fits where. According to an Association for Psychological Science study, note-taking on pen and paper using colors and symbols is actually more effective than its digital counterpart, and having the right tools for the job can help the journey immensely. 
Note-taking pens
A good pen for note-taking should meet several criteria. Although it may not seem like a big deal, using a bad pen for a long while, like when taking notes, can cause Writer's Cramp. Finding a pen with flowy ink and a good grip can alleviate a lot of the discomfort surrounding note taking and retrain focus on the actual information in class. In addition, a pen that doesn't smear can save lots of time in waiting for notes to dry, especially if you're constantly turning pages in a tightly bound notebook. A pen with blue or black ink is the go-to for a good set of notes because it paves the way for highlighting and annotating in the future. 
The Pilot Frixion Erasable Pens are a personal favorite as they have great ink flow and erase incredibly cleanly. In addition, the heat-activated ink can disappear and reappear with heat and cold respectively, so you don't ever lose your notes even if erased by mistake. The Pilot G-2s is a close second favorite in the note-taking category; their ink flow is unparalleled and extremely vibrant, and their writing is very smooth and doesn't skip. Finally, the Sharpie S-Gels and Zebra Sarasa have lots of different types of inks and barrels, as well as nib sizes. For pens that feel and write just like pencils but dispense darker ink, a .5 millimeter tip works great. However, to write smoother without skips, a .7 millimeter pen works better. Find the type of note-taking pen you like best and buy it in a variety of sizes to find which fits best with your note-taking style!
Highlighters
After pens and pencils, highlighters are probably the third most-used writing utensil in high school. They are essential to making the important parts of complicated notes pop out and provide anchor points when rereading notes. Highlighters can also be important tools when annotating, because they help color-code notations, making them easier to decipher. If you have teachers that grade annotations, a set of three or four highlighters can really help them look incredibly professional and raise your grade.
By far the nicest highlighters for note-taking are the Zebra Mildliners. They truly live up to the "mild" in their name with pastel tones that are still eye-catching but without the harsh neon of normal highlighters. The double-sided tip actually allows you to write legibly with the markers, allowing for quick, colorful notes. However, the midliners can smudge quite easily, so make sure to pair them with a smudge-proof pen. In addition, they can be quite expensive, so a great dupe for them is the BIC Pastel Brite-liners. They have a comfortable grip and still retain the pastel nature of the midliners. Finally, the Sharpie Clearview highlighters have their smudge-proof technology as well as a tiny plastic window in between the tip that allows you to see when highlighting. Their unique shape also allows for a huge variety of marks.
Specialty Pens
A good set of specialty pens, whether it be markers, brush pens, or felt-tips, can elevate any school project, set of notes, or artwork. Although you don't need all of them in school every day, it's a good idea to have some on hand for project/trifold days and displays. Brush pens work well for calligraphy and hand lettering, and can come from all sizes; from scrapbooking all the way up to huge tri-folds, there is probably a brush pen that can title it. The Tombow Dual-Tip Brush Pens are absolutely beautiful for hand-lettering and have a multitude of gorgeous colors. They also come with a clear brush pen for blending, which creates easy ombre effects. When choosing a brush pen, make sure to choose one with a sturdy tip that won't fray with pressure. 
On the other end of the spectrum are felt-tip pens and markers. A great go-to is the Papermate Flair Pens. They don't bleed onto the other side of the paper, making them great for planners and books. Finally, a great classic is the Sharpie Fine-tip markers; although they bleed a bit and can lose the fine point with use, they write incredibly smoothly and have extremely vibrant colors. The infographic to the right has some more common markers that work really well.