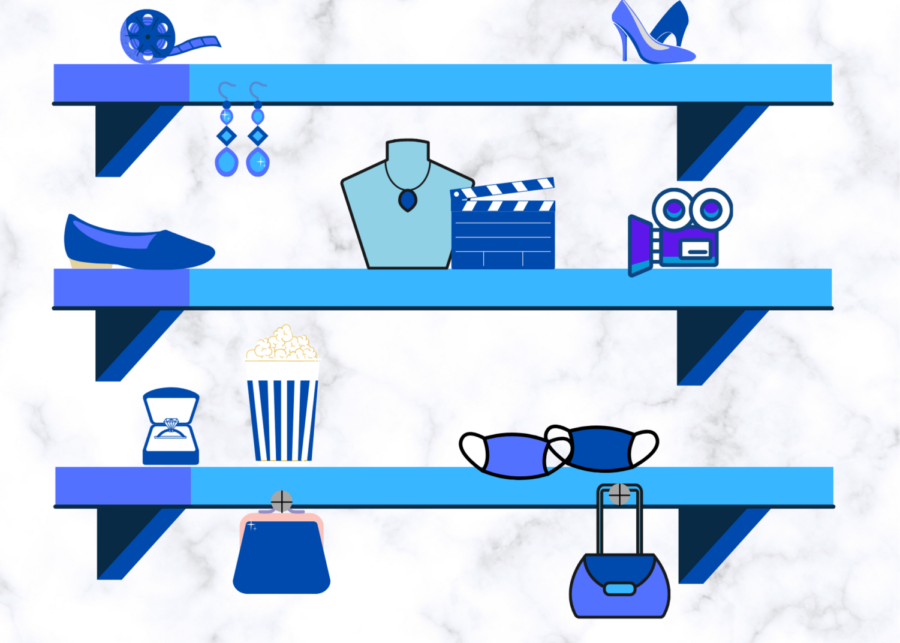 Prom Accessories
Accessorizing for prom can be extremely fun and the right accessory can uplift a casual outfit into a formal one. With prom this year being mask-mandated, masks, along with jewelry and handbags make up an integral part of a put-together prom look. In addition, ties, cufflinks, and shoes can completely change the vibe of an outfit.
Masks and Jewelry
Custom Masks. Embellishing masks can allow them to stand up to the bling of a formal outfit. This video shows several ways to style and upgrade a plain mask. Video used from https://www.youtube.com/watch?v=reruf8Qxk9o
Prom is going to be at the Avalon hotel this year, which means masks are mandated. However, this just provides another opportunity to change up the style of your outfit by personally accessorizing and even getting custom masks. According to the CDC, masks should have at least two layers of breathable fabric; this gives you plenty of space to play around with different shapes, patterns, and embellishments. Places like Etsy have inexpensive custom embellished masks that you can purchase to support a small creator while also elevating your look. We recommend buying neutral masks with embellishments that match the rest of your jewelry in order to create a cohesive look. A mask that matches a pattern on your dress could also work well if it's understated. You can even make your own masks and get fabric and jewels from places such as Michaels and Amazon, providing even more options to make it match exactly with your outfit.
For jewelry, try styling your accessories to match the undertone of the rest of your outfit. If your outfit has a warm undertone, such as something red or yellow, gold or bronze jewelry will pair really well. On the other hand, silver or pearl jewelry is perfect for uplifting cooler-toned outfits such as blues or purples. In addition, consider the hairstyle you're going to wear: updos allow for more statement earrings and necklaces as they leave more space; however, if you're wearing your hair out and in a looser style, keep the earrings simpler and focus more on rings and bracelets. In order to get neutral and dazzling pieces, check out Windsor and Charming Charlies.
Bags and Shoes
Accessories for the big day. Youtuber Chriselle Lim goes through the step-by-step process of choosing prom accessories. She discussed how even the smallest change can make an outfit pop more to the eye. Video used from https://www.youtube.com/watch?v=CTQAHC9ji-w.
Medium (hyperlink) has a wonderful all-encompassing guide on pairing the perfect bag with the perfect dress to create a high-impact look. They recommend going for a smaller bag such as a clutch or a circlet in order to mimic the formality of the occasion. In addition, they recommend pairing neutrals such as metallics or nudes with dresses that already have bright colors or patterns. Pairing a solid-colored bag with a solid-colored dress may seem too plain, especially if the colors clash; instead, try a patterned or jeweled clutch with a solid or dark dress. Something that can be extremely helpful is using the 3-color rule when putting together your outfit. Have one central color (normally that of your dress) and then a secondary color that shows up in at least three different places in the ensemble. For example, a navy dress would pair nicely with a silver clutch, silver earrings, and a silver bracelet. David's Bridal has really nice clutches and bags to pair with any dress.
For shoes, make sure to wear something comfortable. Stilletos may look great, but they aren't ideal for dancing and can be extremely painful. For guys, simple black leather loafers go great with most tuxes. Burju Shoes has a great guide on picking the right prom shoes which talks about the pros and cons of all different kinds of shoes. Closed toes offer more surface area but open toes offer more breathability, and stilettos offer more height but wedge heels offer more comfort. Angel Jackets also has an ultimate prom guide for guys which explains three different kinds of formal shoes: oxfords, wholecuts, and captoes.
Cufflinks and Ties
Cufflinks and ties can be the perfect way to play around with a simple black tux. Cufflinks follow the same rules as jewelry does- a warm-toned outfit consisting of reds and maroons will pair beautifully with gold cufflinks, and cool-toned outfits work well with silver ones. Jim's formal wear has a great guide on accessorizing tuxes for prom, and they recommend using ties and pocket squares as pops of color, especially if coordinating with someone. This way, you can have more of a simple look with the tuxedo but still give your outfit personality and uniqueness. In addition, make sure your cufflinks match all of the other metals in your ensemble, whether it be a watch, belt buckle, or tie bar. You can get some versatile and neutral tuxedo accessories at Jim's Formal Wear and Fine Tuxedo.