Echosmith's new single "Over My Head" is a huge hit
Hang on for a minute...we're trying to find some more stories you might like.
Echosmith is an emo-pop cultured band made up of artists related by blood; the Sierota's. The band was formed in Los Angeles in 2009 and was signed to Warner Bros. in 2012. Originally, Echosmith had 4 members of the band, but in 2015 Jamie Sierota left the band to focus on family and let his siblings continue on as a trio. Echosmith have come out with many albums and singles in the past, including "Owl City" (2013), "Talking Dreams" (2013), "Acoustic Dreams" (2014), "Dear World" (2017), and "Future Me" (2017). In those years, Echosmith began touring for their song "Owl City" in 2013 and even toured with Twenty One Pilots and the Colourist in 2015.
Recently, Echosmith released a single called "Over My Head" which depicts an upbeat, pop-punk mood. Collaborating with the co-writers of the song Leroy Clampitt, Jeffrey David, Cara Salimando, and Paul Guy Shelton, they released the single on March 16, 2o18 and impacted hot adult contemporary radio on March 19, 2018.
The single "Over My Head" is composed of a synth-heavy chorus and an "addictive" melody. Critics noted the song's sound is more 'evolved' and mature than previous releases, which I agree on because their previous songs contained an emo-pop sound and vibe, while this new single is more of an upbeat and fun sound. The single entered the Billboard Adult Pop Songs chart on April 7, 2018 at number 35; it was also the week's highest-debuting single. In the lyric music video for "Over My Head," it expressed the lyrics to the song depicted in espresso foam, and shows a variety of different images in the coffee. The presentation of the lyric video could symbolize the amount of sleep that they're losing because of the situation they're in that's causing them to overthink, and therefore need coffee to stay awake.
The music video, directed by Sophie Muller, depicts the Echosmith siblings that seem to be having conflict between one another. The lead singer and only female, Sydney Sierota, seems to be the master of their group and the guitarist and Graham Sierota and Jamie Sierota seem to act as if they're robots. They cook and go shopping for Sydney while she is depicted to be romantically involved with a man. The setting and actions of the people in the video possibly means that Sydney is angry with how protective her brothers are over her and are against her being with the man depicted in the video.
The lyrics of the song are very meaningful, but we don't know the full background of who it's about and why the band of siblings wrote it. I enjoyed the song very much and found the music and lyric video to be intriguing to me and the rest of the pop culture. However, I wish they had added more of an upbeat beat to the background and made it clearer of what they were really singing about. Overall, the song gives young and matured viewers a relatable sense of what a relationship between a friend, romantic, or family can be like and provides the question; "Who is this about?"

About the Writer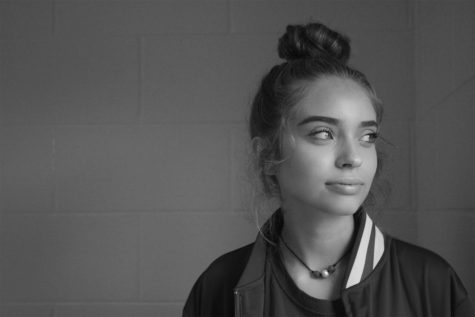 Brooke Eldridge, Staff Writer
Brooke Eldridge is not your average sophomore. As her second year working for The Bird Feed begins, not only does she await the excitement of writing, but she indulges in helping others in need. Brooke is incredibly interested in helping out the homeless community and is very opinionated on certain topics. She has a high sense of fashion, and loves coordinating her clothes by color. In her free time, Brooke enjoys wrapping herself in a blanket and binge-watching Dexter, watching any horror film she can find, and listening to her favorite artist, Billie Eilish. She also enjoys going to the nearest coffee shop with friends for a delicious old-fashioned donut and a warm cheese danish. Don't be shy around her, because her RBF is not her actual personality! She is super friendly when you get to know her and is known as a creative and loving friend. You can contact her on her twitter @BrookeEldridge7 
or her email
[email protected]