The Demise of Childhood: How Modern Media is Killing What it Means to be a Kid
Every morning I sweep open my curtains to find the streets empty. Parks are barren. Swing sets left rusted. Spiral slides blanketed in years-old rust. 
Where have all the kids gone? 
In today's world, the childhood joys of swinging from monkey bars and whizzing down slides have been wholly replaced by technology. In modern times, childhood is wired to the Internet.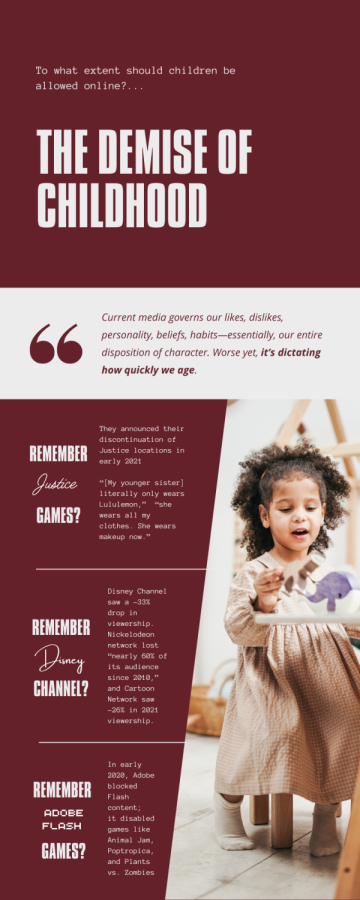 Since iPad kids are glued to addictive media in toddlerhood through shows like "Cocomelon" and "Paw Patrol," their eventual transition to social media platforms like TikTok and Instagram during those same childhood years feels predestined, almost inescapable. 
Many parents attribute their children's rejection of public spaces and preference for technology to COVID-19 and its subsequent restrictions on social interaction. Others blame parents for not policing their kids' device usage enough. Some even point the finger at the kids themselves. 
Regardless of who might be at fault, what I've come to notice is that in this digitized era of history, current media dictates everything about ourselves. It governs our likes, dislikes, personality, beliefs, habits—essentially, our entire disposition of character. Worse yet, it's dictating how quickly we age. 
Joining social media as early as 7-years-old prematurely propels children into adulthood. Kids are treated like kids, yet they consume adult-oriented media and therefore start thinking like adults. During childhood, the development of "motor, cognitive, language, social, and emotional skills" takes place. Joining the internet as a child expedites the process of maturity, arguably even their life cycle of mental growth.
Megan Mendez, South's AP Psychology teacher said "I think because many parents and adults are unaware of exactly what their children have access to, that many [kids] are finding themselves watching YouTube videos, playing video games, or [watching] TikToks of things that are inappropriate for their age group."
As popular media's evolution hastens, so does the dwindling of traditional childhood, and it's a sickness that's spread far beyond our screens.
Fashion
Just 10 years ago, children would dress up in sparkly rainbow shirts and animal-printed leggings, excited to watch "Jessie" on Disney Channel or another Jojo Siwa YouTube video. But that glittery childhood as we knew it has since perished. 
Rainbow-colored, unicorn-adorned clothing has since been replaced by a never-ending rotation of TikTok trending clothes including Y2K fashion, the infamous E-Girl style, and the Cottagecore aesthetic, among many others. The designated stage of "cringe-y clothing" that all kids once undoubtedly endured is now non-existent; thanks to the algorithms that run most of our lives, kids' fashion has assimilated almost entirely into adult fashion. 
Sophia Prashanth, a 16-year-old South student, stated that in 6th grade she "was wearing rainbow-print, SpiderMan T shirts [and] like colorful leggings." But now, Prashanth's younger sister "watches TikTok, has Snapchat and Instagram" at the same age.  
"[My younger sister] literally only wears Lululemon," Prashanth said. "She wears all my clothes. She wears makeup now." 
Nowadays, you will find kids as young as 10 wearing trendy flared yoga pants and a crocheted crop top fit with the staple UGG slippers. At 10 years-old, I remember sporting the classic "Justice" look; Justice was a clothing brand targeted toward tween girls whose colorful, sequined products would be considered "cringe-y" now, and yet they were almost a rite of passage for myself and my peers alike. 
Since the 2010s, the Justice brand has tanked both in popularity and as a business, and they announced the discontinuation of Justice locations in early 2021. As a result of the evident lack of tween-targeted and tween-appropriate clothing, kids now must turn to adult-targeted clothing as their only alternative.
The process of transitioning from children's clothing to teen clothing allowed me to make the mistakes and improvements I needed, and had I prematurely delved into the fashion of adults as a tween, rest assured I wouldn't have had half the fun I had in that glittery and vibrant clothing that allowed me to express myself individually without looking like I was filing my taxes and paying a mortgage at the prime age of 10.
Computer Games
Moreover, I remember when I was a kid, I used to play dress-up games on GirlsGoGames or "Animal Jam" with my friends. Both of those games, along with other classics like "Poptropica" and "Plants vs. Zombies," were supported through Adobe Flash Player, a platform used ubiquitously on the internet to create web apps, games, videos, and animations.
But on Jan. 12, 2020, Adobe chose to block Flash content due to security concerns, thus disabling all games, videos, and animations once supported by the platform. 
Adobe Flash made child-targeted and appropriate games easily accessible for decades. Yet since its disappearance, today's kids have experienced a lack of child-appropriate and targeted games, causing them to turn to adult-appropriate games and all the violence, gore, and bad behavior they contain.
Television
The extinction of child-oriented entertainment doesn't end with online games. The domination of Disney Channel, Nickelodeon, and Cartoon Network—the nostalgic holy trinity of children's cable networks—is also swiftly fading. 
Charley Sarmiento, a 16-year-old South student, said, "I grew up watching like Cartoon Network and Disney Channel and stuff like that…like [Cartoon Network's] 'Codename: Kids Next Door' and [Disney Channel's] 'Austin and Ally.'" 
Yet, with the advancement of social media platforms, these channels have gained many new competitors like Instagram, TikTok, and so on. With the easy accessibility and the instantly gratifying nature of social media, the cable networks have seemingly lost the battle for children's attention.
Disney shut down its kids' channels (Disney Channel, Disney XD, and Disney Junior) in the UK and in Southeast Asia in September 2020 and October 2021, respectively. Disney Channel in the U.S. also experienced a -33% drop in viewership in 2021, while Disney Junior underwent a -27% plunge, states Variety. 
Additionally, the Nickelodeon network lost "nearly 60% of its audience since 2010," states Los Angeles Times, and Cartoon Network saw its viewership plummet 26% in 2021. With the steep decline of cable network channels targeted and produced for kids, children are left turning to adult-targeted programs as a result. 
A prime example is the popularity among teens of "Euphoria," a mature dark-themed show made by and for adults. Yet, teens are watching it. 
Sarmiento stated her younger sister, who's currently in the 7th Grade, just finished watching the latest season of "Ginny & Georgia," a show that is rated TV-14, while Common Sense Media says it is age 15+. 
On the one hand, this is nothing new. What "Euphoria" is for Gen Z is what "Pretty Little Liars," "The OC," and "Gossip Girl" were for Millennials. The phenomenon of purposefully shocking content is repeating itself but has risen to a higher extreme, as the themes of teen-centric shows have grown more mature and boundary-pushing in the pursuit of social media virality.
Where do we go From Here?
Simply put, children look to adults for guidance. Yet, in this day and age, many adults turn to social media for guidance, too. Social media, though, is a revolving carousel parading cesspools of information, opinions, thoughts, ideas, and more. It's a never-ending cycle that will force your eyes to ingest the good, the bad, the ugly, and everything in between.
Lane Fowler, a 16-year-old with a sister in 2nd grade, said, "maybe [social media has] damaged younger kids and they should wait to be exposed to social media; they shouldn't be trapped by it." Consuming social media as an adult can be disorienting and potentially damaging to one's health, but consuming social media as a child is endlessly more harmful. 
Childish behavior has staunchly been detested throughout history; it has been corrected throughout childhood and avoided throughout adulthood. Acting like a kid makes you seem childish, ignorant, and immature to the average adult- who would want to bear those labels?
But being childish is the entitled right of childhood: experiencing life at its fullest with your abhorrent habits and errant practices before you become tailored and manicured in the conveyor belt to adulthood. You get all trimmed down and ironed out to fit into the civil standards of society. What once made you truly creative and unique is pulled out and replaced with the mundane monotony of adulthood.
Everyone deserves the chance to experience a gratifying messy, childish, and even "cringe-y" childhood.