Interviewing Jakson Klosterman
Hang on for a minute...we're trying to find some more stories you might like.
As the JV tennis season is coming to a close, both of the JV boys' and girls' are preparing for Regionals. With only two losses in their season and seven wins, they go into regionals with an exemplary record. I sat down with Jakson Klosterman, a first year South tennis player, to ask about his improvement throughout the year.
Q: When did you start playing tennis?
A: I started playing about 2 years ago, in 7th grade.
Q: What made you want to continue to play tennis after your first tennis practice?
A: It was really fun and I just loved the feeling of playing tennis. My family plays tennis as well, so I have been exposed to tennis for a long time.
Q: Which famous tennis player do you look up to?
A: I look up to Roger Federer because he has won a lot of titles and has accomplished a lot in tennis.
Q: What encouraged you to join South's tennis team?
A: My family encouraged me to join the tennis team, as they are actively involved in South's booster club for the tennis team. My older sister [Sophia Klosterman] also played for South's tennis team as well.
Q: How much time do you put into tennis?
A: For the school team, we usually have practice Monday through Thursday, in the evenings for 2 hours. On Fridays, I practice with another coach outside of school in a group lesson.
Q: What are some tips you would recommend to kids trying out for the team next year?
A: I would practice and rehearse the things that we do in tryouts, which makes tryouts easier for kids who are trying out for the first time. Also, try to go out to the courts and practice as much as you can.
As they wrap up the season, it is clear that the tennis program at South is one of the best in Georgia. Last year, the Varsity Boys were state champions and brought home the glory. Varsity Girls and JV Girls have also have had great seasons resulting in a spot at Regionals. With the help of their remarkable coaches, it is no doubt that the teams here at South can reach new heights.

About the Writer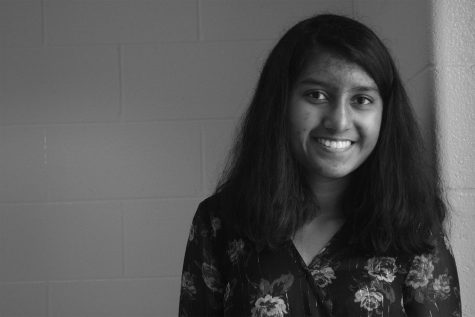 Minakshi Shivananda, Staff Writer
Minakshi Shivananda is a freshman at South Forsyth High School and is taking on her first year at
The Bird Feed
. Minakshi enjoys listening to music, hanging out with her friends, and watching soccer games. She is actively involved in piano and tennis and finds these activities a good way to recover from a long day of school. In her pastime, watching shows on Netflix with her family make the perfect night. She believes that laughter is the best medicine and can brighten up the worst day. Some of her favorite shows include
Parks and Recreation, Stranger Things, The Office,
and
Unbreakable Kimmy Schmidt.
As a writer, Minakshi aspires to focus her writing towards sports and features articles. Minakshi is looking forward to being a new addition to the staff and a great year! You can contact me by email,
[email protected]
, or my twitter,
@MinakshiShiv2
.