Statistics students take football learning to the next level
Hang on for a minute...we're trying to find some more stories you might like.
Throughout the school year, students in the statistics classes figure out performance, ability, and probability for athletes and teams of all sports. The workload can be difficult to visualize for those who are not into sports. A trip to downtown Atlanta changes that.
On Wednesday, March 13th, the students in the statistics class went on a bus ride to the Chick-fil-a College Football Hall of Fame. The first thing students saw as they walked into the large building was the large wall of football helmets, which represented every college football team in America. Students were asked to choose a college football team and were given a lanyard with a tag, which made the exhibits interactive and saved every experience they went through. There were three floors to choose from, each filled with exciting activities to do. On the third floor, panels with years and names of Hall of Famers surrounded the first room, with tall screens in the middle. Once a person stepped up to a screen, their name and the team would show up, along with all of the Hall of Famers in your football team. As they turned the screen, more players popped up, giving them some background in the team that they picked. In the next room, smaller display screens and glass cases holding football treasures are in front of a 52-foot touch screen wall. As a person comes close to the wall, they are recognized by their tag, and a Chick-fil-a cow greets them. A collage of pictures and facts of their team suddenly fill the screen. After walking around the touch screen wall, there are a series of things to choose from. One game allows a person to play as their team and fight against others; another is 360 virtual reality, which allows them to pick a famous game in history and feel as if they are right on the field. Another option is to act as a sports announcer, reciting lines on the bottom of a screen while a football game clip is displayed. Another room had memorabilia and spotlights on certain players and coaches that impacted football.
The second floor displays a history of all aspects of football, from tailgating to fight songs. One screen allows visitors to take a picture of themselves and paint their faces. Another allows them to sit at a desk and be part of a sports broadcast, and a different section plays the visitor's favorite fight song, which is recorded. Each thing you do is saved on your badge account. At the very back of the second floor, there was an immersive, 1o-minute movie about the history of football.
The tours ended back on the first floor, where a full-sized, indoor football field laid, complete with a goal post. Students had the opportunity to kick a field goal or throw a football to the other end of the field. For lunch, the students were given Chick-fil-a, which was the cherry-on-top for some.
"We choose to go to the college football hall of fame because throughout our stat reasoning course, we use sports as a major example on how to use our newly discovered concepts in a real-world example," says statistics teacher and Tennessee Vols fan Mr.McNeese. "This year was the second time I had been on the trip. This was the 4th or 5th year the stat reasoning teachers have done the field trip."
After the trip, as students made their way back to the school around 1 o'clock, all of the students received an email with all of their recordings and other pieces of evidence of doing the activities. The students had to create a short presentation about their trip, which was due the weekend after the trip.
"The museum helps students connect the things they're studying to real-world applications" shared Mr. McNeese.
Overall, it was an invaluable experience that statistics students will remember as they return to their classrooms and continue to talk about sports probability.

About the Writer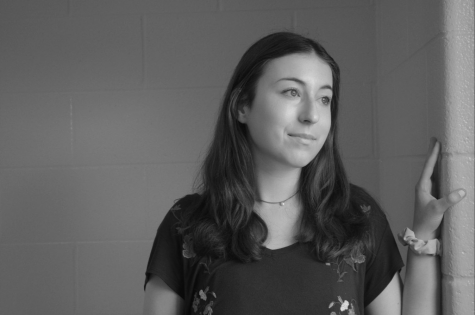 Alyssa Freyman, Editor-in-chief
Alyssa Freyman is a senior and is joining the journalism staff for her third year. You can usually catch her at a local bookstore or coffee shop, getting her caffeine fix. In her spare time, she enjoys jamming out to Coldplay and 70's and 80's rock or watching Netflix. Her latest binge-watch is
That 70's Show
, and she is currently re-watching
Parks and Rec
. She believes that Disney movies are always a good idea. Alyssa is currently a member of DECA, National Honors Society (NHS), National English Honors Society (NEHS), and National Latin Honors Society (NLHS). She loves to laugh (mostly at her own jokes). Her friends would describe her as adventurous; she likes to go zip-lining and rock-climbing. Don't ask her what her favorite book is; she loves them all. She enjoys taking photography, filming, traveling, and cheering on the Chicago Cubs. You can contact her at
[email protected]
.