Welcoming the new generation of Eagles
Hang on for a minute...we're trying to find some more stories you might like.
A mass of 8th graders stepped off the precipice of middle school and entered the threshold of a whole new world: high school. Some braved the steps into the PAC with their heads high, ready for whatever might come their way, whereas others shielded their faces and averted their gaze as they spotted the edifice of South Forsyth High School.
A new generation of War Eagles visited campus; students from Lakeside Middle School, South Forsyth Middle, and Piney Grove Middle had to opportunity to tour their future school. Graduating in 2023, these middle-school students got to taste a bit of high school life as they walked from the Marketing building all the way to East Hall as the tour guide discussed the student life and classes offered. The students sported timid looks as they slowly filed into the PAC to have an introductory slideshow by Ms. MacAllaster to discuss the number of credits they need to graduate and the types of classes they should be taking.
Some students were eager with questions about lunch time and fascinated with the bustle of students as they switched for classes; others were shocked at the height and facial hair of the seniors roaming the halls. The tour guides were ready to answer the questions that these middle schools had been anxiously waiting to ask, such as where to go when you check out or how much time is there between classes. High school is different from middle school because students are given more freedoms and have the opportunity to control their schooling more than they could in eighth grade. 
"
It's cool to learn about the school and the pathways. I'm really excited to start."
— Carsyn Fink, an eighth-grader from Lakeside Middle School
 The upcoming class is going to have a unique experience as they are the first class to start the academy program at South and be able to complete a whole academy by the time they graduate; there are high expectations for the students. On these tours, they learned all about what it means to be a War Eagle.

About the Contributor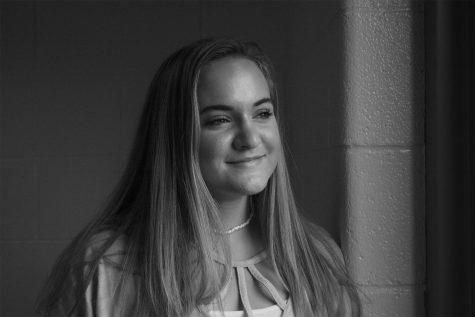 Sadie Rawlings, Online Editor
Sadie Rawlings is sophomore and a new member of
The Bird Feed
staff this year. She usually spends her free time in the gym where she prepares for upcoming CrossFit competitions or spends time at home watching makeup tutorials on YouTube. In addition to writing for
The Bird Feed
, she runs her own lifestyle blog called Sadie's Ways where she writes about her passions for food, fitness, and fun. She loves to find new recipes and test them out, especially southwest salads. Most people would describe Sadie as dedicated, bold, and organized; it's her goal to do everything to her best ability and to take challenges head-on. She is excited to be on staff this year as she grows as a journalist.
Feel free to contact her at
@SadieRBirdFeed
or
[email protected]