Development in Forsyth County: Interview with Cindy Mills
Hang on for a minute...we're trying to find some more stories you might like.
Anyone can tell that Forsyth County is booming. Forsyth County has the best school system in the state, and this fact has attracted many families to this area. The population has flourished, as seen in the numbers. In 2000, Forsyth County's population was approximately 100,467 and as of 2016, the population had risen to 221,009 people. Because of this dramatic increase in population, land development needed to occur in order to support Forsyth County's growth.
Cindy Mills is the Forsyth County District 4 Commissioner, who has influence and strong opinions on the matter. Through email, I asked her many questions about development in Forsyth County.
"
I think the future looks very bright for Forsyth county."
— Commissioner Cindy Mills
How long have you lived in Georgia/Forsyth County?
All of my life – 56 years on July 9th.
How long have you been working in local government and what do you work on?
I was elected to the Board of Commissioners in 2012, began serving in January of 2013. I'm currently in my second term. I work on many things: land-use, budgets, planning, overlays, parks, libraries, ordinances, unified development code, visioning, dog parks, Drug Council, Mental Health, training, community awareness, etc.
How are decisions about development made?
Plans are submitted, staff reviews and makes recommendations, public participation meeting is held, planning commissioner and stakeholders gather input from neighbors and concerned citizens. Consensus building begins. Public hearing is held before planning commission. Conditions are presented with site plan before planning commission. Vote is taken and recommendation is made and sent to Board of Commissioners. Board of Commissioners takes final votes and typically has side meetings with concerned citizens, applicants and/or attorneys beforehand. Final vote is made before BOC with conditions and site plan.
What power do people have to influence these decisions?
Anyone can request to have a meeting with a board member to give their opinion or to give facts.
How do you feel about development? Deforestation?
I believe people have property rights in the State of Georgia according to the State Constitution. I am proud of the state I grew up in and I don't take those rights for granted. At the same time I believe we should adhere to our land use map and ordinances that we have adopted. They shouldn't be ignored. We have worked very hard on those end citizens have given great input on those documents. Trees are important and our tree ordinance has been updated twice since I've been in office. Trees should be planted where people can see them and where they are meaningful. Trees can replenish and if planted correctly and at certain sizes, can do so quickly. We need to do a better job educating people on stormwater management requirements and the metropolitan North water planning district and many other water requirements that all developments must adhere to in their grading plans.
"
I believe people have property rights in the State of Georgia according to the State Constitution… At the same time, I believe we should adhere to our land use map and ordinances that we have adopted."
— Commissioner Cindy Mills
Are there more projects in Forsyth County's future?
With Forsyth county being located as a suburb to Atlanta – its convenience to the Atlanta airport, having an amenity like Lake Lanier, a school system ranked at the top in State, beautiful parks, state of the art healthcare system and a thriving economy it appears many more projects will want to come to Forsyth county.   An exciting, beautiful project is coming forward right now on McFarland Road called Halcyon. It's going to be somewhat comparable to Avalon with 2 hotels and over 500,000 sq. ft. of commercial, the nicest movie theater in the country, many chef owned restaurants and many more exquisite features. There's all types of home types ranging in prices from $400-$600,000. There's also a dog park and a large trailhead to the Big Creek Greenway.
What do you think about Forsyth's future? How much more do you think the county will grow?
I think the future looks very bright for Forsyth county. I don't know how to project growth. I have heard the Lieutenant Governor say that the metro Atlanta area would grow by the size of the state of South Carolina and the ARC has some staggering numbers projected for Forsyth County but our comp plan projected lower numbers than theirs. We are currently hovering just under 330,000 and for a young lady that graduated here in 1980 that lived in a county of 27,000, we have certainly grown by a lot in the past 38 years.

About the Contributor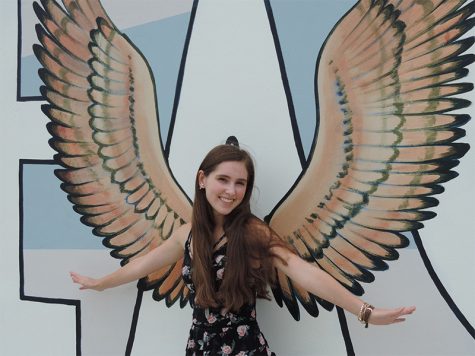 Sophie Ralph, News and Multimedia Editor
Sophie Ralph is a quirky sophomore and has been on staff with
The Bird Feed
for two years. She loves this opportunity to express herself through writing and design! Photography is a passion of hers, even though most of her camera roll is pictures of her dog. She loves to sing and dance like a dork. In her natural habitat, she can be found out and about with her friends or curled up in bed watching Netflix wearing fuzzy socks. Sophie's a writer, a geek, an optimist, and a Christian. She believes happiness is the most important thing in life, and has learned to find and appreciate it every single day.
You can reach Sophie on Twitter 
@sralphbirdfeed
or email her at
[email protected]
! She would be happy to hear from you!