Meet the new mayor of Cumming
Hang on for a minute...we're trying to find some more stories you might like.
Troy Brumbalow, the sitting mayor of Cumming, spoke with The Bird Feed about the changes he hopes to implement in our County's only city as well as the experience he has gathered five months after the mayoral election.
Brumbalow was elected in the November 7th election, upsetting the election favorite and incumbent, Henry Gravitt, who served in the position for 47 years. Brumbalow said that his decision to run originated from a sense that he "saw Cumming becoming an idle, stagnant city." He added that "there are so many more ways that the city could grow and become different."
One of his main pursuits will be to instil a "small town feel" in the city of Cumming. The former South Forsyth alumnus wants to make "Cumming a city to go to." Brumbalow explained that "Cumming was never much of a city; you always had to go to Alpharetta or Roswell to do anything." As a small business owner, Brumbalow cited that "the giant courthouses and jails that are being constructed in the city" were a reason other business owners felt discouraged from investing in Cumming. He said that these endeavors were supported by Cumming's former mayor, Henry Gravitt, who advocated for further administrative facilities in the city center during the November 7th election.
Instead, Brumbalow spoke about constructing a city center that will bring more people to Cumming and make the city a must-see attraction for those who live close by. The city has also planned events such as "Friday at the Fairgrounds" and "Food Truck Fridays" which aim to create the "small town feel" that Brumbalow campaigned for. Brumbalow said that the reason these rapid changes are taking place after decades of complacency is due to the "fresh set of eyes" in the city's government. Alongside Brumbalow, the city of Cumming has two new city council members and two others who have only held the position for two years. He found that  "the old city council and mayor weren't necessarily bad, but it is always beneficial to get a new perspective on things."
Other changes the city of Cumming wishes to pursue include creating a city noise ordinance and creating a water park at Mary Alice Park. Brumbalow's office also wants to ensure the city maintains its current property tax law, which excludes tax for buildings in the city limits of Cumming.
Before running for mayor, Troy Brumbalow had started a construction company, a softball bat company, a tanning salon (Planet Tan & Beyond), and has just recently begun a cabinet making business. He says that his experience in small business has been helpful in his new role, citing budget cuts as an example of his business acumen.
Brumbalow concluded that by inviting all members of the community, particularly teenagers, to be involved in local government, the standard of living in Cumming will improve. He says "We always have high turnouts at the national level, but local government controls our everyday life; everybody should attend board meetings and assemblies."

About the Writer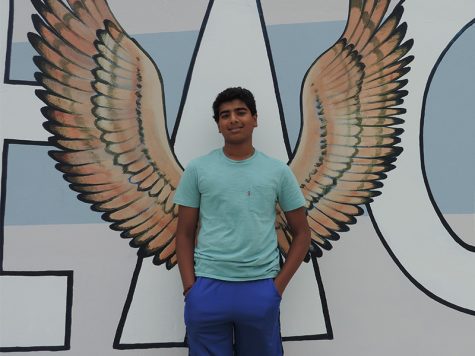 Adithya Ramanujam, Editor-in-chief
Adithya Ramanujam is an enthusiast of all things. The junior enjoys playing sports such as basketball and soccer. He also enjoys music and his favorite artists include Ugly God and Keith Ape. This music enthusiast, also enjoys producing music. He is also actively involved TSA , Beta Club, and DECA. Adithya also likes movies and his favorites include
The Shawshank Redemption
and
Space Balls
. He aspires to not really work and spend out the rest of his days playing pool and eating grilled cheese and writing short stories, and if that doesn't work out he will most likely do something involving engineering. His interests are diverse and they are pulling him into a variety of things, so he has no idea what the future holds for him, but whatever it is, he will enjoy it.
You can contact Adithya at:
[email protected]
or
@adithyabirdfeed