Top 16 movies to watch this Valentine's Day
Hang on for a minute...we're trying to find some more stories you might like.
Grease (1978)
This classic musical explores the life of a high school cliché, especially two of the senior gangs at Rydell High School: The T-Birds and The Pink Ladies. When the innocent Sandy Olsson (Olivia Newton-John) meets T-Bird member Danny Zuko (John Travolta), they fall in love. Unfortunately, they must separate at the end of the summer. They end up going to the same high school and find each other once again. Battling their own identities, Danny and Sandy struggle to be together and get their relationship to work. Over the course of the school year, the students at Rydell High go through many ups and downs in their relationships, but in the end, friendships are what matter most.
The Princess Bride (1987)
Wesley (Cary Elwes) and Buttercup (Robin Wright) know they are in love, but when Wesley has to leave to go out to sea, word comes back to Buttercup that her true love has died. Prince Humperdinck (Chris Sarandon) chooses Buttercup to be his queen because of her stunning beauty, but she doesn't love him. When Buttercup is kidnapped, a mysterious man dressed in black comes to her rescue. The outstanding cast tells a beautiful love story with, "Fencing, fighting, torture, revenge, giants, monsters, chases, escapes, true love, miracles!"
Dirty Dancing (1987)
Frances "Baby" Houseman (Jennifer Grey) and her family are spending the summer in the Catskill Mountains, and Baby is trying to enjoy the last of her childhood before joining the Peace Corps. During the vacation, Baby starts taking a dance class taught by the young and attractive dance instructor Johnny Castle (Patrick Swayze), and they begin to learn the dance for their timeless "I've Had the Time of My Life" performance. Through awkward practice sessions and several complications, Baby improves and an attraction begins to form between teacher and student. Baby and Johnny both learn new things about themselves, and their friends and family discover that they aren't the stereotypes they thought they were.
Ghost (1990)
Life is right on track for couple Sam Wheat (Patrick Swayze) and Molly Jensen (Demi Moore) as they move into their new apartment in New York City. Tragically, one night, Sam is shot and killed. Trapped on Earth as a ghost, Sam struggles to cope with his nonexistence. Sam quickly finds out that he has no impact on the physical world and can only communicate with the other ghosts that wander the world. Luckily enough, Sam finds spiritual reader Oda Mae Brown (Whoopi Goldberg), the only one who can hear him. She is extremely resistant to help him, but as the two investigate Sam's death, they realize it goes way deeper than either imagined. Despite the fact that Sam is no longer alive, he realizes that his love for Molly will last an eternity.
While You Were Sleeping (1995)
Lucy Eleanor Moderatz (Sandra Bullock) is a transit worker who, one day, saves her crush Peter (Peter Gallagher) from an oncoming train. In the hospital, Peter falls into a coma and Lucy stays at his side, hoping he will recover.  When his family joins them in the hospital, they assume Lucy is his fiancée. Unable to correct them, Peter's family takes her into their home and family. The already complicated situation gets even worse when Lucy finds herself falling in love with Peter's brother, Jack (Bill Pullman).
Romeo + Juliet (1996)
There have been several movies portraying the Shakespearean classic, "The Tragedy of Romeo and Juliet", but this is different than the 1968 and 2013 versions. In The 1996 version, the story takes place on "Verona Beach" and the famous families Montague and Capulet are rival gangs. Romeo (Leonardo DiCaprio) and Juliet (Claire Danes) meet at a costume party and become infatuated with each other, not knowing that Romeo is a Montague and Juliet is a Capulet. When this information is revealed, the two try to continue their relationship, even through their gangs' rivalry. Complications arise which prompt the audience to wonder, "How far would you go for love?"
My Best Friend's Wedding (1997)
Julianne Potter's (Julia Roberts) childhood best friend Michael O'Neal (Dermot Mulroney) is getting married to a young and gorgeous woman named Kimberly (Cameron Diaz). Julianne is appointed maid of honor in his wedding and should be happy that her life-long friend is getting married, except there is a problem: she's in love with him. Julianne vows to break up the wedding. She attempts to sabotage Michael and Kimberly's relationship, but with a few days till the ceremony, Julianne is running out of time. This undoubtedly creates hysterical disasters along the way.
Titanic (1997)
The Titanic was one of the most awe-inspiring ships ever built, until it sank on its maiden voyage in 1912. The Titanic held thousands of passengers, so it must have been fate that first class passenger Rose (Rose DeWitt Bukater) and third class passenger Jack Dawson (Leonardo DiCaprio) met. Rose was engaged to a wealthy man, but she did not love him and was considering suicide by jumping overboard. Jack stumbles upon her and prevents her from fulfilling this final act. They decide to accompany each other to a first class dinner and third class party. As time goes on, they fall more and more in love. Then the ship hits the iceberg and the "unsinkable" Titanic begins to sink. Rose and Jack's newfound love is put to the ultimate test.
You've Got Mail (1998)
Kathleen Kelly (Meg Ryan) is a worker at a small, struggling bookstore in New York City and her biggest competition is Joe Fox (Tom Hanks), who belongs to the family that owns a chain bookstore called Foxbooks. Kathleen and Joe meet each other online and start up an anonymous internet romance, unaware of the other's occupation. When Joe discovers Kathleen's true identity, he attempts to put an end to their rivalry, but when they are both so passionate about their work, it will be difficult to resolve.
Serendipity (2001)
After reaching for the same gloves at Bloomingdale's department store in New York City, Jonathan Trager (John Cusack) and Sara Thomas (Kate Beckinsale) share a mutual attraction and decide to go to Serendipity 3 for dessert. Both are big believers in fate and destiny, so Jonathan decides to put his number on a five dollar bill and Sara's in a book cover. They believe that if the phone numbers make their way into their hands, then it's meant to be. Ten years later, both are engaged to different people but they never forgot about each other. Fate intervenes, but will they listen?
The Notebook (2004)
Noah Calhoun (Ryan Gosling) and Allie Hamilton (Rachel McAdams) are just two people who are madly in love. Unfortunately, their relationship is cut short when Allie and her family move away since Allie's parents did not approve of Noah. After Noah is unable to find her and his many letters don't reach Allie, he enlists in World War II. While Noah is deployed, Allie assumes that Noah has never written her, and so she becomes engaged to someone else. When Noah returns, it is clear that despite the circumstances, their love is still strong and their relationship is far from over.  
Hitch (2005)
Alex "Hitch" Hitchens (Will Smith) coaches awkward men and helps them make a good first impression on the women they are trying to woo. While Hitch is teaching his most recent client, Albert Brennaman (Kevin James), Hitch finds himself falling for gossip columnist and workaholic Sara Melas (Eva Mendes). Hitch continues coaching Albert and things progress with his crush, Allegra Cole (Amber Valletta). During this time, Hitch begins to fall for Sara, however, none of his usual methods are working on her. Hitch keeps Sara in the dark about his occupation which can only end badly.
Leap Year (2010)
Anna Brady (Amy Adams) has been dating her boyfriend Jeremy Sloane (Adam Scott), and after four years, he hasn't proposed. She is familiar with the Irish tradition that the woman can propose instead of the man, but only on February 29th of a leap year. Jeremy has a conference in Dublin, Ireland and Anna plans to meet him there and propose. Due to a storm, her plane is blown off course and lands in Wales, a small country within Great Britain. After landing, Anna figures out that she needs the help of innkeeper Declan O'Callaghan (Matthew Goode) to get where she needs to go. A wild adventure ensues as Anna trys to reach Jeremy, which gives Anna plenty of time to think about her proposal and consider if this is really what she wants to do.
The Fault in Our Stars (2014)
Hazel Grace Lancaster (Shailene Woodley) is a 16-year-old with lung cancer and attends support groups with other teens afflicted by cancer in addition to all of her treatment. At one of these support group meetings, Hazel meets Augustus "Gus" Waters (Ansel Elgort) and they become intrigued with one another. Gus has lost a leg due to bone cancer, but has been cancer-free ever since. The two teenagers continue to bond over their love for the book, "An Imperial Affliction" by Peter Van Houten. Gus gets a hold of the author, who lives in Amsterdam and plans for them to meet. Due to Hazel's medical condition, Hazel's mother is reluctant to let Hazel go, but she accompanies Gus and Hazel on this trip after giving it some thought. The trip is filled with soaring highs and disastrous lows that will change Gus and Hazel forever.
Me Before You (2016)
Louisa "Lou" Clark is a quirky coffee shop employee with a unique fashion sense. Lou works to help provide for her family, and when she gets the opportunity to make more money working as a caregiver, she doesn't pass it up. Lou soon discovers that she will be taking care of Will Traynor (Sam Claflin), who is paralyzed from the neck down due to an accident two years before. Lou begins to loath Will's cynical and pessimistic attitude, but things begin to change when Lou tries to convince Will that his life is still worth living, despite his paralysis.   
La La Land (2016)
This musical centers around Sebastian (Ryan Gosling), a struggling jazz musician and Mia (Emma Stone), an aspiring actress. After running into each other a few times, the two artists bond over their desire to pursue their passions. After struggling to succeed in their respective careers, things start to go right. Sebastian and Mia try to work on their relationship, but it begins to look like they can only have one or the other: pursuing their dreams or experiencing true love.

About the Contributor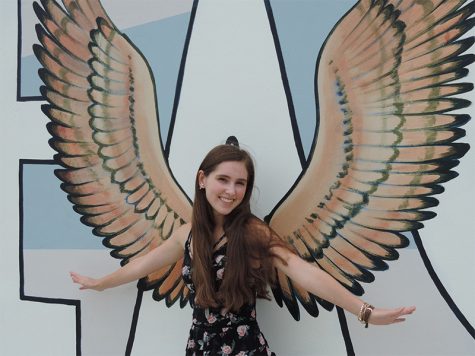 Sophie Ralph, News and Multimedia Editor
Sophie Ralph is a quirky sophomore and has been on staff with
The Bird Feed
for two years. She loves this opportunity to express herself through writing and design! Photography is a passion of hers, even though most of her camera roll is pictures of her dog. She loves to sing and dance like a dork. In her natural habitat, she can be found out and about with her friends or curled up in bed watching Netflix wearing fuzzy socks. Sophie's a writer, a geek, an optimist, and a Christian. She believes happiness is the most important thing in life, and has learned to find and appreciate it every single day.
You can reach Sophie on Twitter 
@sralphbirdfeed
or email her at
[email protected]
! She would be happy to hear from you!