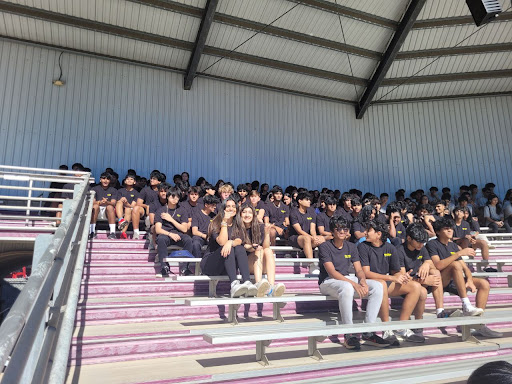 Around 5,000 middle and high school students from across Georgia gathered at Six Flags Over Georgia on Oct. 2 for an event with Georgia's Future Business Leaders of America (FBLA).
Approximately 150 South students loaded into buses the morning after Fall Break ended, ready to enjoy their day on rollercoaster rides. Georgia FBLA rented out the park for the entire day, so students had plenty of time to both get on rides and take part in all the activities FBLA had planned. 
"Fall Rally has a key focus on motivating and exciting FBLA members for the school year!" SFHS FBLA Co-President Saanvi Kankipati said. "It's a good opportunity to meet and network with members from all across Georgia." 
After entering the park, all of South's FBLA members attended a speaker session alongside several students from across the state. After introducing the state officer team and hearing from this year's national president, students welcomed a guest speaker.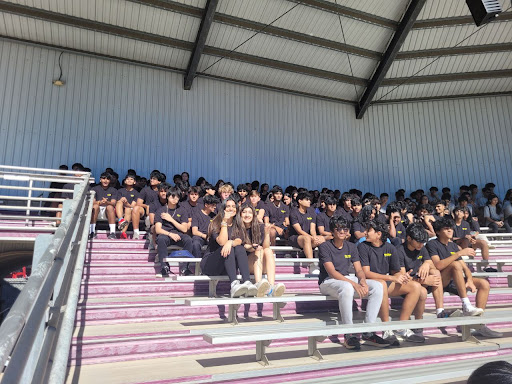 Motivational speaker Patrick Grady, who has spoken at several past CTSO conferences in other states, energized the crowds with a fun dance and speech. This was great for students, as future leaders, to learn to let go of their nerves and build the enthusiasm necessary to lead their own chapters to success. 
"He did an admirable job engaging the audience while narrowing in on all the great things that FBLA has to offer!" Kankipati said. "We got to sing and clap our hands along with him, and it was an amazing start to the morning!" 
After lunch, students had the option to take practice tests for the competitive events the organization will host later in the year. While this was optional practice for the real competitions that will occur later in the school year, the offered exams were great preparation for motivated students. This, Junior Virthiha Selvemuthukumaran said, "was really helpful and quite beneficial for upcoming competitions."
Afterwards, students roamed the park and explored the various rides like Goliath, Batman, and the Great American Scream Machine, until 6 p.m..
"Fall rally is overall an amazing opportunity for members to learn more about the organization and see all the great things FBLA has to offer!" 
Overall, the Rally was a successful kickstart to a year that promises ample opportunities for students to learn and grow as Future Business Leaders.