A Record-Breaking Career: South's Athletic Trainer Diane King Deserves her own 'Hall of Fame'
South's Head Athletic Trainer Diane King helps school athletes break records every day, but few might know she's lived a record-breaking life herself.
"I actually was the first and only female in the Men's Athletic Department at [University of Memphis]," said King, speaking about the beginning of her career. "Back then, everything was segregated [by gender]."
King recalls asking a friend from church, who was an athletic trainer at the University of Memphis, to introduce her to the school's Women's Athletic Trainer, but at the time neither she nor her friend were satisfied with the opportunities that position offered.
"He said that I would lose two years working with her because I would have to be a manager first," King said. "And all they did was wash towels."
King spent the next two years at the University of Memphis before her career took her to Louisiana State University, where she was "the first female graduate assistant on the women's athletic program side."
Whether it's working with gymnasts or track stars, football players or swimmers, King has always given her all to the pursuit of breaking barriers on and off the field.
Blood & Sweat
King didn't always want to be an athletic trainer. As she always knew she wanted to be in the sports medicine field, King originally intended to become an orthopedic surgeon. 
She soon realized that blood and long needles were not something she intended on working with all her life. "I realized that I couldn't watch somebody even give blood," King said.
As she continued down her path, she considered being a physical therapist. But without the guarantee of working with only athletes and her knowledge of physical therapists working with many geriatric people and stroke patients, she skipped the idea.
King officially became a certified Athletic Trainer in 1987. 
This decision only led to bigger and better things. Throughout her career as an athletic trainer, King has been the president of the Athletic Trainers Association for the state of Georgia. She was the Nutrition Consultant for the Atlanta Falcons. She sits currently on the Sports Medicine Advisory Committee for the Georgia High School Association (GHSA). She was most recently nominated by the Governor to serve on the state's licensure board for athletic trainers.  
Despite such an impressive resume, King remains remarkably down-to-earth.
"Whether or not [my career] gets me into a Hall of Fame one day or whatever, who cares," King said. "It's all just kind of a building block from one thing to the next."
Whether she believes it or not, King continues to amaze people, as what she has achieved is no small feat and incredibly well-deserved. 
Southern Hospitality
King, affectionately known to South's student body as "Miss Diane," takes care of athletic training for all sports on campus. 
Since she started at South in 2009, King said  she most enjoys the trust people have come to place in her and her expertise. She has earned the connections and friendships she has made with South's administration, kids, coaches, and parents, which have garnered her a great reputation in the school community. 
"The administration is very supportive of everything that I do and [they] help with…all that kind of stuff. So that's nice," King said. 
Another part of the job she enjoys is when past athletes come back to visit her. One such athlete is current NFL wide receiver Jalen Camp, who attended SFHS and now plays for the Houston Texans.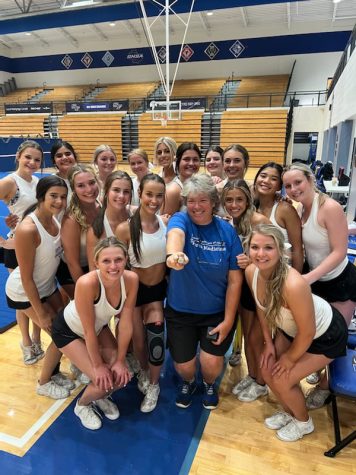 "The number of kids [who] have come through [South's athletic programs] and things like that, whether it's football or any of the other sports and gone on to play in college…it's always fun to see them do well at the next level," King said.
In addition to helping student athletes be successful beyond South, King also loves when her former trainees pursue coaching.
"Joe Outlaw was a student here at South Forsyth, and so for him to come back and teach and coach for a while, [or] for Sam Outlaw to come back and teach and coach for a while, that's always kind of fun," King said.
"As A Team"
Being on top of athletic training for all sports at SFHS sounds like a lot for anybody. King believes that an important quality she must have is administrating chaos and providing organization.
"I think a lot of times people forget, if I'm [with] football, there's still four other sports going on that I've got to have a handle on," King said. "Just organization, people skills, knowing how to deal with difficult people, or ignorant people…sometimes it's just the day-to-day stuff that you're trying to get somebody to understand. Sometimes it's bigger things, like when somebody's had an injury, and you're trying to explain to them what the process is." 
When asked what she enjoys most about working with younger athletes, King said, "I think it's just the excitement of trying to get better and win as a team and things like that. You know, it's still kids enjoying stuff. There's a newness to it." 
Watching her young athletes go through the process of working through an injury, putting in the work, and getting back on the field better than before, is "very rewarding," King said.