South Supports its Students Through the Eagles' Share Closet
Before the start of the Pandemic, South Forsyth High School took action when the school's staff saw some of its students were in need of some additional support.
SFHS Principal Ms. Laura Wilson worked with Mr. Naran Butler-Houck, the school's dedicated social worker, to create a space known as the "Eagle's Share Closest" to allow students to access some necessary supplies to help them throughout the day, or even at home. Principal Wilson, along with the rest of the faculty, hoped that this safe space would allow students to gain access to resources they do not have as well as understand that the school's number one priority is to keep its students safe and secure.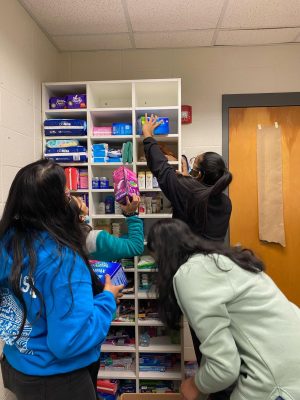 The Share Closet is a small room packed with essentials for students to use whenever they need. Donors stock the closet with items including drawstring bags, personal hygiene items, clothes, school supplies and more. 
Along with other faculty, Mr. Butler-Houck works endlessly to ensure this closet is full of essential supplies to support the needs of any student on campus.
 "The way it [Eagle's Share Closet] works is that informal referrals come directly to me from anyone and anywhere," he said.  "The referral source can be a counselor, staff member, student, or self-referred. I usually get referrals from word of mouth, but may also receive a call or email as well. I then reach out and follow-up with the student to explore their needs, and show them The Eagle's Share Closet."
To make sure they are not hesitant to receive help, these students are able to take whatever items they need in privacy. 
"Sometimes asking for help presents a barrier to access support, so I want to always make sure the process is as discreet and welcoming as possible," said Mr. Butler. 
On some occasions, the Eagle's Share Closet may not have a specific item or resource that a student needs. In this case, the school has partnered up with The Place of Forsyth to tackle this problem. This community organization helps students by making their needs more accessible, as it provides many resources and benefits in partnership with the school.
"
The Eagle's Share Closet [fosters] a relational and fluid exchange of share and care."
— Mr. Butler, SFHS Social Worker
Additionally, Mr. Butler works with social workers from all over Forsyth County to see how the Eagle's Share Closet can aid students from other schools, and if other schools may have some items that our closet is in need of at the moment. Moreover, this closet is a community effort, as individuals work together to support the students of our school in any possible way.
Ultimately, the Eagle's Share Closet is an essential location that brings warmth and support to the South's community, enabling all the students to feel safe and welcomed as their personal needs and personal dignity are supported. 
About the Writers
Shree Delwadia, Editor-In-Chief
Shree Delwadia is excited to be part of
The Bird Feed
as a senior! This year is her fourth year on staff, and she cannot wait to take on her new responsibilities as the Editor-In-Chief. By working on the staff as a writer and an editor, she has learned a variety of communication, teamwork, and accountability skills that she will take on to other roles in her life. At school, she is a part of MDJunior, Beta Club, and UNICEF.  In her spare time, she loves spending time with her friends and family or discovering new things to do. Two of her ride-or-die tv shows are
Grey's Anatomy
and
Friends
. Moreover, Shree has a strong interest in medicine and hopes to pursue a career in healthcare one day. You can contact her via twitter
@ShreeDBirdFeed
or using her email
[email protected]
.
Saanvi Tatipalli, Features Editor
Saanvi Tatipalli (She/Her/Hers) is a sophomore at South Forsyth High School, delighted to make the best of her second year working with
The Bird Feed
as this year's Features Editor
. She is an avid creator and when she's not honing in on her passions, she's finding new ones to try out. At school, she is the Deputy Historian for FBLA, Vice President of The Creative Writing Club, and President for SFHS Madhatter Knits. Outside of the school environment, she loves writing for magazines and advocating for causes dear to her. She absolutely loves to write, make digital art, code, or spend time with her family and friends, and she really looks forward to learning more and meeting new people this year! You can reach out to her at
[email protected]
.