Experiencing a world of cookies with Crumbl Cookies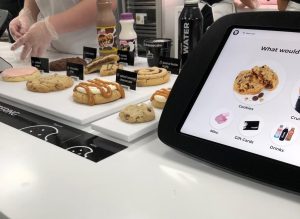 In early September, the new Crumbl Cookies establishment opened in Forsyth County. Many students, teachers, and families in the South Forsyth area eagerly awaited the grand opening line for their free chocolate chip sugar cookie. As people stood in the socially distanced line, the employees of the store had many entertainment opportunities and free vouchers to hand out to the crowd. The fresh, warm, and delicate cookies flavors excited the customers as they entered the store for their first time. Crumbl Cookies seized the opportunity to impress the crowd with the variety of cookie flavors they offer. 
"The best part about Crumbl Cookies is that as soon as you order them, they come out fresh and warm from the oven," said freshman Evan Barnhart. "They then package the cookies into decorative boxes which gives another reason I love the place!"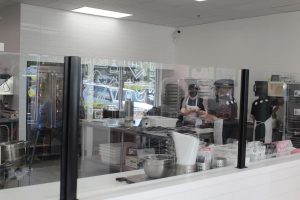 Moreover, two cousins dreamed of finding the perfect recipe for chocolate chip cookies. In turn, they created the Crumbl Cookies franchise. After testing a variety of ingredients, they continued tasting more and more flavors until they found the ones that truly made their cookies stand out. Ever since then, the franchise has expanded from the first store in Utah to over 75 locations all over the country. 
Crumbl Cookies is unique in the way it operates. Each week, the cookie flavors change to match the seasonal feel of the year. While their popular chocolate chip and chilled sugar cookie are always available to customers, the bakery offers four new specialty cookies each week. 
To welcome the season of fall, this week's specialty cookies include raspberry cheesecake, pumpkin roll, chilled cookies & cream milkshake, and molten lava. These freshly baked, warm cookies are sure to make a lasting impression on your taste buds. 
"The good location and cute packaging make visiting Crumbl Cookies an amazing experience," said junior Tarita Jakobs. "Personally, my favorite cookies in the past have been Salted Caramel, with the Brownie Peanut Butter flavor coming second." 
Every customer's experience is important to the Crumbl Cookie staff. As an individual enters the store, the employees immediately greet the individual with joy and pleasure. Each customer has the opportunity to see how the cookies are freshly prepared in the open-kitchen setting. From the mixing of the dough to the baking in the oven, bakers design each cookie with precise measurements and a sprinkle of love from the bakers.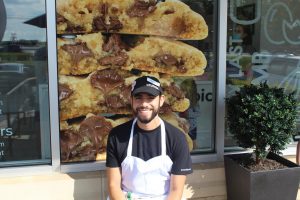 We interviewed one of the chefs at the Forsyth Crumbl location. Chef Silvi Cuevas informed us about the one-of-a-kind experience offered at Crumbl and what makes each cookie so special.
"Every cookie is made from scratch [with fresh ingredients] and always served at a warm crisp temperature," said Ceuvas. "What makes our bakery unique is how fresh we serve our cookies. We do not store cookies for long, and we dress additional ingredients right in front of the customer to ensure 100% satisfaction. Along with the four weekly rotating flavors, our best-selling cookie is still the original chocolate chip cookie."
With over 120 specialty flavors, customers cannot wait to see the flavors offered each week. To provide for a wide range of clientele, Crumbl Cookies offers nationwide and local shipping so everyone can experience the delightful taste of each and every cookie. Adding a cherry on top, the bakery also offers fresh ice cream flavors such as Biscoff, Raspberry Cheesecake, Muddy Buddy and more!
Visiting Crumbl Cookies is a memorable experience for many within the community. As one enjoys the special treat, the cookies crumbles into pieces of delicate pleasures to allow for the customer to experience pure bliss with each bite. Don't miss out on the chance to experience some fall specialty flavors and visit or order from a Crumbl Cookies location today!
About the Writers
Shree Delwadia, Editor-In-Chief
Shree Delwadia is excited to be part of
The Bird Feed
as a senior! This year is her fourth year on staff, and she cannot wait to take on her new responsibilities as the Editor-In-Chief. By working on the staff as a writer and an editor, she has learned a variety of communication, teamwork, and accountability skills that she will take on to other roles in her life. At school, she is a part of MDJunior, Beta Club, and UNICEF.  In her spare time, she loves spending time with her friends and family or discovering new things to do. Two of her ride-or-die tv shows are
Grey's Anatomy
and
Friends
. Moreover, Shree has a strong interest in medicine and hopes to pursue a career in healthcare one day. You can contact her via twitter
@ShreeDBirdFeed
or using her email
[email protected]
.
Chris Bunker, Photo Editor
Chris Bunker is starting his junior year with a bang by strengthening his knowledge in journalism and making new connections with his peers. Throughout the year, Chris is hoping to make the varsity soccer team, as well as write a variety of stories about the sport. Chris' passions include playing soccer and hanging out with his family. Chris is really excited to continue writing stories for
The Bird Feed
.  He is also really interested in photography and learning more about diverse topics of writing. He is super excited for his third year as Photo Editor/Social Media Lead. Contact him at
[email protected]
or on Twitter @cristfur.in.a.bunker. 
Christopher Bunker, Photography Lead
Chris Bunker is starting his sophomore year with a bang by strengthening his knowledge in journalism and making friends with his peers and superiors. While Chris is hoping to make junior varsity soccer he will also be helping out with stories on it. Chris' passions are playing soccer and hanging out with family. Chris is really excited to continue  writing stories for the bird feed. He is also really interested in photography and loves taking pictures. He is also really excited to learn more about the writing community. Contact him at
[email protected]
or on twitter and instagram @cristfur.in.a.bunker.