War Eagles extend their winning record with a win against North Atlanta
Monday February 17, students and fans gathered to War Eagle Stadium for the varsity baseball game against North Atlanta. The game started at one o'clock on a windy day. Parents and students covered with blankets and jackets sat in the bleachers and supported the boys. The press box played each player's walk-up song and it sounded through the stadium and throughout the field as the players took their positions.
The War Eagles started off their season at home with a scrimmage against Fellowship Christian. A 14-3 win against the school started off this victorious season. In the next game, South played Collins Hill at home and took a 12-5 win. The first away game, South played Northview High School but unfortunately lost 3-10. Then, the War Eagles prepared to take on North Atlanta Warriors.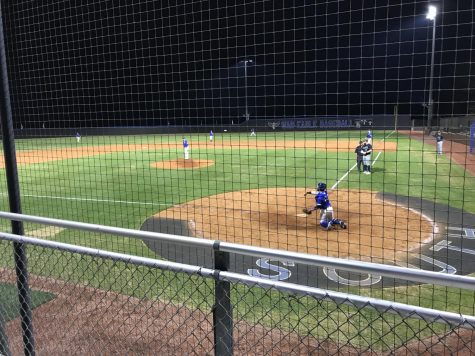 The game started off slow with multiple outs and some stranded runners. South's defense looked smooth with their catching routine pop flies and consistent pitching. A throw from junior Andrew Khitlinger, early in the game, kept a stealing runner from reaching second base. Offense was slow at first and left many runners stranded. When the bottom of the second came around, juniors Gherig Frei and Max Henry ran to home scoring the first two runs for South.
The third inning went by quickly and South got three outs settling the score at 2-1, but the War Eagles still held the lead. The bottom of the fourth came up and junior Jacob Bateman laid down a bunt. North Atlanta's defense could not make the play, and Bateman was safe on base and a run was scored at home. By the top of the sixth inning, the War Eagles extended their lead to 7-1 through may offensive and defensive plays such as routine popups, competitive pitching, and expertly placed hits.
South Forsyth called for a pitching change that brought third baseman sophomore Ryan Becker to the mound. Pitcher junior Jack Damico took Ryan's spot at third. The War Eagles were leading 8-2 by the top of the seventh and North Atlanta could not put any points on the board. The game ended after seven innings. The referees called a mercy rule on North Atlanta and South brought home another win.
The Junior Varsity team played later that day at Denmark High School. The Danes, much like North Atlanta, could not hold on and the JV team won 9-6. Both of South's baseball teams brought home a win and have extended their winning record.