2019 Varsity Volleyball season wraps up
South's varsity volleyball closed its 2019 season after finishing in the first round of state championships October 19th at Brookwood High School. Their season contained ups and downs with a 16-16 record. Although athletic ability is a defining factor in sports throughout the season, the team established a strong team bond that allowed them to succeed on and off the court. 
As Coach Stefani said, "The group of girls on the team were extremely tight as a group of friends.  They respected and cared deeply for each other off and on the court. I loved the energy this group of players had this year.  We played with toughness and grit through adversity and the girls stayed the course together." 
The team faced every match with the same focus and mentality; they executed the game plan, stayed positive with themselves and teammates, and  had fun. Due to multiple injuries and illnesses, the Lady War Eagles had to adjust the starting line-up. The players accommodated to the adjustments expertly. 
The 2019 season started on a good note, with South beating Hillgrove at their first official game of the season. They continued on their winning streak until the All-City Even tournament, where they lost to Allatoona. Throughout the season, the teammates gave their all on the court and experienced successes. 
During the year, the team worked hard to improve their abilities. "Our serving and passing game became more consistent as the game went on.  Due to multiple injuries and players missing matches due to sickness we had to make many adjustments to our line-up and the players handled the constant changes really well," said Stefani. 
Within the region, South had a 5-2 record, only losing to Milton and Lambert, but later beat Milton on senior night.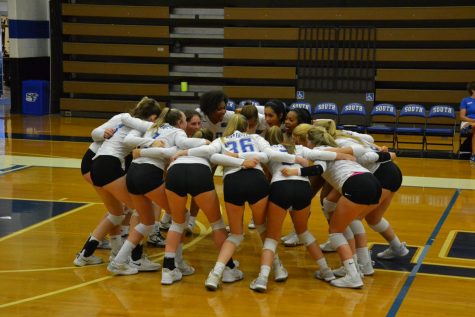 One of the team's favorite moments was senior night. Coach Stefani said, "It is always a special evening to celebrate your seniors, and this group of girls will be sorely missed.  We beat Milton in a really tight battle that evening in 5 sets and the players were just relentless and kept fighting for the win."
The team eventually made it to state championships, which is a major accomplishment. After a defeat against Norcross at State, South girls volleyball concluded its eventful 2019 season.
About the Writers
Dione Geiling, Staff Writer
Dione Geiling is a sophomore and is in her first year of Journalism. She is a staff writer for the newspaper
The Bird Feed
. In her spare time, she loves to read and rewatch episodes of her favorite shows on Netflix. Dione loves science and literature and she hopes to pursue a career in the science department. She also loves hanging out with her friends and laughing until her stomach hurts. You can email her at
[email protected]
or contact her on twitter
@dionebirdfeed
.
Kate Haas, Senior Editor
Kate Haas is a senior at South Forsyth High School and this is her third year writing for
The Bird Feed.
She has previously worked as the features editor and will spend her final year as senior editor. Her favorite pastimes include reading, writing, and watching movies and TV shows. She aspires to one day live in New York City and to travel the world. Kate is looking forward to this year on
The Bird Feed
and cannot wait to see what exciting articles she will write. You can contact her at
[email protected]
or through her Twitter, @khbirdfeed.