South's Healthcare Options: A new medical pathway
Hang on for a minute...we're trying to find some more stories you might like.
Everyone has his or her own plan or route they follow in order to accomplish their dreams. Whether that dream is to become a teacher, a pilot, or a doctor; South Forsyth High School is ready to help pursue those dreams and make them into a reality. SFHS created a new medical pathway to help those students who have aspirations in the field of medicine. This year, South partnered with Lanier Technical College to further the knowledge and experience level for the students interested in healthcare. The CTAE Supervisor at South, Ms. Carrie MacAllaster, was glad to have another way for all her students to explore their passions and interests. The medical pathway offers two different courses and is also a dual enrollment pathway. To learn more about the requirements for this pathway and find other information, click here.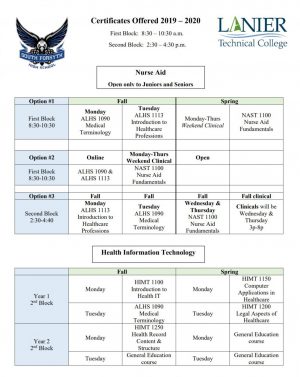 The new medical pathway focuses on two different areas in the world of healthcare: nurse aide and health information technology. Nurse Aide allows students to gain advanced knowledge and unique clinical experiences to be prepared for the real world. This program prepares students for careers in fields such as general medicine or even surgical specialties. Additionally, the students who complete the nurse aide pathway successfully can receive nurse aide certification. On the contrary, for those interested in health information technology, this course option allows him or her to learn more about the intertwining world of technology and medicine. Both routes of this pathway are beneficial experiences for anyone hoping to pursue a career in healthcare.
"This new opportunity will allow students to gain knowledge in these areas and will hopefully fuel their passion and interest for medicine," says Ms. MacAllaster. "We want to provide our students with as many opportunities for success, especially when they believe that they may pursue a career in this area."
"
We are hopeful that this new pathway will serve our students and will ignite their passion and interest in medicine. Furthermore, we hope that we will continue to grow this program for the school."
— Ms. MacAllaster
Furthermore, since this new pathway is a dual enrollment pathway, the requirements for this pathway are quite different than the other pathways at South. When applying for this pathway, students should look at the dual enrollment requirements for Lanier Technical College and SFHS. For instance, Lanier Tech requires students to have a test score from items such as the ACT and/or the SAT. Dual enrollment allows students to complete high school credits at a college and catch a glimpse into what their future might look like. Going to college every day and being around college students allows students to recognize new things about themselves and get a deeper insight into what he or she is passionate about. Despite being a dual enrollment course, the medical pathway is still considered a CTAE Pathway and like the current pathways, students must complete the graduation triangle in order to earn credit for this pathway. For those participating in the nurse aide program, students have 3-course options to choose from; these options vary from the time of the course to the order of the classes taken. When comparing this course to the health information technology (HIT) course, the nurse aide route only requires a year of dual enrollment classes, whereas the HIT route requires 2 years of classes for competition. The school will provide transportation from South to Lanier Technical College for both morning and afternoon classes in the medical pathway.
All in all, this pathway was created to help give a deeper array of experience and knowledge for SFHS students. Being part of this medical pathway is one step in helping students transform their dreams in medicine into a reality.

About the Writer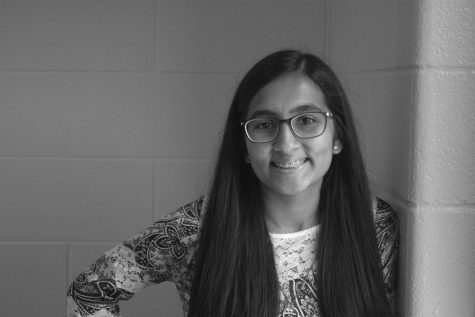 Shree Delwadia, Social Media Lead
Shree is a freshman here at South. "Life is short, and so is she; so she makes the best out of it." She lives by this quote everyday. If you run into her, you will find her laughing and smiling, stirring up new conversations. She loves embracing her passion for leading by always helping others. Her friends would describe her as dependable, ambitious, and warm-hearted. Shree has strong interests for the medical field which combine her passions of healthcare and assisting others. She aspires to become a pediatrician one day. Clubs and organizations she is a part of include the Student Government Association, Key Club, HOSA, MD Junior, and Red Cross. Her latest binge was Grey's Anatomy, and you can always catch her laughing her eyes out when rewatching episodes of Friends. Chipotle is her life. She could eat it days on end if no one stopped her. In her spare time, she is usually spending time with her family, dancing, or catching up with her friends. During her first year of journalism at South, she hopes to attract more readers and make the Bird Feed the best it possibly could be. You can contact her via twitter
@ShreeDBirdFeed
or using her email
[email protected]