An Interview with Sloane Womac
Hang on for a minute...we're trying to find some more stories you might like.
Q: When did you start dancing and how did you discover your love of dance?
A: I started dancing when I was three years old, and I discovered my love for dance when I performed in my first dance recital. I did a ballet dance with some of my closest friends from my dance studio, and I loved being able to perform in front of my friends and family. I also loved being able to express myself differently than I ever had before.
Q: What encouraged you to join the dance team?
A: I have always wanted to find a way to be more involved at my school and participate in athletics. When South announced that they were going to have an official dance team that would compete, I couldn't wait to audition. Getting to be on the dance team during its inaugural season, and along with my friends and family of course, really encouraged me to join the dance team.
Q: What kind of relationship do you have with your team?
A: My relationship with my team is very positive. Everybody encourages one another, and we always help each other out. I love being to have such a supportive and hardworking team.  We always start our practices off talking about what works well and how we can improve together. We always contribute to our team discussions and help each other when we don't understand a specific part of our dance or combination of steps.
Q: What are your goals for dance and where do you want it to take you?
A: I'd love to be able to have a successful first season and win at our competitions, and then I would love to continue dancing for as long as I possibly can. Dance is very important to me and also such a huge part of my life that I would love to be able to travel and dance wherever I go. 
Q: How do you participate in the competitions and what kind of dance is your favorite?
A: We have three different dances that we compete with. All of them are exactly 2 minutes long and full of energy; we have a Pom dance, hip hop dance, and jazz dance. We compete against other schools at dance competitions all around Georgia. My favorite dance we do is hip hop because it is so much fun to perform and the amount of energy we have is through the roof. Hip hop also challenges me to dance differently than I normally do.
Q: Who has been your greatest encouragement in dance?
A: My greatest encouragement in dance has been my teammates. We always work together and lift each other up; we also push each other to be the best we can be. When we don't understand a certain step or combination of steps, we help each other by explaining it. We also cheer each other on before we perform or compete.  


About the Writer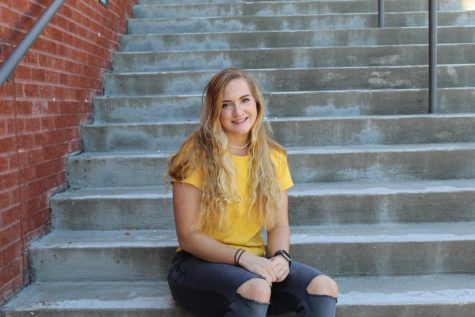 Sadie Rawlings, Co-associate Editor
Sadie Rawlings is a junior and a co-associate editor of
The Bird Feed
staff
this year as she was formerly the online editor. She usually spends her free time in the gym where she prepares for upcoming CrossFit competitions. In addition to writing for the Bird Feed, she runs her own lifestyle blog called
Sadie's Ways
. Most people would describe Sadie as dedicated, bold, and organized; it's her goal to do everything to her best ability and to take challenges head-on.
Feel free to contact her at
@SadieRBirdFeed
or
[email protected]