South's Food Fight to raise money for the holidays
Hang on for a minute...we're trying to find some more stories you might like.
The South Forsyth High School food fight, started by social studies teacher Leah Mcgray, has brought students together and onto a path of positivity in the form of charity.
The Food Fight is a metaphorical fundraising competition traditionally held between two schools, with the motive to raise non-perishable foods for an assortment of charities, including Meals By Grace and two other religiously affiliated charities within the community. Because it is South's first year partaking in the food fight, the competition is held amongst the grade levels this year with the plans of finding another school for the following years.
When asked why Mrs.Mcgray decided to hold this fundraiser, along with other administrators, she explains how students at South can benefit from these food raising charities, along with the importance of respecting them.
"We also have students and family members that may benefit from something like [the food fight]," Mrs. Mcgray claims, "so we wanted to make sure that the message was heard that we care."
Additionally, Mrs. Mcgray opens up about her impactful experience at a Meals by Grace shelter, and how it drove her to start the food fight. She resolves that many people in Forsyth county don't see ahead of their privilege, and often remain unknown of the value of giving back.
"When I went to Meals by Grace for the first time, I saw many people waiting just to have food. We don't necessarily think about that, especially if we have better opportunities for ourselves," she states, "So part of it is giving back so we feel good inside, but then also to just be kind. We live in a very affluent community, so we may not often see that there are those who need help. Its really just reaching a helping hand and taking care."
Food Fight donations are to be held in all English classes, with the winning grade receiving an ice cream social during the Instructional Focus period. The collection has run from November 2nd, and the deadline to bring all foods is December 14th.
UPDATE: South Forsyth High School provided 2,300 cans to The Place, Meals by Grace, CFMUC, and Hightower Association Food Bank.

About the Contributor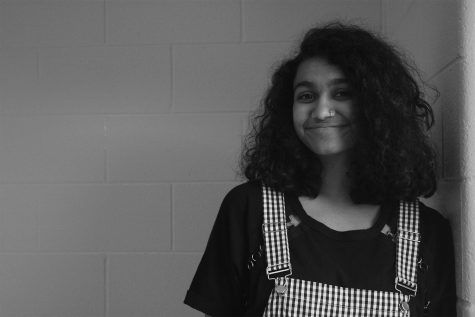 Shreya Mishra, Social Media Lead
Shreya Mishra is a freshman at South Forsyth High School, and is exceptionally excited to be working on the journalism staff this year. She enjoys creative writing, opinion writing, and photography. Out of school, she is an extremely passionate dancer of 7 years, and an artist since she could write. Shreya has won many competitions for public speaking, and plans to grow her debating and speech-giving throughout school. When she grows up, Shreya wants to go into business marketing or journalism. She loves hanging out with friends, and shopping. A new piece of clothing could put a smile on her face any day! Aside from that, she is very caring and her close friends mean the world to her; she couldn't live without them. She loves learning new things, and cannot wait to blossom as a writer in this year's Journalism class!
Feel free to contact her at:
@smishrabirdfeed on twitter
or

[email protected]