Rising to the top: Student athlete Makenna Segal
Spectators watch with their breaths held as south slugger Makenna Segal steps up to the plate. The pitcher wipes her forehead and reads the sign from the catcher. She starts to wind up and the ball seems to be released from her hand in slow motion. It moves in Makenna's zone and she swings. The ball is being lifted higher, higher, and it is over the fence. It is another home run for Makenna Segal.
Makenna is the starting third baseman for the war eagle's softball team. Although she is only a sophomore, Makenna has earned herself a rightful spot in the 2018 All-County first softball team and the All-State second team. With a .476 batting average, 12 home runs, and 31 RBIs Makenna was an offensive threat all season.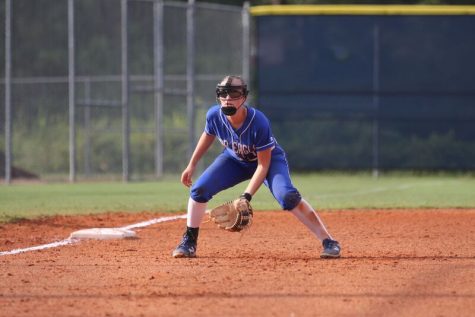 "My parents met playing co-ed softball so it is pretty much in my blood," Segal says. "They would set up a makeshift field in the living room and I'd pretend to hit the ball and run."
Makenna began playing this game when she was four and it has been an important part of her life since. Her experience playing the sport shows; as she is 27th in the nation of high school softball players, but it was not always that easy. As a young player, Makenna was told that she would never be good enough to play softball in high school or college.
"That really tore down my confidence," Segal remembers, "but after a while, it really motivated me to work even harder to prove them wrong."
She had a low confidence after hearing that but it only encourage her to work harder. And prove them wrong she did. Makenna has broken three records for single-season home runs, career home run, and single-season walks.
Just like every other athlete, Makenna has broken more things then just records. When she was ten, she sprained her ankle and was told that if it was broken and did not heal correctly, she could never play softball again. She also had injuries from overusing her arm and back which could affect her in the future if they were not properly taken care of. She works to keep up with her injuries by wearing her ankle brace and taking care of her arm and back after games as well as taking it easy in practice sometimes.
"There have been times when she has been limited to very little or no throwing at practices just because she has just gone and gotten an adjustment and a massage and that sorta thing," comments Coach Davis, "She is coming off a long summer playing a lot of games so that takes its toll. Sometimes it is about being smarter not harder."
Makenna works very hard for the spot she is in now. She practices almost every day whether it is just going to the gym or practicing in her basement.
"I have a net in my basement so I will hit down there or I'll go to the field," Makenna comments.
She also plays on the travel team Firecrackers Premier-Sewell. "She is an awesome teammate because she always knows exactly what to say to get you playing your best," says long-time friend and teammate Isabel Hui.
Makenna, like many other amazing athletes in the past, is a multiple sports athlete. She dives for South and is planning to play lacrosse when the season comes around. While she enjoys trying new sports, she knows that staying in shape and practicing other sports will help her in softball for future seasons.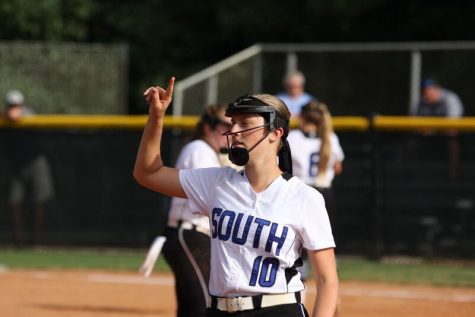 As if she did not have enough on her plate, Makenna takes a blocked Spanish class, Pre-calculus, and honors chemistry. People seem to underestimate the difficulty of being a student-athlete.
"Going from school, to practice, to a lesson, or to the gym and then getting home around 10-11 and still having to do homework is tough," Makenna explains.
Makenna's tactic is to make sure she does not procrastinate. Makenna gets to work on assignments weeks and sometimes months before the due date.
Her English teacher, Mr. Rutherford, comments on her work ethic, "In all five of my 10th Lit classes, I can generally expect that Makenna will be one of the first students to have an assignment turned in."
Makenna works hard to complete her assignments, exceeding her teacher's expectations.
A social life is also very important to Makenna. She loves to make friends and being on two, possibly three, teams are a great way to do just that. Makenna has made close friends on and off the team, some people she has known since middle school and others since they were five.
"She is always trying to help you and I know I can easily go to her when I have a problem because she is ready to listen," says Ansley Rogers, a sophomore who has known Makenna for five years.
Makenna has a big heart and cares for all of her friends. She never needs an excuse to do something kind for one of her friends.
Makenna hopes to commit with Michigan or Florida State to get a degree in sports management or sports marketing while also minoring in Spanish.
"In ten years, I will hopefully be pursuing some type of career in sports whether it is commentating or coaching. I would also love to play in the pro league and be in the Olympics," Makenna imagines.
Sports are a part of Makenna's life and she dreams of keeping them there forever.
"I think she is unique in her own ways. She is competitive. She is hard driven to become a better player, constantly," says Coach Davis.