Featured Club: Southside Improv
Hang on for a minute...we're trying to find some more stories you might like.
The final bell chimes on a Friday afternoon, releasing students to rush home and begin their long-awaited weekend. The school may seem deserted, but the Performing Arts Center (PAC) remains bustling with energy. The Southside Improvers take over the stage to start the club's meeting. Members in an improv scene are to build off of each other to help the scene grow, without lines or script; just pure imagination. The club meetings consist of numerous warm-up games led by their leader: Senior Cole Mandras. The games get the members in the mood for working together with scene partners, as well as trying to connect with the other people in the club. Being able to detect what everyone is about to do next in a scene is a crucial skill that all "improvers" need to master. This quality helps make the skits the most natural for the audience to watch. After these warm-up games, the club works on specific qualities that an "improver" needs; this could include talents such as accents, physical ability, and stage presence.
The improv club puts on a number of shows during the school year. The experience is a great way to enjoy comedy without having to leave Cumming. At the shows, the cast and select ensemble members play several performing games, showcasing every "improver's" talents. The show is fun for audience members and performers alike. The games are interactive, so the crowd can feel like they contributed to the show. One of the more interactive games that the cast has played, involves an audience member's phone. The scene involves two cast members. One person can put in whatever lines they want, while the other person can only use words or phrases from the volunteer's text conversations. The Southside Improv Club can really put on phenomenal shows for all, sometimes switching up the content based on the audiences' general age, making the show relatable and comical for everyone.
"I like going to improv because we have a lot of fun and we're like a family," says Freshman ensemble member Sristi Karamchandani. "I always end up laughing in improv. It just makes me happy."
The club is perfect for those who don't like memorizing lines and prefer a more laid-back style of acting. The club is also a great way to make yourself more comfortable with public speaking as well breaking out of your shell. The club is open to anyone and is hosted in the PAC on Fridays from 4-5pm. Only cast and ensemble members are allowed to do shows, but the club is still fun for those who just want to perfect their acting skills, and be a part of something truly amazing at South.

About the Contributor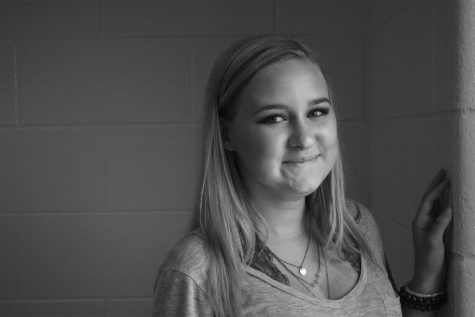 Olivia Waletzke, Staff Writer
Olivia is a freshman at South and new to the journalism crew! Writing is a huge passion of hers so the Journalism group is a dream come true for her. She enjoys hanging out with her friends and adores meeting new people to talk to. Olivia was born in a suburb outside Chicago and is a definite Midwesterner. She enjoys rollerskating and getting Boba tea with her friends on the weekends. Olivia has a deep passion for traveling, and just recently traveled to Japan over the summer of 2018. Olivia is into fashion. You will rarely see her wearing cozy clothes to school. She likes to see herself as a friendly person, making Journalism the class for her! Feel free to contact her via my email
[email protected]
and follow my twitter
@o_waletzke