[Staff Editorial] Millennials: a Silenced Generation
Hang on for a minute...we're trying to find some more stories you might like.
As high school students, we have the power to change issues of school safety and diversity. In result of the mass shootings and the idea of creating change in the community, an uproar of peaceful protests has sparked throughout the nation. We are the future of the community, and we deserve the right to speak out about the things that we want to see changed and how we want to play a role in making a community we can feel proud of as well as secure.
"In the weeks after the shooting, students and activists have called on their peers around the country to demand action. This has so far culminated in two planned events: The National School Walkout on March 14 and the March for Our Lives on March 24." (Lopez 1).
As students we should take responsibility for issues that directly affect us such as school safety. It's not the politicians that are affected by school shootings, but it is those that attend these schools where the shootings are taking place. Students are now taking action as shown by the recent student walkouts where thousands protested gun violence all across the nation. As a part of this tense high school environment we believe that it's important that we pursue change now when there has been no change initiated for so long.
As students of this society we will not stand for it, while the doubts linger we will continue to challenge the system until we are heard. We have one of the most powerful yet ignored voices in the world. The more experienced generations complain about how our generation today is not aware of the events occurring in today's society, yet it is thanks to our social media that were are able to gain experience and learn the different aspects of various varieties of people.
An article states, "Hours after the worst moment of their lives, the teens spoke up with a collective outrage that bellowed out of Florida. While so many adults have come to see days like [the MSD shooting] as another part of American life, these students do not accept it as inevitable."  Students are trying to make a change to a political debate that has been stuck for years, however adults and higher authorities are not willing to consider what they have to say.
Student activism isn't limited to the scope of student walkouts or national protests. Activism is anytime when we make our opinions heard. So if people disregard the national protests by saying that we are to young to have an opinion then they are adequately neglecting the opinions of students.
"We can't make the change we want because we always get turned off and turned down by older people like teachers or administration or even our parents," said Sophomore Angelina Gallegos.  
According to this article by the superintendent of the Blue Mountain Union School District, Emilie Knisley, addresses issues revolving around efforts toward enforcing school safety and gun control. She also included that because our superiors were not changing for us, we were forced to act for ourselves using methods such as publicly protesting for improved school safety. So if adults and students would work together and respect each other under the united goal of protecting schools from potential disasters, change regarding school safety can be expected.
School safety is an evolving issue throughout the nation. Students, parents, and teachers, all fear the day we may have to come face to face with this infamous tragedy. So far this year there have been 17 school shootings. On average, there are about 13,000 deaths in the United States resulting from gun violence each year. These increasing numbers have school attendees frightened with its menacing promise to add us to the casualty count, and everyone is demanding a reassuring solution to ease their unsettled nerves.
With access to limitless amounts of information at our fingertips, we are understanding that the world isn't always compassionate and fair. These realizations help us mature, and as a result, we are developing revelating new thoughts and ideas which should be treated as a mark in history. Our student voices are experienced, and we are ready to speak out.

About the Writer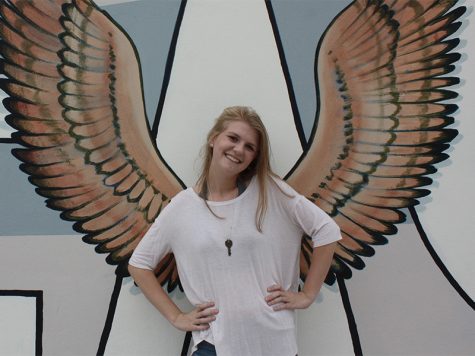 Macy Kline, Opinions Section Editor
Macy Kline is a junior at South Forsyth High School and taking on her third year with The Bird Feed staff. Macy enjoys music and loves to spend summer nights at concerts and festivals. After a long day at school, you can always catch her cruising around with her music way too loud. Macy believes laughter is by far the best ingredient to a happy life. In her downtime, a cup of coffee and Netflix makes for a perfect night. Some of her favorite shows include The Office, How I Met your Mother, Grey's Anatomy, and Riverdale. As a staff member, Macy is most interested in design and writing feature articles. Macy is excited to grow with the journalism program and looks forward to a good year.