Most students see reading as homework and have no interest in spending their time reading during summer break. However, it's important that we make sure our brains are still active during the break. Reading is beneficial in many ways; it helps our mind and can be very enjoyable with the right book. Here is a list of 15 books to read during the Summer.
1. City of Bones by Cassandra Clare
City of Bones is a captivating start to the Mortal Instruments series, and is full of adventure and excitement. The main heroine, Clary Fray, witnesses a strange murder that changes her life. She is introduced to the Shadowhunters, warriors dedicated to fighting demons, and finds out that she is more connected to them than she thought. This book is perfect for fantasy lovers.
2.  Turtles All the Way Down by John Green
This novel written by the amazing John Green follows the story of sixteen-year-old Aza and her journey following the disappearance of Russell Pickett. The story focuses on Aza's relationships with her best friend Daisy and Pickett's son, Davis, and trying to maintain those friendships while struggling with her constant spiral of thoughts.
3. Fangirl by Rainbow Rowell
Cath is a lifelong fan of the Simon Snow book series along with her twin sister Wren. After graduating from high school, Wren is ready to move on from the series and live separately, but Cath can't let go just yet. She has to learn to cope without her twin by her side, and live her own adventures. She struggles to let the past go and is constantly worrying about her fragile dad. She forms new relationships with her roommate and roommate's boyfriend, who is constantly around, and her handsome classmate. Will she be able to balance all of her family stress on top of finding her voice while writing?
4. The Upside of Unrequited by Becky Albertalli
Molly Peskin is seventeen-years-old and has never had a boyfriend, but she knowns a lot about the feeling of unrequited love. She has had 26 crushes, but her fear of rejection has always prevented her from pursuing a relationship. Her sister Cassie begins a new relationship with a cute and totally crush material boy named Will. Molly decides that this is the summer where she will finally be less careful and she is determined to have to first kiss. Molly is so focused on trying to date Will that she doesn't even think about her cute but extremely awkward co-worker Reid.
5. The Night Circus by Erin Morgenstern
The Night Circus is a mysteries venue that is only open at night. It entrances all those who visit and what patrons do not know is that the circus serves as a venue for a fierce competition between magicians Marco and Celia who, much to their trainers' dismay, become dangerously close as the competition moves along. The outcome of the game effects more than they know.
6. The Book Thief by Markus Zusakx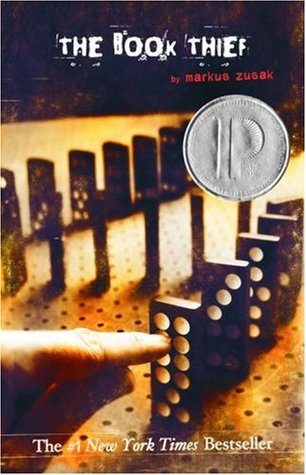 Used from www.goodreads.com
This story is narrated by death itself. It follows a young German girl named Liesel through the horrors of World War II.
7. The Perks of Being a Wallflower by Stephen Chbosky
Charlie is a socially awkward wallflower who faces the struggle of adolescence and growing up. Charlie deals with loss, friendship, love, and the drama that follows childhood.
8. The Glass Castle by Jeannette Walls
Jeannette Walls writes a beautiful memoir about her loving, stubborn, and adventurous family. Her family had many flaws, some of which led to struggles for her family, but she describes them as loving and wouldn't of grown up any other way.
9. Cinder by Marissa Meyer
This futuristic novel follows an excellent mechanic named Cinder, who also happens to be a cyborg. Her home life is not the best as she is constantly blamed for her step-families situation, but one day, the prince comes to her shop. As the prince becomes part of her life, she faces conflict with the evil queen and discovers the truth about her mysterious past.
10. The Sun Is Also a Star by Nicola Yoon
Jamaican-American, Natasha finds love when she meets Korean-American Daniel. There is only one problem: it is the day she is due to be deported.
11. Caraval by Stephanie Garber
Scarlett thought her dream of seeing Caraval was over when her cruel father arranged for her to be married. When all hope seems lost, a mysterious sailor helps her and her sister Tella escape to the show. However, Tella is kidnapped and the game of the Caraval is that whoever finds Tella first, wins. Scarlett becomes taken over by the game and must find her sister before it's too late.
12. One of Us Is Lying by Karen M. McManus
The modern breakfast club story, but with a deadly twist. Five students are in detention Monday afternoon, but only four make it out alive. The victim was the creator of a gossip column and was planning on posting information about all four of his classmates, which makes them all suspects.
13. Six of Crows by Leigh Bardugo
Six dangerous criminals join together to complete an impossible heist. Will they be successful, or will their pasts and conflicts with each other hinder their mission?
14. Looking for Alaska by John Green
Miles Halter is bored with his hometown, so he decides to leave for a boarding school called Culver Creek to seek the "Great Perhaps." At the creek, Alaska enters his life. Miles becomes infatuated with Alaska as she pulls him into the Great Perhaps.
15. The Hate U Give by Angie Thomas
Sixteen-year-old Starr Carter lives in a poor neighborhood, yet attends a fancy prep school. Her world is completely changed when she witnesses the killing of her childhood best friend, Khalil, at the hands of a police officer.