South Forsyth celebrates cultural diversity during International Week
Hang on for a minute...we're trying to find some more stories you might like.
During the week of March 26-30, students at South Forsyth were seen celebrating the wide variety of culture represented by the 3,800 students who attend South. Each day, the language department hosted different activities for students to participate in, in order to learn more about international cultures. Many of the events which took place included a cultural attire day, an international breakfast, daily cultural trivia, and a cultural talent show. Each of these events and more are one of the many ways the World Language classes are trying to explore knowledge about the world around them.
In a bulletin advertising this week, the World Language Staff at South Forsyth said, "We look forward to honoring and sharing in the amazing diversity and talents of all our students this week!!"
"
We look forward to honoring and sharing in the amazing diversity and talents of all our students this week!!"
— SFHS World Language Staff
As a way to encourage participation, the teachers of foreign language classes offered extra credit points for each event. Students have the opportunity to earn up to 35 extra points which is a fantastic way to help students bring up their grades before the end of the year; while also encouraging students to learn new things about different cultures from around the world.
One event students could participate in was a poster contest. Students created unique and colorful posters reflecting the theme – "New Language, New Identity". There were many posters submitted, all of which demonstrated a different take on the theme. Some students represented the theme in their posters by writing different languages while others simply used pictures to engage their audience. Some of the common motifs in the posters included fingerprints, mystery, and someone's identity as it exists in the real world and online.
Another event popular with students was a cultural breakfast. From 7:30-8:30 am before school on Wednesday, March 28th, students each brought in a dish of food from a culture to share with everyone. Over two-hundred students were present and shared their delicious recipes from around the world. Although there were some similar dishes, the different flavors of food were eye opening for many students. Students enthusiastically baked and cooked recipes to bring and share with all their friends. The event was an extraordinary success with students and teachers alike who participated and benefited from a free food.
Freshman Caroline Hare attended the breakfast and commented, "The international breakfast opened my eyes and taste buds to a variety of ethnic backgrounds and foods!"
In addition to the poster competition and the breakfast, the teachers organized a talent show on Thursday, March 29 at 4:15 after school, for students to share the talents they learned from their families' cultures. Students had to practice and perfect their acts to audition for a spot in the show. Students sang in different languages, danced, and performed for a huge crowd of enthusiastic students and teachers.
The purpose of this week was to share knowledge about different cultures that are represented by students at our school. South's student population is very diverse and it is important to maintain cultural diversity to help students better understand one other. By learning about a variety of cultures, this week has helped classmates and friends interact with each other and learn to be considerate of other cultures and backgrounds which they are unfamiliar with.

About the Contributor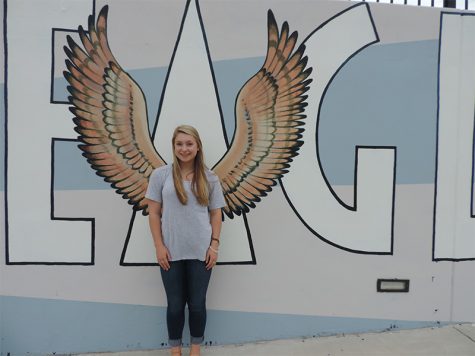 Anna Hicks, Online Editor
Anna is a freshman and is excited for her first year as a part of The Bird Feed. She has been a competitive gymnast since she was six years old and loves to be active. In her spare time she enjoys reading, being with her friends, and listening to any kind of music. Her favorite shows to binge on Netflix include Quantico, Riverdale, and That 70's Show. She is a lover of all things science and one day aspires to work in the medical field. Some of her wildest hopes and dreams include traveling the...