'A Lasting Impact': Willing Williams can Craft her way out of any Problem
From dawn to dusk, Colleen Williams spends the majority of her time teaching, grading and planning for her next class, but many of her students don't realize she leads an interesting and unique life outside of work. 
"I started playing soccer when I was like three years-old, and I played until I graduated high school," Williams said. 
A graduate from the University of North Georgia (UNG), Williams teaches Geometry B/Algebra II and Algebra I at South. Soccer is only one of her non-school interests, which also include do-it-yourself (DIY) crafting and traveling. 
Williams is also a passionate DIYer, and can often be found shopping for clothes or home décor. Whether it's craftily transforming a broken mirror into a jewelry stand or refurbishing furniture, Williams has never met a challenge she can't craft her way out of.
Furthermore, a traveler and explorer at heart, Williams has traveled to the Caribbean, Mexico and around the United States. She is originally from Texas and hopes to go to Europe someday.
"I love traveling and the idea of exploring a new place, so I typically prefer to go somewhere I haven't been before rather than to revisit a familiar place," Williams said.
This past September, Williams won the "Teacher of the Month" award, and it's just her first year as a teacher. 
"My favorite part of teaching is the students. Getting to build relationships with my students to see a glimpse of each of their individual personalities is what makes this job so cool," Williams said. 
Many of Williams' students love her, recognizing her for her excellent teaching skills and ability to connect with the younger generation.
"Mrs. Williams is such a sweet teacher, and I love how she is always enthusiastic about everything. I'm always excited for her class," said Freshman Nikhila Mannepalli.
Her students treasure how she incorporates fun and laughter into nearly all of her lessons.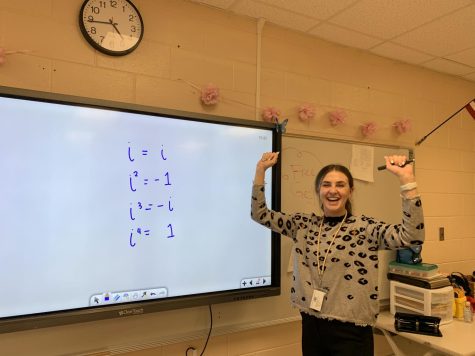 When asked about why she became a math teacher, she gave insight on how she never had a specific profession in mind but just became one.
"As a child, I had all of the typical dreams to be a veterinarian, or a doctor, or a marine biologist, but once I was actually old enough to understand what these different jobs were and how picking one would affect my life, I did not have a firm grasp on what it was that I truly wanted to be," Williams said.
Though Williams didn't have a specific profession in mind, she reflects on how she was always helping teach her fellow peers math.
"However, looking back, throughout elementary, middle, and high school I was always helping/teaching my friends math. I was always mathematically inclined and had no problem grasping and mastering new skills."
Williams puts a lot of time and effort into creating engaging lessons and making sure her students understand the lessons, even in the evenings after school ends.
"Although teaching can be very draining, it can also be extremely rewarding. What makes everything worth it, is getting to see your students grow and expand their knowledge and getting to make relationships that will have a lasting impact on the upcoming generations," Williams said.