Ben Winn Leads the XC War Eagles Through an Exciting Season
Carmel Yonas, Opinions Editor & Senior Reporter
January 5, 2023
In the sport of running, there's never a guarantee someone will rise to the top. Even if they run Monday through Sunday, lift weights three days a week and eat healthy, not every runner is successful in becoming fast and renown. These are critical factors, but they're also only a fraction of what makes a runner great.
Sophomore Ben Winn is living proof of that.
Winn's in his second year of high school, and his only focus is excelling in cross country and track. As an underclassmen, he's achieving outstanding times and running faster than senior Ben Bergey (South's number one runner for the boys) did his freshman and sophomore years.
From a 16:51 5k (3.1 miles) in Winn's freshman year to a 16:02 5k in his sophomore year, he's earned the title "best of the best." But it's not his impressive times that separate him from the typical pack of superstar athletes.
WINN-ing Isn't Everything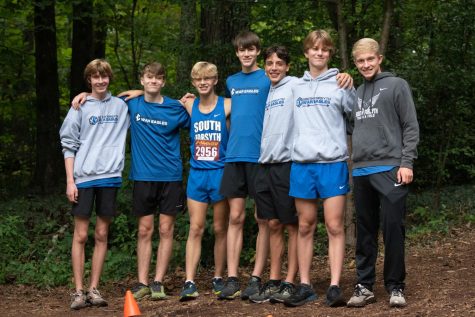 Winn's personality speaks volume about who he is as an athlete and person. Some superstar athletes are known to be very self-assured and hungry for the spotlight; their talent becomes their personality.
Well, Winn's the polar opposite. Although he ranks as the sixth fastest sophomore in the state, it's clear he doesn't want the attention that comes along with it.
Sophomore Wyatt Longstreth is another cross country runner and a good friend of Winn. They've known each other since middle school, and there's just one part of Winn that Longstreth says will never change.
"Ben is one of the most humble individuals I've ever known," Longstreth said. "He runs amazing times, but you would never know because he doesn't brag about his accomplishments."
Furthermore, Winn actively works to not only keep up with his competition, but maintain his academics as well. Behind the scenes, Winn prioritizes sleep and hydration because he believes they're an integral part of running and school.
"The first word that pops into my head when I think of Ben Winn is 'dedicated.' He's so motivated to do the best he can in running and school. The Ben Winn I know will do anything it takes to hit his goals. There's never a practice or race where he doesn't push himself," said sophomore Thomas Lichtenwalner.
Lichtenwalner also runs with Winn on the cross country team and is one of his best friends. He admires the time and effort Winn puts into being the best student-athlete he can be.
The Perfect Start
As the year's first meet rolled around in Aug. '22, Winn started off with a 16:45 at Pickens Preview and finished in eighth place as South's first runner. He is one of the only two underclassmen in the top ten.
"Personally, I love the Pickens course. It's flat and easy to run on with no hills whatsoever," Winn said. "There's a small incline at the start of the race but other than that, it's three loops of smooth sailing."
In spite of Bergey's absence from the race, and the competition with over 200 other runners, Winn didn't let the adversity shake him. As a result, he received a well deserved podium finish and was the highlight of South's first meet.
Third Time's a Charm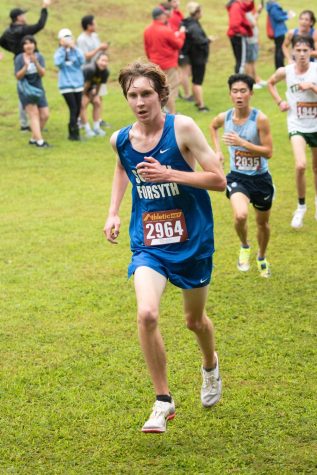 At South's third meet of the season, the 9th Annual Milton Invitational, Winn smoked the competition and ran his best race, place wise. All throughout the race, Winn managed to stay in the top twenty until he eventually worked his way up to the top five and finished in third place.
Whether it was the positive mindset or surge of adrenaline, Winn ran an incredible time of 17:38 on Georgia's hilliest course and stayed right behind Bergey, who won the race. Once again, Winn is one of the only three underclassmen in the top ten.
"It was shocking to find out that I had improved my time from last year in over a minute," Winn said. "But what I was more thrilled about was my first top three finish in a Cross-country meet."
Furthermore, he set the standards high for next year: a first place individual title at Milton.
With Seniors Cory Chambers (Milton High School) and Bergey off to college in the following year, can Winn battle his way through to a first place finish?
The odds are most definitely in his favor.
What a Wonderful Night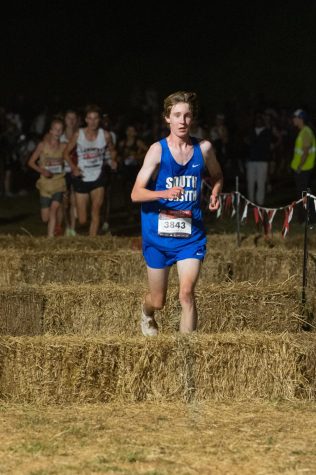 It's the race all runners wait for every year: Wingfoot.
In late Sept. '22, Atlanta Track Club hosted a meet for middle and high school students at Sam Smith Park. The park was practically buzzing with adrenaline from the hundreds of individuals who geared up to run under the lights. That's right: Wingfoot's at night! With the cool weather, fast course, and competitive runners, it's never a disappointing evening.
In this particular race, Winn ran his personal record (PR) for the season and best time ever: a 16:02. This time, Winn attributed his success not only to his abilities, but also to his upbeat and positive attitude before the race.
"I remember, very vividly, watching [another runner] race in the the Freshman Championship Boys and seeing him PR by over 30 seconds. The fact that he had an awesome race, and came twenty-first, only motivated me even more to PR as well. In fact, I was standing with Thomas during Aariv's race and remember telling him that today was the day I would PR, nothing could convince me otherwise," said Winn.
In the end, not only did he PR, but Winn was one of the only three underclassmen in the top 30 (26th). Winn outran his competition, PRed, and put himself on the map all in one race. Wingfoot is certainly a race Winn will not want to forget.
And without a doubt, Winn is ready to break the 16 minute barrier next year at Wingfoot. Will he end up placing in the top twenty or top ten? Both are possibilities for sure.
Run it Back to Region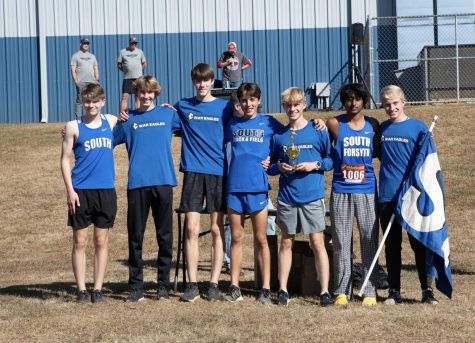 When runners pull out their gloves and hats, parents know the most important race is right around the corner: Region.
This meet qualifies six individuals and just four teams from the varsity races to state. With only six teams in the region, it's safe to say runners leave their hearts and souls on this course.
Although Bergey barely ran this season due to illness, he competed in the Region meet to help the boys qualify as a team and secure a sixth place finish.
Three places behind Bergey, Winn conquered the competition and finished in ninth place, one of the only three underclassmen to be in the top ten.
Despite the nerve wracking pressure of performing and placing, Winn is always calm and doesn't let his anxiety overtake him.
"Ben Winn does an extremely great job executing when it comes time to race. While others are worried about their race, he is calm and composed. Although composed, he is always ready to go and continues to perform [at] a high level despite any pressure and adversity," said Bergey.
Winn's top-notch performance, along with Bergey's sixth place finish, advanced the varsity boys to state. Bursting with joy, the boys celebrated their fourth place team finish and got themselves ready for state.
Racing to the Finish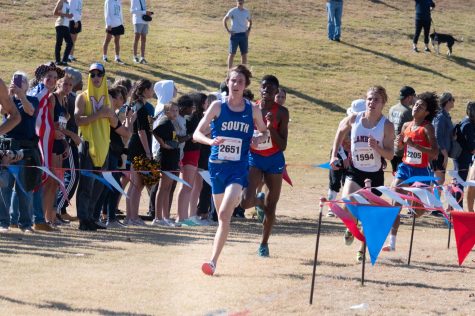 On Nov. 4th, South Forsyth's cross country team competed at their State meet in Carrollton, Georgia.
Both South's boys and girls made it to State as a team and had individual qualifiers at Region: the Yonas sisters and Bergey.
At state, Senior Carmel Yonas landed a third place individual finish, while junior Isabel Yonas finished just one place short of top 10.
However, Bergey did not run at State, meaning ALL eyes are on Winn.
Given the hot and sunny weather conditions, Winn pushed through the unforgiving heat to finish 39th. Although he didn't achieve his goal of placing in the top 15, Winn was still proud of his terrific season and can't wait for the start of Track in January.
"This race was not ideal at all. For the end of November, it was unusually warm and wasn't the most exciting to run in, coupled with Carrolton's hilly course," Winn said. "There was also a false start in my race, so that didn't help either. Nevertheless, I am grateful to have had no injuries, almost break 16, and watch my teammates hit PR's throughout the season."
And the MVP Award Goes to…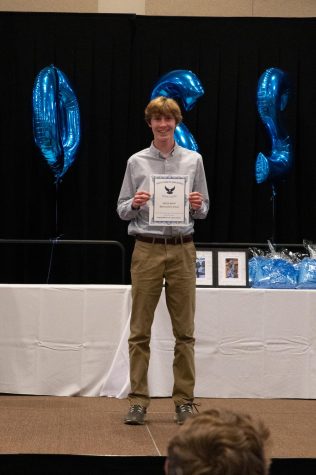 Given Bergey's absence for most of the season, Winn truly stepped up to the plate. As only an underclassmen, he graciously guided the team through a successful season full of ups and downs.
Although Bergey left quite a big imprint for him to fill, Winn exceeds the expectations and models the character of a true leader. He may not be an average leader; he's not bossy, serious, and doesn't hold the mindset of 'my way or the highway,' yet, his teammates see him as one of their biggest inspirations.
Senior Harris Garmon, a teammate and friend of Winn, is one of the only three runners on the team that can keep up with Winn during practice. He spends majority of practice with Winn and see's a different side of him that most ever will.
"Aside from his obvious talent, Ben Winn is such a joy to be around. He can be extremely quiet, but it isn't an accurate representation of his entire personality," Garmon said. "If there's one word I would use to describe him, I would definitely say funny. I love how he always has a magnified reaction to the simplest things. It's also hilarious to witness his delayed responses to jokes; I get such a good laugh from them."
Likewise, Winn's running partner and long time friend, junior Adam Zorko, observes Winn from a unique standpoint as well.
"It's a pleasure to run with someone like Ben Winn. There's no one else I'd rather train with," Zorko said. "He's truly an astonishing runner and somehow makes everything look so effortless. Nevertheless, he pushes me to be a better runner, and I'm grateful to have such an authentic teammate and friend."
Winn possesses a multitude of characteristics that define him as the stunning runner he is. It's not his fast times or podium place finishes that bring such positivity to his name. Rather, it's his drive to work hard, team spirit, and modesty that makes him shine as an individual and athlete.