19 events, technologies, and media to look forward to in 2018
Hang on for a minute...we're trying to find some more stories you might like.
The new year promises to bring more impactful media, events, and more. These are the top things to look forward to in 2018:
Sports: The most significant event in Soccer (or football if you live anywhere other than the US) is moving to Russia this year. Even though the US isn't participating this year, the event still promises to bring more exciting narratives like four years ago. Will Cristiano Ronaldo, arguably our generational player, add to his resume by winning a world cup? Is Russia able to support the billion dollar infrastructure and acute planning needed to host such a mammoth event as the World Cup? We'll find out answers to these questions and more when the Cup starts June 8 in what promises to be the most viewed sporting spectacle of this year.
Other Notable Sporting Events:
Super Bowl: Minneapolis, Minnesota, February 4
Winter Olympics: Pyeongchang, South Korea,  February 9 – 25
Wimbledon: London, England, July 2+
Ryder Cup: Saint-Quentin-en-Yvelines, France, September 28 – 30
Music: 2017 was a great year for music, and 2018 offers to be even better. With projects expected from the likes of Travis Scott, Ariana Grande, and Beyonce, 2018 offers a lot to choose from, but perhaps the most anticipated album use Turbo Grafx 16 by Kanye West. The Chicago Artists last album, The Life of Pablo, was released almost two years ago, and we haven't heard much of Kanye since then. Hopefully, it indicates the meticulousness that the artist is applying towards his next project, Turbo Grafx 16. The 21 time Grammy winner has little to prove with critically acclaimed successes such as My Beautiful Dark Twisted Fantasy or Graduation, but his previous discography shows us that his new album has the potential to define an era of music.
Other Notable Albums:
Astroworld: Travis Scott, TBD
Culture II: Migos, January 26
Man of The Woods: Justin Timberlake, February 2
Movies: Marvel fans and movie fans all over the world are anticipating the new Black Panther movie which will be released on February 15. The movie follows T'Challa the king of the African kingdom of Wakanda protecting his homeland from a powerful enemy. This movie marks the first time that a Marvel film has a black leading character. Chadwick Boseman plays the African superhero; the heavy-hitting cast also includes the likes of Michael B. Jordan, Lupita Nyong'o, and Forest Whitaker. Another selling point of the film is the soundtrack which features Jay Rock, Future, Kendrick Lamar, and Sza. Everyone has something to look forward to in this upcoming film.
Other Notable Movies:
A Wrinkle In Time, March 9
Avengers: Infinity War, May 4
Deadpool 2, May 18
The Incredibles 2, June 15
Social Media: Augmented Reality (AR) emerged as a cute trend last year making its biggest appearance in video games, but its appearance in the new iPhone X shows the vast potential of AR. Snapchat filters offer a glimpse into the potential of AR. Recognizing the potential of this trend, advertisers have joined the bandwagon and planned to integrate AR friendly advertising into various social media platforms. The new technology can change how we communicate and how companies advertise on social media.
Books: George RR Martin is perhaps most well known for his book series that spawned the praised HBO show Game of Thrones. He hopes to improve upon this saga with his heavily anticipated book, The Winds of Winter. As with all of Martin's five previous books in the saga, readers can expect sharp plot twists, heavy character development, and the vivid fantasy that keeps readers and viewers hooked onto the story.
Other Notable Books:
What are We Doing Here: Marilynne Robinson, February 20
Circe: Madeline Miller, April 10
Technology: Cryptocurrency has gone mainstream. While some may still see Bitcoin as a fad, it has its usefulness. The biggest character of cryptocurrency is that it decentralizes trade where you can directly trade with anyone you want for anything that you want anywhere and use cryptocurrency as the medium of exchange. Questions about security and taxation don't have definitive answers yet, and the beginning of the year hasn't been great for investors in bitcoin.

About the Contributor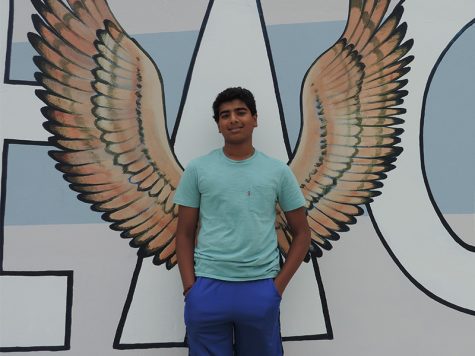 Adithya Ramanujam, Editor-in-chief
Adithya Ramanujam is an enthusiast of all things. The junior enjoys playing sports such as basketball and soccer. He also enjoys music and his favorite artists include Ugly God and Keith Ape. This music enthusiast, also enjoys producing music. He is also actively involved TSA , Beta Club, and DECA. Adithya also likes movies and his favorites include The Shawshank Redemption and Space Balls. He aspires to not really work and spend out the rest of his days playing pool and eating grilled cheese and...