Track and Field Boys Lace Up and Tie for First Place
Carmel Yonas, Opinions Editor & Senior Reporter
March 16, 2022
On Thursday, March 10, South Forsyth High School participated in the Track and Field County meet with the following Forsyth County high schools: Denmark, North, East, Central, Lambert, and West teams.
Throughout the day, South acquired many first-place wins and personal records (PR) in distance, sprinting and field events. Overall, South mostly competed against West and Lambert in sprinting and field events. South pulled through at the end, and their boys' team tied for first place with West Forsyth High School.
In the 1600, senior Nate Verska took the lead with junior Alex Arrambide and finished in second place with a time of 4:25, only six seconds off his PR (4:19). Verska just began his season and is already off to a great start in the 1600. While he has yet to run the 800, he hopes to eventually break two minutes off his time.
Four places behind, freshman Ben Winn sprinted to the finish and ran an astonishing time of 4:37. Winn earned himself the number three fastest freshman time in Georgia as he continued to improve during every meet with upperclassmen. Additionally, junior Harris Garmon finished 12th overall and ran his PR time of 4:56 in the 1600. Garmon also competed in the 800 and crossed the line in a 2:14, matching his current PR. 
Following his lead, freshman Grant Longstreth excelled in the 800 and ran a 2:16 right behind Garmon. Thomas Lichtenwalner, another freshman who ran an impressive run, came close to a sub-five in the 1600 and finished only six seconds away from his PR of 4:58. 
The girls scored points for the team as well. Junior Carmel Yonas won her event in the 1600 with a time of 5:16, less than seven seconds away from her best time of 5:10. She also competed in the 800 and placed fourth overall with a time of 2:30. Her sister, sophomore Isabel Yonas, raced only in the 1600 and finished third with a time of 5:23, four seconds off her PR of 5:19.
Sophomore Molly Hanlon, who also competed in the 800, won her heat by a couple of seconds with an overall time of 2:37. While this was the first time Hanlon went out in the lead and stayed in front, she continued to gain speed and ended her outstanding run with no one behind her during the entire race.
In the 100 meter dash, junior Chris Nelson outran his competition and won by .2 of a millisecond in 10.66 while senior Josh Muleta placed fifth overall with a time of 11.22. Six spots behind Muleta, junior Tyler Lang crossed the finish .44 milliseconds after him in 11.62 seconds. And three spots away from Lang, junior Evan Bridges, sophomore Ryan Huynh and junior Dalin Casson all finished right after one another with times of 11.70, 12.02, and 12.16 seconds.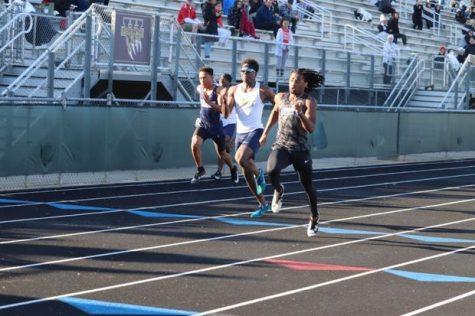 Also, in the 400 meter, senior Zach Hobson made a surprising win and PR'd with a time of 51.91. He also battled against junior Josh Nelson who was only .01 of a nanosecond behind. In the top six, junior Eli Weems ran a PR time of 53.84 and closed the gap between him and Josh as much as he could.
Furthermore, one of South's most talented Track and Field members, senior Riley Jones, placed second in the 100 meter hurdles with a time of 16.13, fifth in long jump at 16-03 feet, and first in pole vaulting. This year, Jones decided to focus more on other events such as the 100 and 300-meter hurdles, and she has significantly improved since last year. She set goals for herself throughout the season and hoped to qualify in hurdling for the state meet.
"I love hurdling and the competitive atmosphere I find myself in at the meets," said Jones. "Also, I adore the girls I compete against and train; they play a big part in my affinity for hurdling and my drive to be the best I can be. My goal is to achieve a time below 15.40 seconds for the 100-meter hurdles and make it to state!"
All-in-all, South concluded their meet with solid rankings and placed in almost every event. For the start of the season, South dominated the competition as the returning members and the new underclassmen led the team to victory. As the team awaits the region competition, they have continued to train and practice to the best of their ability to end their season on a high note.