Nations, Alliances Unite to Provide International Support for Beseiged Ukraine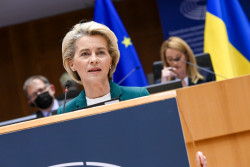 Fear and uncertainty have spread rapidly throughout the world as Russia's invasion of Ukraine continues to escalate. Increasing international support, combined with Ukraine's requests to join the European Union (EU) and the North Atlantic Trade Organization (NATO), may propel further global involvement from countries and organizations alike.
Though many members of both the EU and NATO have expressed their support, it remains undetermined if Ukraine will attain either of these pivotal memberships.
On February 28th, Ukrainian President Volodymyr Zelenskiy asked the European Union for a fast-track special procedure to join the organization. Several Eastern European countries affirmed their solidarity with Ukraine through an open letter.
"
We, the Presidents of the EU member states: the Republic of Bulgaria, the Czech Republic, the Republic of Estonia, the Republic of Latvia, the Republic of Lithuania, the Republic of Poland, the Slovak Republic, and the Republic of Slovenia strongly believe that Ukraine deserves receiving an immediate EU accession perspective.
— Open letter by Presidents to support Ukraine's candidacy to the EU
To officially join the European Union, countries must follow a 12-month-long process and meet specific requirements in maintaining democratic principles and a healthy economy. When a country meets these obligations, it will sign a membership application, and, subsequently, the Commission will approve it. Finally, the European Council must vote to adopt the nation a member. 
On March 1st, an extraordinary plenary session sped up this process, and the EU accepted Ukraine's application. A few days prior, the 27-bloc alliance sent €500M in arms to support the country. The EU is also looking to announce blanket protection status for refugees from Ukraine. This would provide them with access to EU facilities for health and housing. Such action is unprecedented and uncharacteristic for the European Union, given their founding principles.
Does this mean EU membership for Ukraine is imminent? Beyond standing ovations, resolute speeches, and heartfelt tweets, the ambiguous statements made by the organization regarding the situation's timeliness are cause for speculation.
In an interview with CNN, European Commission Vice President Margaritas Schinas said, "there is no set timetable in pre-accession negotiations."
This issue also calls into question the rising importance of NATO membership for Ukraine to further aid the beleaguered nation. The European Union is an economic coalition, whereas the North Atlantic Trade Organization is the more powerful military alliance.
Ukraine's first public request to join NATO was in 2008. However, the country did not receive a formal pathway to membership due to a lack of consensus among members and evident corruption in the Ukrainian government.
On Wednesday, January 19th, President Biden discussed developments from discussions with Russian President Vladimir Putin. In response to Putin's strong opposition to Ukraine's potential NATO membership, Biden suggested a low likelihood of Ukraine joining NATO in the near future. He also reiterated that troop presence in Poland or Romania would increase if Putin attacked the area, due to the U.S.' NATO obligations. 
Article V of the North Atlantic Treaty states that "an armed attack against one or more of them in Europe or North America shall be considered an attack against them all." The implications of this tenant suggest that if Ukraine joins NATO, this crisis could escalate into a global confict. Currently, NATO is providing aid to help mitigate the situation.
On Friday, February 25th, the countries in this alliance held a virtual summit to activate their response force. Member nations deployed thousands of troops, 100 planes, and 120 ships. The US ordered more than 12,000 troops to Europe by the end of February. On February 25th, the U.S. provided an additional $350m worth of weapons to Ukraine. 
In addition to the United States, Germany announced that they would supply Ukraine with 1000 anti-tank weapons and 500 air missiles in late February. Canada is sending Kyiv military-grade weapons and $394 million for defense purposes. Sweden, Norway, Denmark, and Finland (all well-known for their neutrality) have pledged thousands of anti-tank weapons, assault rifles, ammunition, and rations. 
This conflict is devastating for the Ukrainian people as well as the Russians whose loved ones have been sent into dangerous fighting; it also presents a tumultuous time for countries across the world. Governments must consider several political and economic consequences in declaring their support for either side of the conflict.
If executed incorrectly, their decisions could result in global catastrophe.