Mountain View topples South Forsyth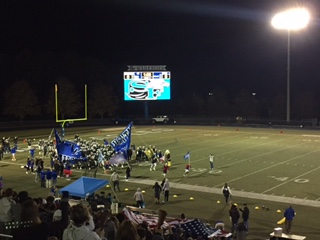 Hang on for a minute...we're trying to find some more stories you might like.
South Forsyth (9-2) lost to Mountain View (9-2) 13-31 in the first round of the state playoffs ending their title run.
The game started at South Forsyth High School at 7:30. South opened by scoring a 4 yard TD run by Jared Honey. Mountain View's drive was assisted by two South penalties that allowed a 40-yard field goal by Carlos Ayala to make the score 7-3 for South. The Mountain View Bears scored again after a three-and-out by South on a 15 yard TD run giving them a three-point lead. South finished the half with another field goal to enter halftime with a score of 10-10.
The Bears opened the third quarter with a 6 yard TD run from sophomore running back Enoch Walters and South returned the scoring with a 21 yard FG from Alex Hardy. Scoring slowed down until 10:18 in the fourth quarter when Mountain View senior Blake Carroll intercepted a Cal Morris thrown ball 86 yards to put the Bears up 24-13. The Bears added another touchdown before time ran out to finish the game 31-13.
This victory marks the first playoff win for Mountain View. And they will face the Parkview Panthers this Friday in the next round of the 7-A playoffs.