South's First Cross-country meet of 2020: Lambert Tri-meet
Carmel Yonas, Opinions Editor & Senior Reporter
August 15, 2020
On Saturday, August 15th, Lambert High School gets ready to host the first cross-country meet of the season, the Lambert Tri-meet. It's early in the morning, and Chattahoochee Pointe is packed with cars full of excited runners. The tension between South Forsyth High School and Lambert is thrilling. The question of "who will come first" runs through the minds of many individuals at the event. Suspension builds as the teams received an interesting surprise: a private school, St. Pius, joins the meet. Amping up the competition, runners talked amongst themselves as they formulated race strategies and warm-up in the humidity. Excitement buzzes through the audience as they cheered loudly for their runners, contemplating the outcomes of all the races.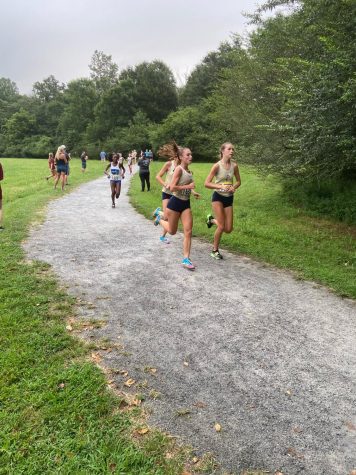 Shockingly, South's team placed 3rd overall; Lambert finishes 2nd, and St. Pius takes the win for girls varsity. From South, Carmel Yonas, a sophomore, placed 1st (20:24) for South and 4th in the meet. Next, freshman runner Molly Hanlon came in 2nd (21:42) for her team and 14th overall. Entering Cross-country with a running background, Hanlon has already acquired the skills to transition from middle school Cross-country to High-school. She is starting out the season strong and is looking forward to a great first year. 
"
It was really cool finishing 2nd place on the team as a freshman."
— Molly Hanlon
"Throughout the race, my mind was swirling with nervous thoughts of if I was going to do well, as this was my first race. Luckily, I remembered that I would have people pushing me along the way!" said Hanlon. "It was odd and unfamiliar running three miles instead of two with my old friends, but I made tons of new friends here like Izzy and Emma."
Following behind, Senior Emma O'Connor (21:36) placed 15th overall and 3rd for South, while only a couple seconds away; Freshman Isabel Yonas placed 4th on the team and 16th (21:42) in the meet. Never losing sight of one another, both ran together throughout the entire meet.
Finishing on close terms, Sophomore Janisha Patil crossed the line just in time to place 18th overall and 6th for South. Siena Brennan, a sophomore as well, tagged along with Janisha as she finished 19th overall (22:49) and 6th placed on her team. The varsity girls did a phenomenal job of placing in the top 20 and staying close together till the end.
Moving on to the varsity boys, Junior Nate Verska secured 6th place (17:00) sticking with the pack of boys from St. Pius, and placed 1st for South. 9 seconds away, Sophomore Ben Bergey sprinted his way to the finish in 8th place overall, and 2nd for his team. Bergey tailed along with Verska not losing sight, and keeping close proximity in duration of the race. Even though St.Pius outnumbered South runners in the top 10, the 2 boys accomplished fast times and fought their way through to the end. With the State Meet in November, they'll be hard competitors for other teams.
A little more than a minute away comes Senior Devin Schmuckal who finished 15th (18:14) in the race and 3rd for South. After a great 4 years, Schmuckal will be going on to college, entrusting the leadership to upcoming seniors.
"I didn't really think about this race being my last first meet. I was just happy to be able to race after months of uncertainty with Covid-19," said Schmuckal. "During the summer, I spent time training with my teammates at Chattahoochee Pointe and had goals for the season. My goal going into the race was a little too ambitious, and unfortunately, I didn't achieve it. But, I was still content to know that I'm in good shape and that if the season were to go on there would be lots of room for improvement."
Not far away, Seniors Sam Gullo, Sebastian Elisan, and Pujith Veeravelli all placed one after the other. Sam finished 17th (18:21) overall and 4th for South, while Sebastian came in 18th (18:30) overall and 5th for varsity. With only a 5 second difference, Veeravelli sprinted to cross the line in 19th place, and concluded the South boys that rank in the top 20. Varsity does incredible sticking together and pushing one another to not give up. 
South's season is off to a great start in this first meet; shining a light toward potential star runners. Novice high-school students Molly Hanlon and Isabel Yonas are runners other schools should be on the lookout for. On the boys side, Nate Verska and Ben Bergey fill in for the Seniors who have graduated; working to break school records. Overall, South is looking strong and will be a team to beat this season.