The connection between Covid 19 and the flu
As the 2020 school year is up and running, many students are attending school amongst the COVID-19 global pandemic. Now, as the flu season rolls in, many ponder over what is best for their family as the "twindemic" is almost upon us. The word Twindemic highlights a severe threat of a flu outbreak alongside COVID-19. The Centers for Disease Control (CDC) has advised many families to get the flu vaccine to prevent further strain on healthcare workers. As a result, the CDC hopes that individuals who take preventative measures will reduce the number of people who have the flu.
With information being released daily about the pandemic, many individuals are worried about the effect of the virus as the country enters the flu season. While the flu has turned into a perennial issue, this year it has become a hot national topic within the United States.
South Forsyth High School, along with other Forsyth County Schools, are finding different ways to protect their students and staff. The school nurses within the county are presenting multiple techniques to students in order to prevent outbreaks within the school.
For example, Forsyth County Schools had a free Flu Shot Clinic. for individuals of the ages 4-18. FCS held the drive on Thursday, October 22, 2020, from 2:00 pm – 6:00 pm at Browns Bridge Church.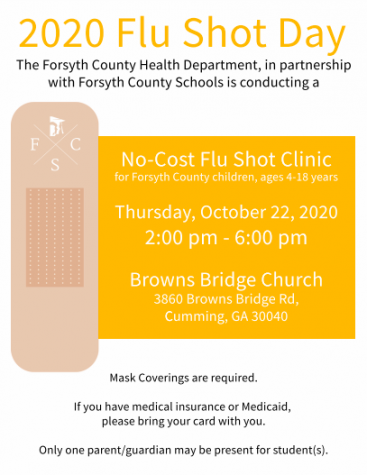 Furthermore, we interviewed South Forsyth's school nurse, Mrs. Ceniceros, to gain an insight into how the school will go about the twindemic and the flu vaccine.
The nurse is the key component to a school this year more than any other year. Mrs. Ceniceros is the school nurse of SFHS who is working diligently during these trying times. All the teachers and students within the school greatly appreciate her contributions and efforts in keeping the school safe.
"My role is to keep as many kids safely in classes," Mrs. Ceniceros stated. "What I mean safely is to identify kids who may have the Coronavirus and keep them out of the classroom as possible."
Students and teachers are discovering the best way to keep themselves safe. Citizens of Forsyth County are protecting themselves by wearing their masks, washing hands, and standing 6 feet apart.
"
Students and teachers shouldn't get complacent about the things we are already doing. Just to continue to wear your mask, stay some distance away from others[…]"
— Mrs. Ceniceros
Many doctors have been urging families to get the flu shot. "With us having COVID-19 and the flu, the results could be catastrophic unless patients get the flu vaccine," Dr. Frita Fisher said. Mrs. Ceniceros also advised that students and teachers get their flu shots. Yet, our nation is quite divided on people who are against or for vaccines.
"…11% of U.S. adults believe vaccines are "more dangerous than the diseases they prevent," while 10% think vaccines cause autism and 46% weren't sure – a claim that, despite being repeatedly debunked, is at the center of the anti-vaccine movement," says US News staff writer Gabby Galvin"
Other than just eliminating more respiratory problems, the flu vaccine has many benefits. The vaccine reduces the risk of people with chronic illness to catch the flu. Additionally, the flu vaccine has been able to show lower rates of certain cardiac events and even prevent possible hospitalization due to any chronic lung disease.
For parents wondering how to keep their children safe during the twindemic, a study shows that a vaccine reduces the risk of a child dying. A CDC study article find states, "CDC study published today in Pediatrics is the first of its kind to show that flu vaccination significantly reduced a child's risk of dying from influenza." This study took data from the 2010 and 2014 flu season and displayed how the vaccines cut flu-related deaths in half.
Though the flu shot has many benefits, it has not shown to be 100% effective from getting the flu let alone COVID 19. However, it does ensure a sense of safety for families. Forsyth county expanded its horizon when it comes to protecting its students and teachers. To assist the community, Forsyth County has opened countless flu shot drives.
About the Writers
Sayna Kaushik, News Editor
Sayna Kaushik is thrilled to be part of
The Bird Feed
as a sophomore. As of this year, she is a News editor, Video editor, and co-host of The Nest podcast. She was a former HOSA president at South Forsyth Middle School and has a deep interest in the healthcare field. In the future, she hopes to become a pediatric surgeon. Additionally, Sayna blogs and enjoys writing and public speaking. You can check out her blog
here
. She loves to play the piano and enjoys the outdoors. In her free time, she enjoys reading, writing, and watching
Criminal Minds
on Netflix. You can contact Sayna via
Twitter
or email at
[email protected]
.
Chris Bunker, Photo Editor
Chris Bunker is starting his junior year with a bang by strengthening his knowledge in journalism and making new connections with his peers. Throughout the year, Chris is hoping to make the varsity soccer team, as well as write a variety of stories about the sport. Chris' passions include playing soccer and hanging out with his family. Chris is really excited to continue writing stories for
The Bird Feed
.  He is also really interested in photography and learning more about diverse topics of writing. He is super excited for his third year as Photo Editor/Social Media Lead. Contact him at
[email protected]
or on Twitter @cristfur.in.a.bunker.