FSU Invitational Cross-country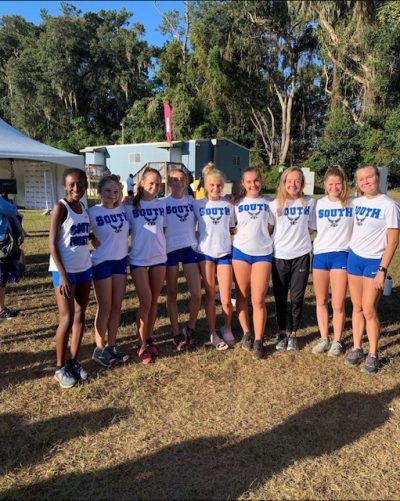 On Friday October 11, South runners prepared for the FSU invitational in Tallahassee, Florida. Races started on Saturday at 7:50 in the morning and continued all throughout the day. Teams from all over Florida and Georgia came down to race and watch. The races ranked from Elite boys and girls varsity, varsity A boys and girls, varsity B boys and girls, and JV results. South's varsity girls and boys were in Elite grouping.
The War Eagle cross country team placed 3rd. Madelynne Cadeau placed 7th and ran a spectacular time of 18:01. Sophia Baker came in quite a long way and placed 43rd with a time of 19:25. Eleven places behind, Carmel Yonas ran a 19:43 placing 55th.
On the boys side, Brennan Bower sped down and finished with a time of 15:41. Mikey Patterson in 30th ran a 16:12, beating another runner by 10 milliseconds. Harrison Siegel in 59th crossed the line, finishing 30 milliseconds before another runner. South girls and guys preformed exceptionally well and want to continue this streak into their state meet in November.
"The biggest improvement this season is coming together as a team and watching the camaraderie amongst teammates; new and old," Coach Shaw expressed. For many teams outside of Georgia, FSU was a pre-state race. Even though there was a lot of competition, South's boys team preformed well and still came in 6th place overall. Brennan Bower  and Madelynne Cadeau ran the season's best for the boys and girls at this meet. She placed in the top ten which is a huge accomplishment for the team and Brennan  was only one place away from being 10th.
Coach Shaw says, " All of the newbies have certainly seen improvements in their times throughout the season. Cross-country is a sport that takes effort and time. Whether someone is new to the sport completely this year or just to high school running, the amount of time and effort is increased, thus seeing vast improvements along the way."
About the Writers
Carmel Yonas, Staff Writer
Carmel Yonas is a sophomore here at South Forsyth High School, and excited to be a staff writer in her second year of
The Bird Feed
. She has learned so many new things about Journalism, and she can't wait to explore more. When she was in 5th grade, Carmel wrote two short books, and she has adored writing ever since. She loves playing the piano and has been playing since she was four-years-old. All throughout middle school, she participated in cross-country as well as track and field. Carmel is currently running for the SFHS cross-country team. She loves to binge-watch the show
Friends,
and she is also a big Harry Potter fan. You can find her drawing cartoons, watching Netflix, reading, or hanging out with her friends.