Therapy dogs in South Forsyth High School
A golden lab lays on the floor chewing on a neon green toy. Her tail wags harder when students approach with smiles on their faces. Seeing a furry friend causes a student's anxiety and stress to nearly disappear. For a while, everything is okay.
Visits to our school is a special part of the dogs' training. Since 2016, Mrs. Mallamace has been working with the principal, Mrs. Wilson, to bring therapy dogs into this school. After much research and Mrs. Wislon's help, Mrs. Mallamace was able to get these dogs to come to the school. Jeter, Mrs. Mallamace's personal pet, visits on Mondays and Fridays, and Canine Assistance dogs spend time with students every Wednesday during lunch.
Jeter was certified five years ago after Mrs. Mallamace recognized his gentle and loving personality. Mrs. Mallamace loves seeing the impact he has on the school. All of the smiling students that walk past him in the hallway brings joy to her heart.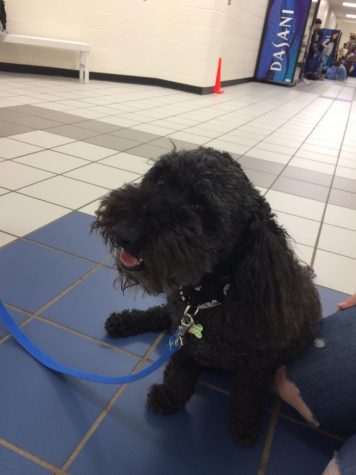 Canine Assistance is a program that was started by a woman named Jennifer Arnold who was diagnosed with multiple sclerosis as a teenager. She was in a wheelchair for many years when her father, a physician in Atlanta, saw an organization in California that trained therapy dogs for people in her position.  He wanted to bring this idea into Atlanta, but died before he could. By 1991, that dream became reality. This non-profit organization trains dogs using a Bond-Based approach to teach dogs how to push buttons, call for help, turn on and off lights, and more.
Fosters, like Mrs. Mallamace, care for the dogs until they are ready to find 'their person'.
"I started fostering about ten months ago," says Mrs. Mallamace. "I started with outings first. They would assign a dog to me and I would bathe it and then take it on my errands."
When they reach around two or two and a half years, they graduate and choose their human. One of the Canine Assistance volunteers, Christen DiLeonardo, reflected on the moment that she watched her foster dog walk on that stage; "It is happy because you get to see their faces and what they bring to the person."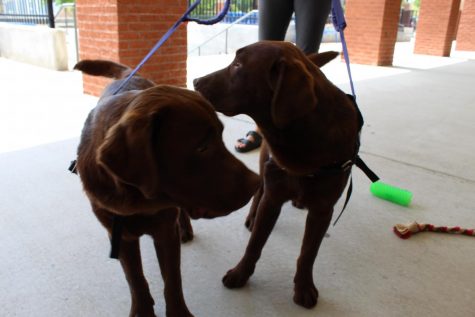 Volunteering through this organization allows for many to combine two passions into one.  Cathy Campfield has been working with Canine Assistance for about three years. With a passion for both dogs and gymnastics, she thought it would be perfect to way to combine the two.
"I am a gymnastics coach, so I work with kids, and I am very passionate about dogs," Campfield states. "I thought this would be a great way to bring the two things that I cherish together."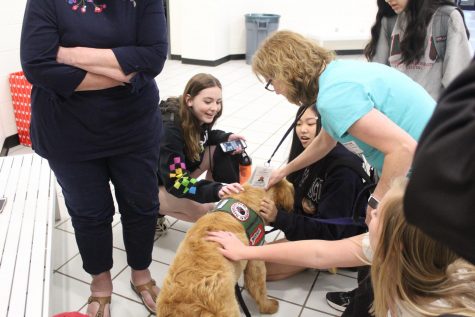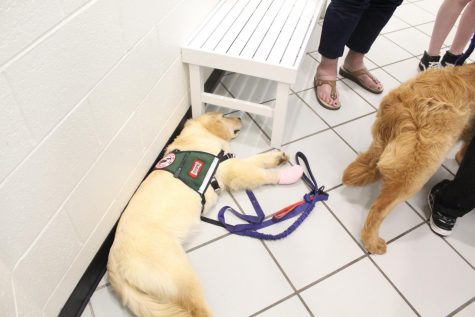 The dogs from Canine Assistance work to save the people who suffer from physical and mental issues. With the co-operation of the organization and the help of Mrs. Mallamace and Mrs. Wilson, the students at South Forsyth are able to relax and enjoy the love that the therapy dogs have to share.