My Atlanta Braves experience
Hang on for a minute...we're trying to find some more stories you might like.
A baseball; white and circular with bright red laces. A major league baseball emblem stamped cleanly on the pristine leather. I sit next to my dad on the hard green seats at Turner Field watching players field grounders, preparing for the upcoming game. At ten years old, the rules of baseball were confusing. I would often turned to my father and ask him what certain terms, such as RBI, meant.
Runs brought in, on base average, and slugging percentage are some of the terms that I have learned to understand. Once I started following the Braves, everything became clear. I knew who the players were and Chipper Jones became one of my favorites. Watching games while working in class, staying up late to watch one more inning, and going to one game every year became a routine. My dad and I always bicker because he is a Reds fan, but the game brings our family closer together.
In August of 2015, Turner Field was shining in the stadium lights, prepared for the game against the New York Yankees. We sat in right field, watching as players hit, fielded, and made plays. Fans yelled obnoxiously from the restaurants surrounding the outfield. It was a lighthearted game, everyone was enjoying themselves. Baseball has a way of bringing people together, but it can also tear people apart. In the seventh inning of the game, Alex Rodriguez, who had been recently suspended due to steroids, stepped up to the plate to pinch hit. While booing at the controversial player, 60 year old Gregory Murrey fell from the upper decks. The man was taken to a hospital but died upon arrival. Completely oblivious to the events closer to home plate, I kept laughing and smiling, enjoying my time at the ball park. It was not until we went to dinner after that I was told of the events. Thinking about it makes my heart hurt.
May 18, 2016 my dad, sister and I sat along the foul line, watching as Georgia and Georgia Tech baseball teams face off. I had never had seats this close to the action, and the excitement was overbearing. The sound of aluminum bat hitting the ball, the smell of hot-dogs and popcorn, seeing the plays clearly from the seats, it was all so surreal. Fans dressed in red stood up, shouting for the Bulldogs. Fans in gold were chanting and cheering for the Yellow Jackets. Watching the fans bicker was almost as entertaining as the game itself. In ten innings, Georgia Tech was able to win 6-3.
August 19, 2017 the Braves played the Cincinatti Reds. The smell of peanuts and fresh cut grass lingered in the air. Cracker Jacks and a Diet Coke sat in my hands. My sister and I talked about everything and anything while my dad and brother were teasing each other, then the game started. My excitement went through the roof. The air changed. The announcers introduce the starting lineups and the players, my heroes, ran out onto the field. The big screen shows the smiles on the faces of fans. We talk and laugh, enjoying our time together and watching the fan challenges they host in between innings. When the seventh inning stretch came around fans stood up and sang "Take Me Out to the Ball Game".
This is my place; where I belong.
Chop Fest, January 27, 2018 was one of the best days of my life. Ender Inciarte, Dansby Swanson, and Pete Rose sat at a table and I stared in awe, slightly shaking. Standing in the line, waiting to approach the table, I was so nervous. Should I tell them how much I love them? Should I just say "hi"? What do I even do? Walking up and getting their signatures lasted what seemed to be a second. I could not believe I actually met these people; I was in a daze the rest of the day.
August 12, 2018 my best friend and I went to a Braves game together. We had stupendous seats behind home plate and up a level. We laughed and talked to the people around us, enjoying life. We were thriving off of the soda and game happening in front of us. I remember in the game, Tyler Flowers threw out a runner at second, home-runs were hit and runs were scored. This is why the game is America's past time, because it leaves you wanting more and it helps people create relationships with friends, families, and others.
Baseball; not just a ball, it is a way of life.

About the Contributor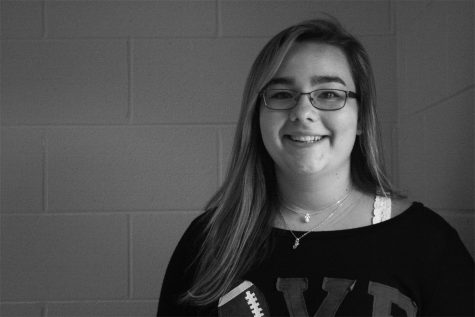 Kayleigh Emberton, Sports Editor
Kayleigh Emberton is a sophmore who is now in her second year of journalism. Kayleigh loves sports, especially baseball and football. Kayleigh is a die-hard fan of the Atlanta Braves and Indianapolis Colts. She loves the beach, camping, hiking, and other outdoor activities. When she isn't outside she is listening to music and dancing around the house. Kayleigh loves to be full of adrenaline so she enjoys action and horror movies, but every once in awhile a Disney movie really sets the mood. Her...