Partying for a cause
Music is blasting, but it's totally quiet. People are dancing to their favorite songs, but no one's moves are quite the same. All across the room, people don red, blue, and green colored headphones and jam out to their favorite music. Neon colored necklaces hang around their necks, and some of them are wearing light-up glasses. In the back, different DJs are bombarded with song requests. And the best part is, the whole thing is for a great cause.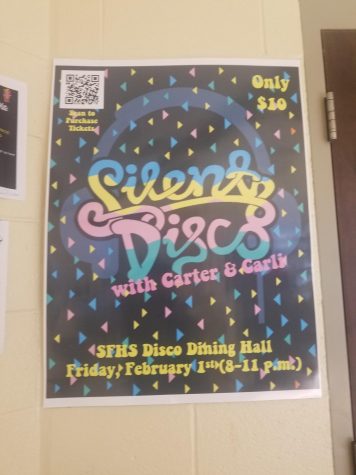 The Silent Disco for Carter and Carli was a huge hit. After the last fundraiser for Dream on Three sold out, Mr. Wolff organized another one, something unique and unprecedented in South history. After being advertised for weeks, the silent disco finally took place in the Blue Gym during IF. The students who attended had a blast.
After walking in, students could pick up a pair of headsets, a necklace, glow-in-the-dark bracelet, or some of the other accessories on the table. The headsets were connected to three DJ stations and students could switch between them to find the song they liked. As they switched through each station, their headsets changed color, letting their friends know which song they were listening to. Students could also request songs by going to each DJ or via their phones. Each station played a variety of music, from pop to rap to rock. 
"
I've just been switching through the stations I liked. I spent a lot of time on blue, but red was pretty good too… the playlist [for the red headsets] was prepared by the Dream on Three team."
— Krishna Poroori
Throughout the event, students were dancing, singing, and having fun with their friends. Middle schoolers that were on tour also attended the event and enjoyed for a little while. Towards the end of the event, they played the Cha-cha slide and all the attendees banded together and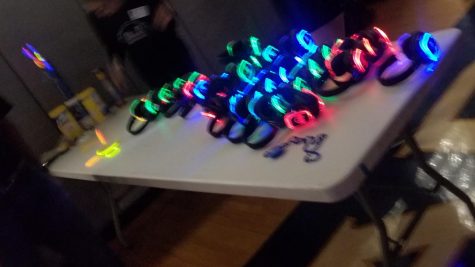 danced, ending the disco on a fun note. Krishna Poroori, a senior, said he really enjoyed the disco and thought it was a really innovative way to raise money. "It's a fundraiser for someone that attends our school, so even if you didn't like the music, it was worth it," he said.
The fundraiser was for two South Students, Carter and Carli, who have down syndrome. The school partnered with Dream on 3, an organization that helps kids with chronic illnesses and disabilities achieve one sports dream they have. The last event was a student-staff basketball game, which hundreds of students attended.