South Forsyth Swim and Dive team break the streak
This past Saturday, the SFHS swim and dive team competed alongside every other Forsyth County school in the Forsyth County Swim and Dive championship meet. All teams had a great spirit of competition and made the atmosphere of the meet lively and exciting.
"It was probably the best day of my life" said Senior swimmer, Taylor Edwards. "The energy was indescribable." The Lambert boys, however, still continue their county championship streak.
The score of the meet were as follows: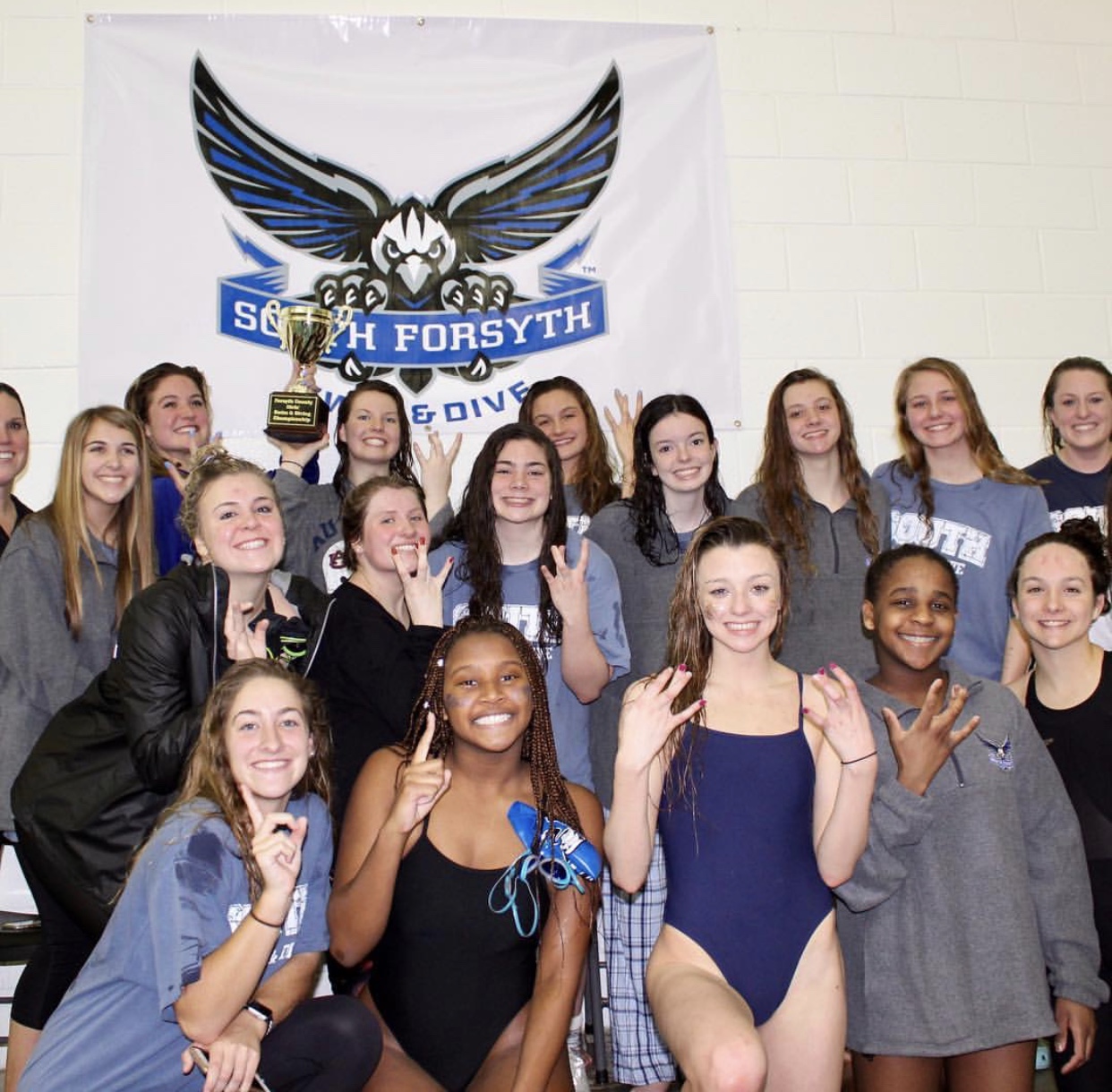 Girls:

South Forsyth Swim and Dive- 756.5

Lambert High School- 729.5

Forsyth Central High School- 441

West Forsyth Wolverines- 339

North Forsyth High School- 315

Denmark High School Swim and Dive – 151

Pinecrest Academy- 127

Boys

Lambert HIgh School- 749.5

South Forsyth Swim and Dive- 438

West Forsyth Wolverines- 434

Forsyth Central High School- 432.5

North Forsyth High School- 358

Pinecrest Academy- 231

Denmark High Swim and Dive- 132

"

"The energy was wild! It was so amazing to see everyone so happy! I've never felt so happy because we deserved so much!" "

— Mary-Kate Whichalonis

Said Mary-Kate Whichalonis.

Every team gave it their all, and put forth their best efforts. South Forsyth girls broke Lambert's almost 10 year county champ streak, bringing pride to the whole team. All Forsyth county teams will debut one last time this season at GHSA High School State on February 8th.
About the Writers
Grace Drawdy, Editor-in-Chief
Grace Drawdy is a senior and has been a part of
The Bird Feed
for four years. After taking on the role of the Associate Editor, she is excited to be the Editor- in- Chief. She hopes to finish out her final year with a bang, and lead the staff to reach new goals. You can find her making a splash at the Swim Atlanta Sugarloaf location where she is a year-round, competitive swimmer. Grace loves to live life loud. Her heart beats for kids fighting pediatric cancer, and she wants to heal them all. She loves spending time with her friends. In a rare moment of downtime, you can find Grace having a solo dance party or binging Netflix. You can contact her via
twitter
or
email
.