Review of "Luna", a Transgender Awareness Novel
Hang on for a minute...we're trying to find some more stories you might like.
Silence settled around the classroom after the tests had been taken up. The only audible sound was the quiet whir of the AC coursing through the room from a vent in the ceiling. There was no source of entertainment, since our things had been left outside of the testing room. Though, behind me, was a huge bookcase with an array of books. I scanned through the shelf equal to my eye level until my gaze fell upon a very simple black spine with the title: Luna, in all white letters. It sounded more amusing than some of the other more scholarly books, especially for someone who had just taken a several hour long test, so I took it from its place between other books and held it up to inspect. I examined the woman featured on the cover, and the green Luna moth, then flipped it over to read over the gist of the summary. Honestly, I was confused at first, but the confusion brought curiosity, so I opened the book to the first chapter.
As I read through this story, I found there were many significant topics the book reflected upon. Of course, it is recognized for its positive and informative light to transgenders. It also delves into sexualities, identity, parenting methods, and the struggle of finding yourself as a high schooler. The story begins with a main character, Reagan, a high schooler trying to find her place in the world, in her bedroom with her transgender and transsexual sibling, Luna. The central plot of the story is Luna trying to come out to the world and completely shake away the role she has to play when she's Liam. While Luna has to battle conflicting thoughts and figure things out on her own, the perspective of the story is told through Reagan to tell how she was affecting Reagan's life. Their parents were oblivious for the most part, their father being too short sighted and eager to do father and son activities with Liam, while their mother had known about Luna, but neglected to help her and may have even aided in Liam's close suicide call.
Although the book was published 14 years ago, it continues to be relate to the lives of high schoolers today. In this book there is a focus on sensitive topics such as depression, bullying, peer pressure, academic problems, family problems, and identity crises. Throughout the story, Reagan is faced with family problems and an identity crisis, all the while, she also witnesses the depression, bullying, and peer pressure that Luna must endure. Along with Luna's hardships, she sees the academic problems and family problems from her good friend, Chris. Though, Chris mostly struggles with the divorce of his parents and the unexpected marriage of his mother to his cruel stepfather. It's these topics that I found myself enthralled that Peter's could so accurately represent these situations without exaggerating anything to the point it's unbelievable.
In the story there were the parents of Luna and Reagan who represented the common problems with parents who utilize negative parenting methods. The mother has the very time consuming job as a wedding planner, causing her to be a very negligent role model. In addition to this, it's made clear to the reader that the mother feels trapped and unhappy with the family she helped to make. The father struggles to see that his children are more than the stereotypes he puts on them. In fact, throughout the story, we see more of how the father has tried to instill his hopes and expectations onto his son rather than help him. Regardless of the negativity and stress he puts on Luna, she admires him, which is a curious thought to have because one would think that how he tried to force her into a masculine role would break the connection the two have as a family. This isn't to say that Luna is singled out, though, because Reagan feels like she can't communicate to her father and get him to understand how she sees the world. This is especially so in the scene where her father asks her if Luna is gay, because at this time, Luna was still a boy as far as her father knew.
Thus, this menial relationship made between children and parents obligated the children to turn to each other for support. As expected, Luna was the one who needed the most help as she was growing more and more fed up with not having the freedom to be herself. Reagan was the one to help Luna get her clothes, stay with her as she transitioned from male to female in public places, and listen to her struggles at night. While these adventures between them continued on, it became increasingly prevalent that Reagan had been so distracted with her sister that she never put aside the time to find out who she was. This was put to the test when Reagan asked Luna to take her shift as a babysitter so she could go and meet with her friend Chris for the night at a party. When she returned, Luna had been caught by the parents of the children Reagan was supposed to be looking after. Reagan had lost her only joy as a babysitter and now she and Luna had to worry about their parents' reactions. After this had happened, Reagan had blew a fuse on her sister and shut her out.
This brutal wake up call was enough for Luna to see that she had to stand on her own and stop depending so heavily on her sister for help and support in her day to day life. Luna had come out of the closet to her father as a transsexual, meaning she was a transgender woman who was attracted to men. Her father was outraged and shocked, but Luna held her head high and proceeded to go to school as her female self. This was at first an embarrassment for Reagan, so she left her to face the harshness of the students on her own, but later on, Luna would thank Reagan for her decision to force her to stand up for herself. At this point in time, Luna was waiting for her flight to move into a complex with another transgender who had already transitioned into a woman and was more than happy to help Luna. The story ended with Luna leaving to let Reagan find herself in the world.
For more information on the author check out her blog https://www.julieannepeters.com/
More information on transgenders https://www.glaad.org/transgender/transfaq
Or https://transequality.org/issues/resources/frequently-asked-questions-about-transgender-people

About the Contributor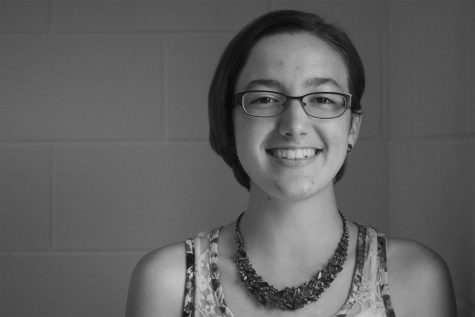 Lauren Holiday, News Editor
Lauren Holiday is a senior at South Forsyth and the News Editor of The Bird Feed. She is an inspired and passionate artist with big hopes for her future. Lauren is an art enthusiast who studies many popular online artists and writers to improve her own works. The reasoning behind additionally having interest in journalism is that she believes fiction stories need to have a relevance to the world today in order to tell a meaningful message. So while it may seem that she's lost in fantasies with...