39 South students take the next step in their athletic careers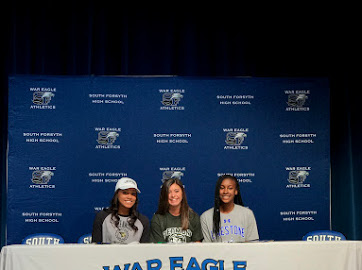 Young athletes wait patiently in a room surrounded by their closest friends and family, anticipating the moment when they will sign the paper which secures their athletic college careers. Thoughts of beating their future school's track record, surpassing a personal record in the pool, or hitting a grand-slam to win the college world series, permeate in the minds of South's soon to be college freshmen.
Signing Day. This is one of the most important days in a senior athlete's career. April 11th welcomed 39 South Forsyth students to the exciting life of college sports. Not only were 39 athletes signed, but a new school record of ten football signee's was set. Many of the athletes were excited and overwhelmed by the prospect of playing their favorite sport at a higher and more professional level.
"I was just really happy that I got an opportunity because not everybody gets an opportunity to play in the next level, especially college, so I was just happy about that," said volleyball player Sydney Bibby.
"Finally, all the hard work has payed off and I am getting to go to college and play in a collegiate sport" lacrosse player Dylan Utter said.
Some athletes received many offers but chose a specific college because of family lineage, personal preference, and similar athletic staff that resembles South. Dylan Utter, one of South's star lacrosse players, was excited to carry on a family legacy, while basketball star Sara Idris wanted to start a new career near the beach.
Cal Morris, one of South's football players said, "When I visited it (Lenoir Rhyne University), it seemed like the right place to be."
Each signee was allowed to invite twelve friends. There was a great sense of pride and excitement as they watched their friends and teammates take the next step to fulfill their dreams.
"I was proud of them. I was proud of everyone on the team this season, but especially the seniors. We had a really good senior class and I was proud that it paid off for a lot of them," said football player, Ryan LaFlamme.
Sydney Bibby said, "It made me really happy that I got to have them there for an important part of my life, and come and enjoy it with me" .