Human trafficking sweeps Georgia
Human trafficking has persisted as a major problem for many years and has grown alarmingly. It is a tragedy for the many girls, and even some boys, who are forced into modern day slavery. From 2002 to 2007, Atlanta has ranked one of the top cities in the sex trafficking business. This booming business brings a staggering two hundred ninety million dollars per year to the metro Atlanta area. Many girls are kidnapped each day and approximately five thousand girls in Atlanta are at-risk of being introduced to sex-trafficking. These girls range in age from approximately twelve years old to fourteen years old which I personally find horrifyingly young. Children are typically targeted because of their demand on the sex trafficking market and the fact that they are more vulnerable and gullible than adult women.
Earlier this year on WABE (NPR), there was an interview with a young woman named Sade who at the time of her abduction was a minor. She and her mother had their differences like any other mother-daughter duo, but they loved each other. After one of their arguments led to a rift in their relationship,  Sade decided to run away; she did so several times. Her mother believed that she needed to take her daughter to court because of her actions, since she felt it was the only way to ensure her safety and make sure she did not run away. The courts returned with the verdict that Sade was a danger to herself and others, so she was sent to a juvenile center. She stayed there for a few months until she and twelve other girls decided to escape and run away. After living on the street for six months, Sade decided to take a train home. She hitched a ride with a man who she deemed trustworthy. Despite her faith that he was a good man, he pulled a gun on her and took her captive. That night she was forced to have sex with two men, one of which she was sold to for only two hundred dollars. She was pimped out to many people in the following years. Her mother worked tirelessly for several years to find her. She even went undercover as a prostitute with the local police force to find her daughter. The other individuals at the brothel believed that it was a set up. Stories like Charne's must be publicized so that other police departments do not make the same mistakes. 
Today, there are many more ways that Pimps can locate their prey. Social media platforms such as Instagram, Snapchat and Twitter encourage communication between absolute strangers. Thousands of teens are a tap away from contacting an adult who poses a serious threat towards them. The teenage brain is not hard wired to think rationally or forwardly, like an adult's is. It is relatively quick and easy to catfish teens by posing as someone their own age. These teens tend to lead troubled lives and perceive the new people who they meet as an escape from their dim realities. 

Recently, many Atlanta citizens are trying to raise awareness about human and sex-trafficking. Atlanta Mayor, Keisha Lance Bottoms, and the State Attorney General, Chris Carr held a press conference to bring these issues to the community's attention. Bottoms intends to appoint a senior manager to develop and implement a plan to put a stop to human trafficking. On February 27th, a bill was passed by the House to stop the sale and trafficking of women and children for the purpose of sex. This bill will allow websites that show ads or content that involves the sex trade to be apprehended by prosecutors and state attorneys. Although there has been local coverage, it has been limited. However, the UNICEF club has worked towards investigating this issue.
I interviewed Anna Hall who is one of the members of the UNICEF club. Not only is she a member, but she also helped establish it with several of her friends last year. Hall provided her reasoning for starting the club. "I didn't want to start it at first. My friend was very passionate about it but after we started the club, I began to get very knowledgeable about the subject and how good of an organization UNICEF is, how trustworthy they are and I started to get passionate about the whole thing." She described the work the club has done for trafficking.
"
Anna Hall"
— "We had an informational meeting and people got to ask questions, we have an article online and it was just a coo little session for everyone to ask questions and learn about what human trafficking actually is."
Anna described the activities that they participate in as a group, and explained that they are raising money for kids in need all over the country. They are also teaching students in our privileged county about other kids who are less fortunate all over the world. 
Whether you know someone who's experienced sex trafficking, or are simply interested in the issue, it is always helpful to support victims. You can do things like donate money towards organizations that fight this societal evil or encourage victims to speak to counselors. If you want to take action, you can call the national human trafficking hotline 1-888-373-7888.
As a community, we need to shed light on this problem and bring awareness to it. Human trafficking is a serious issue that needs to be dealt with accordingly.
About the Contributor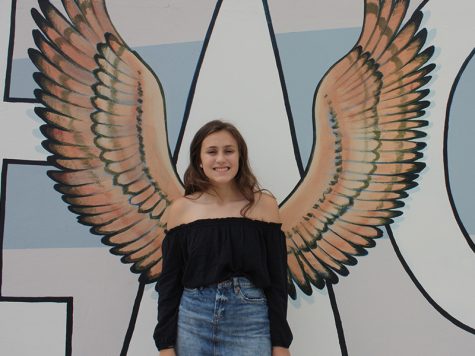 Lauren Bunker, Staff Writer
Lauren Bunker is your average teenager. She's super stressed about school, really bad about time management and a little bit too dramatic. When she is not dribbling through players at soccer, you can spot her drawing her favorite thing, eyes. But her absolute love is writing. She knows that someday, she will impact the world greatly through her writing. But for now she is not only excited about her first year of journalism but also her first season of competitive soccer. She loves watching law and order or any 80's movie while petting her cat and absolutely hates country music. She spends her time planning her future and avoiding eating meat because she feels bad for the animals. She dreams of working in global issues department of the UN so she can help make the world a perfect place for all people. She's lost count of the amount of books she has and likes so many she can't choose a favorite. Please contact me at
[email protected]
or at my twitter @lbunkerthefeed .