It's not Just a Glaze, Mom: South Forsyth's 'Donut Date' Brings Families Together
To begin the month of celebrating relationships and love, South Forsyth High School created an event to celebrate the irreplaceable love between parents and children.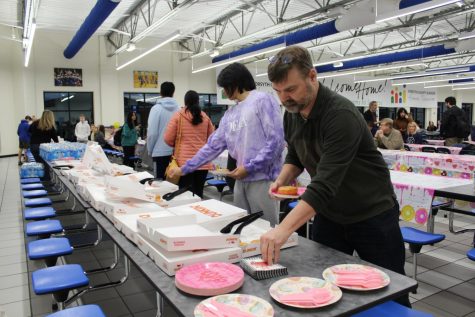 On the morning of Friday, Feb. 10, South Forsyth High School's Student Council hosted a "Donut Date" in the dining hall, a high school version of elementary school events such as "Donuts with Dad" or "Muffins with Mom."
The Student Council (StuCo) transformed the dining hall into a donut shop, adorning the long tables with pink tablecloths and colorful balloons. StuCo also set up a photobooth where students and their parents could receive a free polaroid picture to commemorate the event. 
Senior and StuCo member Aditi Ravi expressed the importance of events that involve both parents and students, especially in high school. 
 "Connecting the South Forsyth community is one of [the Student Council's] main missions, so hosting this event helped parents get to spend time with their children," Ravi said. "Oftentimes, it's hard to spend a lot of time with your child since high school can be a stressful time."  
"
I'm here to spend time with my daughter, [make] memories and enjoy a nice cup of coffee and a donut.
— Sudhakar Janakiraman
Before the event, parents were able to submit photos from when they did "donut dates" back when their students were in elementary school. StuCo added these pictures to a slideshow where it played on the projector for families to watch as they enjoyed their breakfast. 
Sudhakar Janakiraman, father of SFHS junior Riya Janakiraman, was able to have breakfast with his daughter on a Friday morning, something that many parents of high schoolers miss out on. 
"[My daughter] is my pride and joy," Janakiraman said. "So, these are great events [for parents] to see their students and for students to see their parents and spend a little bit of quality time [with each other] even though it is only 25 to 30 minutes."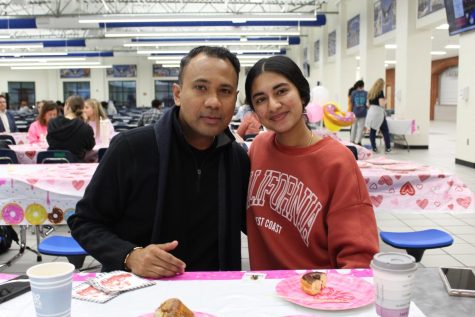 Janakiraman explained that events like the Donut Date are "very important" for both parents and students even though it's only a small amount of time before school. 
Overall, the event was a huge success in bringing families together to enjoy something as simple as donuts and coffee. Many students who typically don't see their parents in the mornings got to spend time with them before school.
"[The Donate Date] is really special because in high school you don't usually get these types of [events]. You see them more in elementary school. But it's so nice that even in high school they're trying to incorporate this," Riya Janakiraman said.