Senior Spotlight: Swapnika Gullapalli Shines in Her Community
Swapnika Gullapalli is the 2022-2023 President of the South Forsyth chapter of Future Business Leaders of America (FBLA) and of the Southside Dance Company. She is a determined and passionate young leader, always striving to serve her community.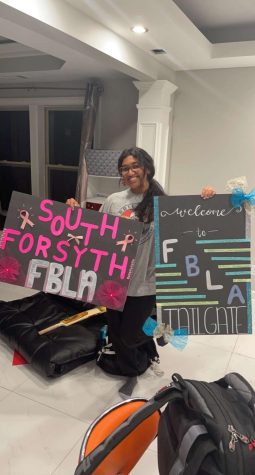 Gullapalli first heard of Future Business Leaders of America (FBLA) in middle school when one of her friends placed first in his competitive event. Her dad encouraged her to join the organization, and luckily for her, FBLA set up a new chapter in her middle school that same year. She has been involved in FBLA since 7th grade, and this is her 6th year being a member. 
Gullapalli began her leadership journey with FBLA in her sophomore year, where she was the deputy reporter for social media. With this position, she created all of the club's social media posts, which was especially important given that was the year when COVID-19 hit. She updated members constantly with important virtual dates, meetings and events for FBLA, reminding everyone to stay positive during the difficult time of COVID-19 and quarantine. Gullapalli did school virtually that year, but she stayed on top of her FBLA duties and saw a future for herself in the organization.
In her junior year, she took on the role of deputy of projects – school service. With this role she planned school service opportunities for members to participate in throughout the year such as countless drives and fundraisers. 
This year, Gullapalli has taken on the overwhelming yet rewarding role of President of an organization with over 550 members. Her main role is to keep the chapter on track to win Chapter of the Year again. Specifically, she communicates between committees, delegates tasks at meetings, and logs data into the system.
"I've learned a tremendous amount about the skills needed to smoothly run a chapter of this magnitude. Over the years, I've greatly developed my organization and communication skills which I know I will use throughout the rest of my personal and professional career," she said.
Her achievements in FBLA go beyond her leadership roles. She has placed in region and state three times and made it to the national finalist round. Her favorite memory was attending the National Leadership Conference this past summer in Chicago.
"I remember walking around Chicago on the final day of NLC, reminiscing about the adventures and memories of the past week. The weather was also perfect, almost as if Chicago wanted us to have the last perfect day," she recalled.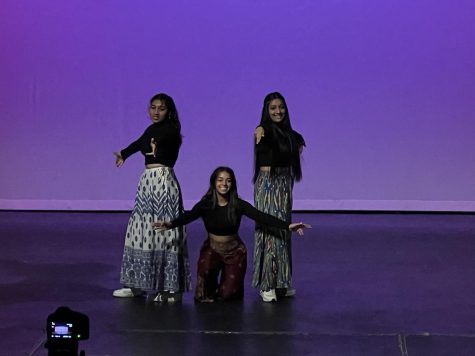 In addition to FBLA, Gullapalli is also heavily involved with the Southside Dance Company at South. She has been dancing for over 12 years, and it is her favorite thing to do. When she applied to be an officer at the end of her freshman year, she had no idea she would get the position. Now, that leap of faith has led her to be president of the club.
"Dance is a place where I get to express my creativity and explore new ideas without judgement. In the last four years of my dance co journey, I've grown an immeasurable amount in my leadership skills, interpersonal skills, and my own self confidence," Gullapalli explained.
She now creates her own choreography, something she never would have thought possible. She is also involved in National Honors Society, National English Honors Society, Science National Honors Society and Rho Kappa.
Her extracurricular involvement stretches beyond the school community, with her involvement in two non-profits and a financial planning services company. She is the Co-Founder and Chief Financial Officer of a 501(c)(3) organization, Striking Summit. The goal of her non-profit is to reduce the education disparity of underprivileged kids, specifically foster children.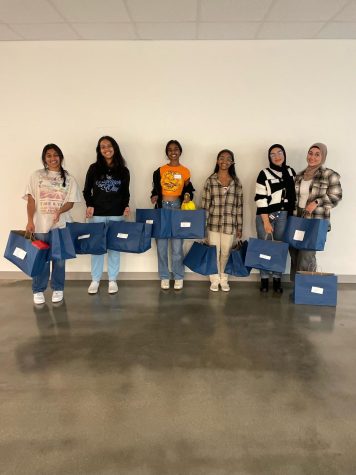 She is also currently in the process of setting up and co-founding the Georgia chapter of Back on Track America, another 501(c)(3) organization.
Gullapalli is involved in her parents' financial planning services company. She assists with filling out paperwork, attends conferences and workshops, and sits in on client meetings. This summer, she plans on getting her insurance license once she turns eighteen and officially joining the company.
Gullapalli is continuing her journey at Georgia Institute of Technology, where she plans to major in Business Administration and also explore the fields of management information systems and computer science. She plans on joining a dance team at Tech to continue expressing her passion for dance.
"As I'm still open to change in my future plans, I look forward to anything and everything that comes my way. At Georgia Tech, my main goal is to expand my passion and knowledge about business and technology while also increasing my network," she said.
As she wraps up her senior year of high school, Gullapalli is ready to take action and use her passion in leadership wherever life takes her.