Ronaldo's Messy Breakup With Manchester United and his £300m+ Saudi Arabia Deal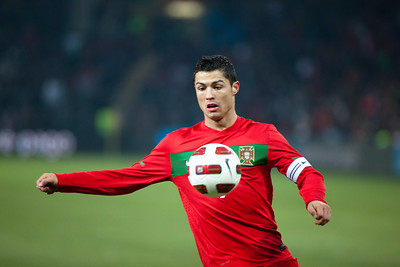 Professional soccer player Christiano Ronaldo has set records while playing for the Portuguese National Team and Manchester United. In 2003, when he was just 16 years-old, Manchester United paid nearly $14 million dollars to sign him. Arguably one of the best football players in the world, Ronaldo has recently been involved in a messi messy situation regarding his future in the sport. 
The newest deal offered to Ronaldo, who is currently playing on-field at the 2022 FIFA World Cup, was a £300m+ deal from Saudi Arabia. The deal follows Ronaldo's departure from Manchester United in late November of this year. 
The 37-year-old forward's contract was terminated following an explosive interview in which he attacked the club's owners and manager, Erik ten Hag. In the candid interview, Ronaldo revealed that he felt "betrayed," expressing that "some people that don't want me here not only this year but last year too," in a recent interview with SkySports. 
During an interview with Piers Morgan for TalkTV, Ronaldo continued denouncing the team by stating, "I don't know what's going on, but since Sir Alex Ferguson left I have seen no evolution in the club. The progress was zero."
Later, Ronaldo claimed he doesn't "have respect for [Ten Hag] because he doesn't show respect for me."
Shortly after the controversial interview aired, it was announced that Ronaldo would depart Manchester United by mutual agreement and with immediate effect. The club thanked him for his "immense contribution across two spells at Old Trafford, scoring 145 goals in 346 appearances, and [wished] him and his family well for the future," in a released statement. 
According to sources in Spain, Ronaldo has agreed to a contract with Al-Nassr Football Club and will relocate to Saudi Arabia at the beginning of 2023.
At the end of November, there were rumors that a deal with the Middle Eastern country was "near," and it now seems that Ronaldo will play club football outside of Europe for the first time in his career.
The first contract with Al-Nassr will net Ronaldo around €100 million (£86 million). When accounting for the additional revenue from sponsorship and advertising, the move will make Ronaldo the highest-paid athlete in global sports.
High school sophomore and SFHS soccer player, Aarav Sharma, shared his thoughts on the highly-publicized situation: "I think the club has definitely mistreated him," Sharma stated. "I think it is unfair for Ronaldo to be in this situation due to the fact [that] he recently lost his kid."
While Sharma doesn't agree with Manchester United's treatment of Ronaldo, he also disagrees with how the global soccer superstar handled the situation.
"I don't think it was a good idea to denounce [his] club knowing that he was already unhappy with his situation at the club," Sharma said.  "It should have been kept between him and the club rather than publicly announcing it."
When asked his thoughts on the Saudi Arabia deal, Sharma said, "The Saudi Arabia deal may seem lucrative but I think [Ronaldo] has a year and he can provide his experience to the young [players] at the club he joins."  
Following his volatile break-off from Manchester United, Ronaldo's career has been monumentally changed forever. Meanwhile all his fans are eagerly waiting and watching from the stands, as he makes his next moves in the time to come.