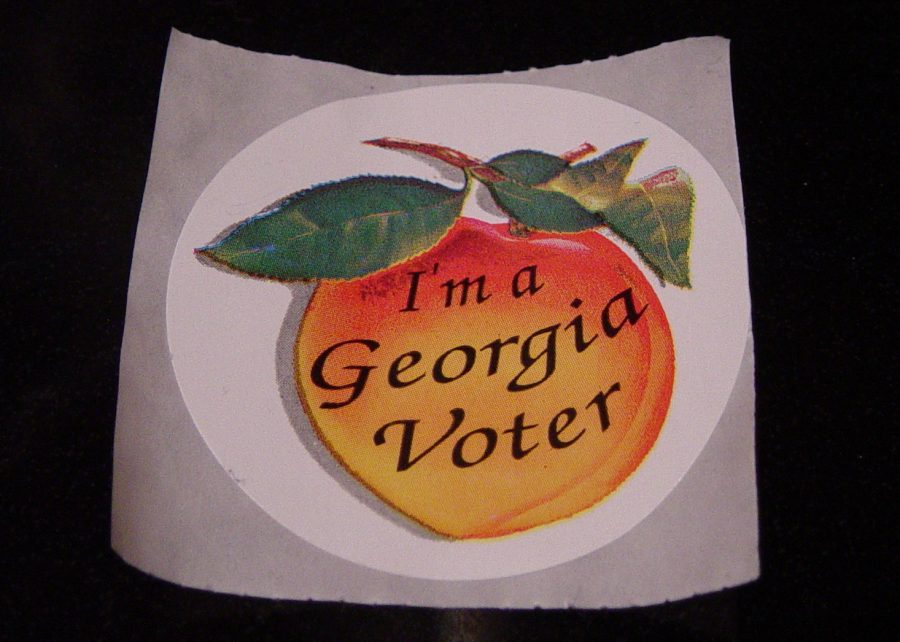 Election 06'/Heather Kennedy/Flickr/CC BY 2.0
Many Stories, One Democracy: A Look at First-Time Voting
December 5, 2022
First-time voting can be a scary yet exciting experience for people of all ages. The feeling of actively participating in the government and letting your voice be heard is something that words cannot capture. From young adults who just turned 18 to the older generations who just gained the ability to vote, the 2022 Midterm Elections presented an historic opportunity for everyone to choose a better future.
From Paperwork to the Polls: The Immigrant Experience Shows Voting is a Privilege
I am an immigrant. I was not born here, nor were my parents. As I grew up, I watched my parents as they worked through legal documents, took passport pictures and took yearly trips to VISA stamping centers. For most of my life, I thought that was normal for everyone.
As I grew older, I realized that it was in fact, not normal.
One memory that sticks with me the most was when I was learning about government and voting in school. Of course, like any kid, I went home and asked my parents if they had ever voted in a U.S. election. They said no. That was in 2015.
Six years later, we sit in a United States Citizenship and Immigration Services office as my parents get their American Citizenship after 12 years of working and living here. I sat in the back of the oath room as I watched my parents get naturalized as United States citizens. That kind of moment sticks with you. I watched as my mom sadly renounced her Indian citizenship and my dad excitedly pledged to become an American.
It's been a full year since they were naturalized, and the Midterm elections are coming up. When my parents say they're headed to the polls, I look up at them with an odd sense of pride I could not place. Was it pride for my new country? Was it pride that my parent's voices would be heard? No, it was something else.
I was proud of my parents.
I was proud of the people who stayed up late to fill out paperwork and took off from work to take passport pictures and get their documents stamped. I was proud of how far they had come. My parents thought their time here in the U.S. was limited, and here they are, voting in their first election, letting their voices be heard.
Seeing the "I voted" sticker on my parent's shirts and hearing them excitedly describe the experience made me hopeful in an indescribable way. I was lucky enough to watch this milestone in my parent's life, and I hope that everyone who has always been given this right understands that it is a privilege that cannot and should not be wasted.
About the Writers
Diya Maheshwari, Arts and Entertainment Editor
Diya Maheshwari is a Sophomore at South Forsyth High School, and this is her first year writing for
The Bird Feed.
Diya is a classically trained pianist who loves to create, play, and listen to music. When she's not on the piano bench, you can find her curled up with a good book or swimming laps for South Forsyth High's swim team. Some of her favorite books include Six of Crows, Scythe, and Alone With You in the Ether. One of the most important things to know about Diya is that she is a huge Marvel fan. She has seen every MCU show and movie over 5 times each, so don't think about challenging her in a game of Marvel trivia! Writing for
The Bird Feed
this year is exciting for Diya as she loves to share the things she is passionate about while simultaneously helping others discover their passions as well! You can reach out to her via Twitter or email (

[email protected]

).
Becoming an Adult in America: Voting is the Best way to Ensure Democracy Thrives
Voting for the first time felt surreal.
As I stood in line with my mom, I couldn't help but feel like an adult. In my early teenage years, I had a preconception about elections – that the process was complicated and confusing – but I was shocked by how simple and effortless it was.
Although I have always been an advocate for eligible citizens to vote, actually doing it myself made me realize just how important voting is. Furthermore, I am speaking directly to the younger generations: Do we really want old mindsets governing our states and nation? Or, for the same candidates to be re-elected because of "experience"?
Elections are paramount to a functioning society. It's extremely important for voters to consider the overall characteristics of candidates and who would best demonstrate an understanding of the nation as it is, but also how to improve and modernize the gray areas society sweeps under the rug.
As part of the younger generation, citizens like myself are individuals that will not only form the working class of society in time, but live in the world congressmen and women enact. Likewise, candidates who fill the seats that govern the nation should be individuals with life experience as well as individuals who will walk or have walked the same path.
Moreover, I believe that voting should be mandatory because citizens are living in a democracy. Is that not the point? Is it not right for all citizens to vote if elections ought to happen?
Voting is the most accurate and reliable way to display the public's view on how the nation should be run as well as who is qualified enough to represent the people. While casting my votes, I remember observing all of the candidates and thinking over and over again: Who will represent me as a person?
Candidates are more than just their beliefs; it's the level of respect they have for communities, regardless of their ethnicity, age, gender, or socio-economic status, that citizens should judge when voting. Personally, I feel that voting is essential to a stable democracy and that proper representation arises when all citizens participate.
About the Writers
Carmel Yonas, Opinions Editor & Senior Reporter
Carmel Yonas is a senior at South Forsyth High School, and is so thrilled to be starting her final year in journalism as the Senior Reporter for
The Bird Feed
. In her free time, Carmel loves to read, write, and draw cartoons. She's obsessed with the Harry Potter and Percy Jackson series as well as murder/mystery novels such as One Of Us Is Lying. Carmel is also a huge fan of the TV show Friends, and enjoys binge-watching anime on the weekends. When she's not doing one of her favorite hobbies, she runs for the Cross-country and Track team, and hopes to win the Cross-country state title again! You can contact her at
[email protected]
.